Table of Contents
About Our Vetting Process
At Cruelty-Free Kitty, we communicate with brands to find out their complete animal testing policy. Once they're able to answer all our questions, we categorize the brands as either being cruelty-free, not cruelty-free, or in the grey area.
Look for the symbols in the list to find out their status. Please note that the list features all brands regardless or their status. Not all brands listed are cruelty-free! We're listing all the brands in our database in order to make it easy to spot which ones are cruelty-free, and also which ones aren't.
Cruelty-Free
A cruelty-free brand is a brand that confirmed they don't test on animals at any point during product, and neither so their suppliers or any third parties. This applies not only to finished products but also to ingredients. We also ensure that these brands are not available for sale in stories in markets which require animal testing.
Not Cruelty-Free
These brands are not considered cruelty-free according to our standards. This means that their finished products or ingredients are tested on animals, either by the company itself, its suppliers, or a third party. Often, these brands are sold in markets which require animal testing.
Please note that these are just some of the brands that test on animals, and this list isn't exhaustive.
Grey Area
Brands in the grey area either didn't provide enough information regarding their animal testing policy, were unresponsive after several attempts to contact them, or use loopholes to sell in markets that require animal testing. A brand in the grey area does not necessarily test on animals. They could be cruelty-free, however they chose not to disclose any information with us.
How We Choose Brands
We choose the brands we look into based on popularity and global availability. This means that we list the brands that are the most requested. No matter where you live in the world, you'll spot brands that you're able to find in stores in your area.
Our goal is to make it easy for you to find cruelty-free brands no matter where you live, and know which ones to avoid as well.
The brands included in this list either specialize in fragrance, or their product line includes at least one popular fragrance. We've included budget-friendly options such as Pacifica, as well as niche fragrances like Maison Louis Marie.
At the end of the post, I go over the best cruelty-free perfume brands and where you can purchase them.
Our Top Cruelty-Free Recommendations
Skylar
Vanilla Sky Eau de Parfum
$85
One of my personal favorites when it comes to perfume is Skylar, because they have so many options to choose from, and because they're one of the very few brands to be fully transparent about their ingredient list. Vanilla Sky (above) is one of my favorite scents for them and you'll love it if you're a fan fo vanilla fragrances in general! They have 20+ fragrances to choose from including some unisex scents that make a perfect gift for the men in your life.
Pacifica is most well-known for their makeup and skincare, but they also have a ton of fragrances to choose from. You might even be able to find them in drugstores, or you can always shop online. Their scents smell amazing, plus they're also one of the most affordable brands on this list.
NEST Fragrances are available in stores like Sephora, and they're one of the few options that are easy to find. Luckily, they're also high-quality and sophisticated scents which make perfect gifts. They also offer perfume oil which doesn't contain alcohol.
Pinrose
Sun Saint Eau de Parfum
$90
Pinrose is another brands that got on my within the past few years, and they're fully cruelty-free. They have fun branding and their bottles are great to display, in addition to the scents being complex. They're also available at Sephora which makes them easy to find.
Phlur
Sandara Eau de Parfum
$96
Phlur, which vaguely stands for "Fleur", the French word for flower, is a fragrance brand launched by influencer Chriselle Lim. I personally really love the aesthetics behind the brand as much as the scents themselves, and I would say it's one of the top brands out there for this reason.
Why are so many perfume brands not cruelty-free?
As you can see, the vast majority of designer brands are not cruelty-free, the major reason being that they're widely available where animal testing in required by law.
One more thing I gathered is that a lot of these designer fragrances are licensing deals. And as you might have guessed, the licensers are industry giants that test on animals.
For instance, Procter & Gamble has a lot of fragrance licensing deals which include Gucci, Dolce & Gabbana, Escada, Hugo Boss, Escada, Lacoste, and more. Coty is another big one and owns Balenciaga, Chloe, Marc Jacobs Fragrances, Vera Wang, and Guess among many others.
Niche fragrances that are not cruelty-free include: Acqua Di Parma, Atelier Cologne, Cire Trudon, Jo Malone, and Odin.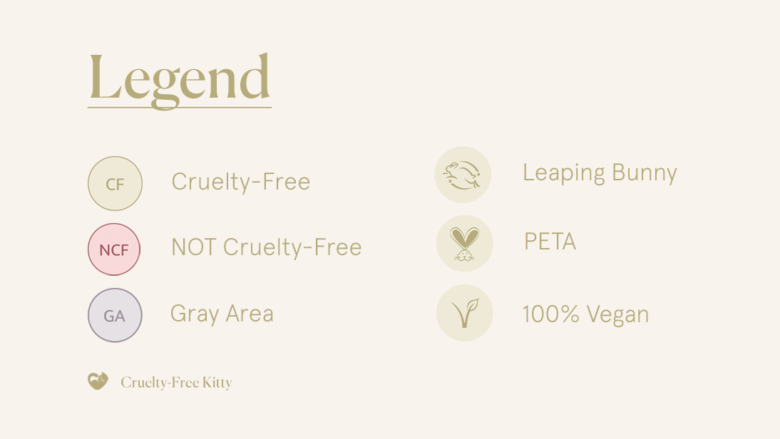 List of Cruelty-Free Perfume Brands
Want a quick list you can copy/paste or save for later? Here are the top cruelty-free fragrance brands.
Pacifica
Skylar
NEST Fragrances
By Rosie Jane
Lolita Lempicka
Phlur
Maison Louis Marie
Pinrose
Stella McCartney
Penhaligon's
The 7 Virtues
Le Labo
Billie Eilish Fragrances
Clean Fragrances
My Daughter Fragrances
Elizabeth Grant
Honore Des Pres
Molton Brown
Pour Le Monde
Lavanila
Floral Street
Harvey Prince Organics
Aesop
The Body Shop
Arquiste
D.S. & Durga
C. O. Bigelow
Wit & West Pefumes
DefineMe Fragrance
Caswell-Massey
Eau de Juice
evanhealy
Floris London
Top 20 Cruelty-Free Fragrance Brands
1. Arquiste (niche)
Arquiste have confirmed that they don't test on animals at any point during production, and neither do their suppliers or any third parties. They also don't sell to China. This company is US-based, and their Eau de Parfum retail for $165 - $190. Available at Barneys.
2. D.S. and Durga (niche)
100% cruelty-free company that creates fragrances in small batches with "premium-sourced raw materials". Their inspiration includes "outdated herbal wisdom, native ritual medicine, lore and legends, historical movements and Americana." A bottle retails for $98 - $145 and you can purchase them from Barneys.
3. Penhaligon's (niche -- parent company not cruelty-free)
Another niche brand that answered all my questions and doesn't sell in China. This UK perfume house has been around since 1827, and their perfumes are in the $95 - $150 range. You can purchase them from Bloomingdale's.
4. Le Labo (niche -- parent company not cruelty-free)
Although they've been recently acquired by Estee Lauder, Le Labo remains cruelty-free and still have not entered the Chinese market. "We believe that there are too many bottles of perfume and not enough soulful fragrances", they state. You can purchase Le Labo from Nordstrom.
5. Honore des Pres (natural)
You can also go the natural way with a brand like Honore des Pres, who create beautiful high-end perfumes using 100% natural ingredients. Absolutely no synthetic ingredients, and a full-size bottle retails for $84 at The Detox Market.
6. The 7 Virtues (natural)
I really wanted to include this company because they create perfume with a message. Their slogan is "Make Perfume, Not War" and they source their fair-trade ingredients in countries that are being rebuilt after being destroyed by war. You can buy their Eau de Parfum from Sephora and they're very fairly-priced. Do check them out!
7. My Daughter Fragrances (natural)
A small and lovely company creating perfume without harmful ingredients such as phtalates or parabens. Their perfumes are made in France and retail for $85 each. You can shop at MyDaughterFragrance.com.
8. Pacifica
Pacifica is great if you're a perfume newbie, because they have a huge selection of scents. Plus they're affordable and 100% vegan! A full-size bottle is only $22, and you can buy them online at Pacifica.com or from Target stores.
9. Lush
I'm sure you've all heard of Lush by now! They carry some nice spray and solid perfumes. Their spray perfumes are alcohol-based and run for about $50 a bottle. Personally, I have a soft spot for Sikkim Girls which has notes of Jasmine and Tuberose. Visit your local Lush store to check them all out!
10. Aromi
Aromi is mostly known for their lipsticks, but they also make solid perfume (for women) and cologne (for men). Great variety of scents, and each solid perfume is only $12. You can buy them from Aromi.com.
11. Lavanila
Lavanila are popular for their "healthy deodorants", but they also make some great fragrances that are just as healthy and free from potentially toxic chemicals. Their full-size fragrances retail for $58 at Sephora.
12. Tsi~La (organic)
They're completely organic and natural, but also 100% vegan. A full-size perfume bottle starts at $125, and you can buy them from TsiLaOrganics.com.
13. A Perfume Organic (organic)
100% natural and non-toxic perfume, and it's vegan as well. They currently offer 5 scents in beautiful and eco-friendly packaging. They're $65 each and you can purchase them from their official site.
14. Ecco Bella (organic)
Ecco Bella is a green beauty brand that makes everything from skincare to makeup. They also offer a collection of organic Eau de Parfums free from synthetics, that use only essential oils. A bottle retails for $30 from EccoBella.com.
15. Vered Organic Botanicals (organic)
Another organic and cruelty-free that offers skincare and more. Check out their fragranced body oils at VeredBotanicals.com, which are 100% vegan and use a blend of essential oils.
16. Terra Nova (natural)
A collection of perfumes, body mists, and other bath and body products that are all-natural and affordable. Check them out at TerraNova.com!
17. Lotus Wei (natural)
Lotus Wei is based on relieving stress through flower aromatherapy. They make lovely perfume mists that are natural, with some organic ingredients. You can purchase them The Detox Market at $40 per bottle.
18. French Girl Organics (organic)
French Girl Organics is not only cruelty-free, but also all-vegan and natural. With their ingredients being mostly organic and their minimalistic packaging, what's not to love? They offer quite a few fragrances at their official site.
19. Forager Botanicals (natural)
Forager Botanicals offer natural scent that free from potentially harmful chemicals. Their perfumes are also vegan and retail for $98 per full-size bottle. You can shop at ForagerBotanicals.com.
20. Auphorie (vegan)
Auphorie is a Maison de Parfum dedicated entirely to highly original luxury handcrafted perfumes and scent solutions, made in small batches using an eclectic selection of the finest natural extracts and innovative raw ingredients." They're 100% vegan.
21. Commodity
Newly added! Commodity confirmed their cruelty-free status. They're a popular brand of perfume available at Sephora.
22. NEST Fragrances
Newly added! NEST is another perfume brand available at Sephora. I was always drawn to their fragrance because of the beautiful, dark packaging with florals.
23. Phlur
Newly added! Yet another cruelty-free brand which can be found at Sephora. Phlur fragrances are actually greener (as in less toxic) than traditional fragrances and are under the "clean at Sephora" category.
24. Pinrose
Newly added! Also available at Sephora, Pinrose fragrances come in a more whimsical and sometimes iridescent packaging. They describe themselves as a "fun and fearless" brand.
25. Skylar
Newly added! Skylar is one of the top cruelty-free brands out there, and we love that they're fully transparent about their ingredient list. There's truly a scent for everyone.
---
3. Companies With No Response
I've also contacted the following companies, but haven't heard back from them. This doesn't mean that these companies test on animals. However, it's often a red flag when a company refuses to share their animal testing policy.
L'Artisan Parfumeur
TOCCA
Juliette has a Gun
Clean
Carven
Frederic Malle
Histoire de Parfums
Serge Lutens
Amouage
I'll be adding companies here as I contact them. When I do hear back, I'll be moving those companies to the appropriate section.
---
4. Companies With Unclear Policies
There are some companies that refuse to give us their full animal testing policies, or remain vague about some aspects. I couldn't trust these brands as being fully cruelty-free, so here they are, along with the explanation.
1. Elizabeth And James
The Olsen twins own this brand. They make a fragrance called Nirvana, which is a best-seller at Sephora.

According to PETA's Caring Consumer list, Elizabeth and James Fragrances are cruelty-free. But when I reached out to the brand, they couldn't answer a single question about their animal testing policy. This is the only answer they gave me:
The Elizabeth and James Nirvana products are not tested on animals.
Elizabeth and James are licensed to a company called Butterfly Beauty LLC. I reached out to them but received no response.
2. Stella McCartney
The Stella McCartney brand is one of the fashion industry's most ethical brands. They don't use leather or fur in any of their products, and they're completely vegan, including their perfume.
However, it's Procter & Gamble that own their fragrance license, and all other P&G fragrances are tested on animals. It's possible that Stella McCartney has a deal with P&G which ensures that no animal testing is performed for Stella McCartney, and their fragrance may not be sold in mainland China.
But then again, in the response I received, they weren't able to confirm that their suppliers don't test on animals. Here's the full response:
Stella McCartney is a proud vegetarian company. Therefore we do not use leather, skins, feather or furs on any of our products. None of our products are ever tested on animals, by us or anyone else that work on the Stella McCartney Ltd fragrances. P&G Prestige produce our fragrances as a licence of Stella McCartney's beauty products, but we can assure you that we respect a very strict ethical charter and that none of our products have ever been tested on animals. All Stella McCartney fragrances are vegan friendly, which means that no ingredient is tested on animals or comes from animals origins, including bees.

We stand by our ethics regarding animal testing, and we have even chosen not to sell our fragrances in China. In order to sell fragrances in China we would have to meet Government regulation which requires animal testing and that is something that we will not allow for any of products. We hope that by promoting these types of values that other fragrance licensees of P&G Prestige to follow us and say no to animal testing.
To sum this up:
Finished products are not tested on animals, either by Stella McCartney or anyone else.
The products are vegan.
Their products are not sold in China.
No mention is made about the suppliers!
I followed up, but they still wouldn't touch base about their suppliers.
3. TokyoMilk
TokyioMilk is a company I've tried to contact multiple times but never heard back from. Years ago, they were in the process of acquiring Leaping Bunny certification, but they stopped the process and never followed through. This to me raises a red flag.
---
I hope this post is helpful to all the perfume lovers out there! I'll be updating this list as I hear back from companies, so keep an eye out for that as well.
Which Brands Are Cruelty-Free?
Download our list of 600+ verified cruelty-free brands straight to your device. Bring it with you everywhere you go, and never worry about supporting animal testing again. Click here to download