Official Animal Testing Policy:
"Fresh does not test our products on animals. We are deeply committed to the elimination of animal testing. We actively participate in validation studies of new alternative tests in the framework of the European cosmetics association, Cosmetics Europe.

We are one of only a few companies to have invested in creating our own internal department specifically dedicated to alternative methods applicable to the safety evaluation of raw materials and cosmetic products, in order to ensure both total control over raw materials and complete security of cosmetic products for consumers, which is our top priority.

As a result, all Fresh products undergo very strict tolerance tests using non-animal methods during the development of each product to ensure quality and safety prior to market.

Our products are made in Europe and USA, and for imported cosmetics the Chinese health authorities require companies to make their products available to the authorities to be tested in state-certified laboratories for registration purposes only, as it is currently their only recognized method to demonstrate product safety. These tests are not carried out by us, but by the Chinese authorities."
The Truth About Fresh's Animal Testing Policy
Although Fresh claims not to test their finish products on animals themselves, they do allow third parties to test these products on their behalf where required by law. Fresh also sells cosmetics in mainland China, and as stated above, the Chinese authorities do test these products on animals. For these reasons, Fresh is not a cruelty-free brand.
The statement above can be considered misleading, since the first paragraphs aim to give us the impression that Fresh is a cruelty-free brand. Don't be fooled by these claims. If a brand pays to have their products tested on animals in China, this brand is not cruelty-free.
Incomplete Policy On Their Website
In the FAQ on their official site, Fresh list the question: What is Fresh's position on animals testing?
The answer they give is incomplete, and leaves out the most important part: their involvement in China. Here's a screenshot of the entire section: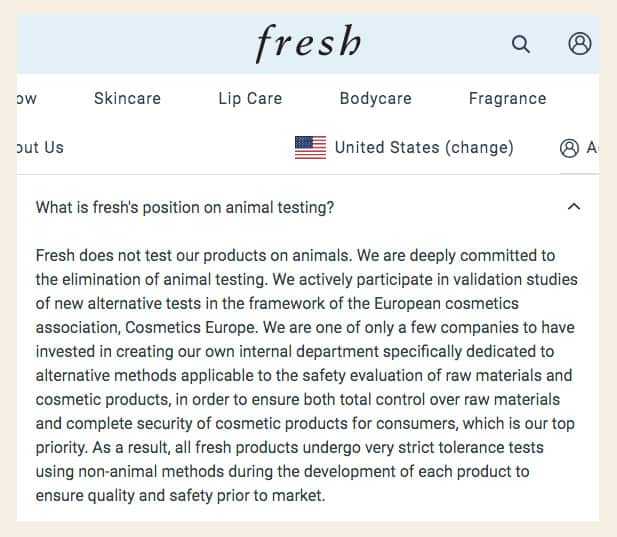 The statement above emphasizes their work against animal testing, yet there's no mention of their products actually being tested on animals in China. This is very misleading. When we reached out to Fresh, we received the policy listed above under "official policy", which is more complete.
Moral of the story: Be careful when reading a brand's animal testing policy, and always read between the lines and reach out to the company when in doubt.
About Fresh
Fresh is a high-end skincare and body care brand which can be found at Sephora. They're also available in some department stores such as Nordstrom, and they have standalone stores. They're owned by LVMH.
Is Fresh owned by a parent company that tests on animals?
Fresh is owned by LVMH, a company that tests on animals. Not only is Fresh not cruelty-free but neither is their parent company.
Is Fresh sold where animal testing is required by law?
Yes, Fresh is available for sale in countries with mandatory animal testing. This means that their products were likely tested on animals.
Is Fresh certified cruelty-free by any organizations?
No, Fresh is not certified by any organizations.
Is Fresh vegan?
Fresh might offer some vegan products, however because this company is not cruelty-free, we recommend avoiding any products they offer even if they are vegan.
How do you determine that brands like Fresh are not cruelty-free?
Most brands don't publicly display their full animal testing policies. We contact brands directly with our questions in order to get their complete policy. If any brand states that they, their suppliers, or any third party test on animals, the brand is listed as "not cruelty-free."