And as crazy as it may sound, yes, menstrual care products can be, and sometimes are, tested on animals in the United States. This applies to both tampons and pads, which are considered "medical devices" according to the FDA. That being said, brands can also provide alternative data if they choose to. Here's what I found from the FDA's site:
"In accordance with the least burdensome provisions of the Act, FDA will rely upon well-designed bench and/or animal testing rather than requiring clinical studies for new devices unless there is a specific justification for asking for clinical information to support a determination of substantial equivalence. While, in general, clinical studies will not be needed for most menstrual tampons and pads, FDA may recommend that you collect clinical data for menstrual tampons (including applicators, if present) or pads (...) FDA will always consider alternatives to clinical testing when the proposed alternatives are supported by an adequate scientific rationale."
After reaching out to all the tampon, pad, and menstrual health companies I could find, I was so pleasantly surprised to find a plethora of wonderful cruelty-free options! The companies listed below all confirmed that no animal testing is involved at any point during the production, and they don't deal with suppliers who test on animals.
If you don't want to support companies like Procter & Gamble or Unilever, these alternatives are better for you, the planet and the animals! In this guide, you'll find:
Tampons and Pads
Reusable Pads and Period Underwear
Menstrual Cups
Hygiene Products
Misc. Creature Comforts (to make periods more tolerable!)
Toxicity in Menstrual Care
The topic of toxicity in menstrual care has been coming into focus recently as women are finding out more about the ingredients used in the products they use. Since tampons and pads are considered medical devices according to the FDA, companies are not required to disclose their ingredients, so there's no easy of knowing exactly what these products contain. Things like chlorine bleach and plastic chemicals don't belong anywhere near the most sensitive part of a woman's body, and yet they are present in so many of the most popular brands!
A great thing I've noticed is that most of the cruelty-free and vegan-friendly menstrual care brands are also striving toward natural and non-toxic products! The reverse isn't always true though, in that just like with beauty products, "natural" doesn't always mean cruelty-free.
Tampons and Pads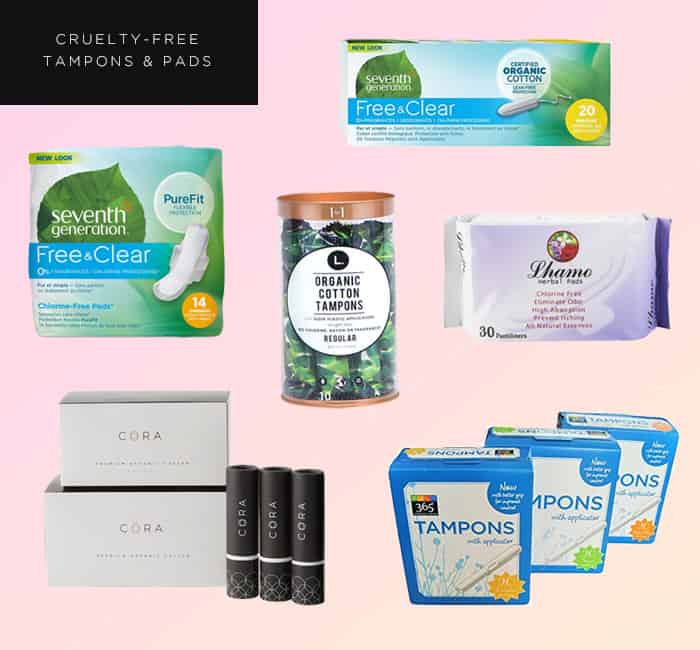 The companies below all make tampons and/or pads and you can either find them online or purchase them from some stores. There's also the option of a cruelty-free subscription box, Cora, at the end.
While Seventh Generation is primarily known for their cruelty-free cleaning products, they also offer a wide selection of menstrual care products including tampons, pads and pantyliners. They are available in grocery stores like Whole Foods and Target (shop here) as well as on Amazon (shop here).
In addition to their natural washes, The Honey Pot also makes their own chlorine-free pads and pantyliners, which are designed with plant essence oil to prevent itchiness. They are available individually, as well as with a monthly subscription service through their website.
In addition to carrying other cruelty-free brands, Whole Foods actually has their own affordable cruelty-free line of menstrual care products within their 365 "Everyday Value" store brand. They offer a variety of tampons and pads, which can be found in Whole Foods stores (obviously), as well as on Amazon (shop here).
This is L. makes vegan-friendly organic Cotton tampons, pads and liners as well as condoms. L. matches each sale of a tampon, pad or liner with a donation of an organic cotton pad to a girl in a developing country. The packaging is very trendy-looking, making them ideal if you want your period products to be more "incognito" in your handbag. They are available online individually or with a subscription, and can also be found in stores like Target and Whole Foods.
Cora is a tampon subscription box service, which makes things super convenient since it is a literal monthly necessity. For every month's supply of Cora you receive, Cora gives a month's supply of sustainable pads to a girl in a developing country. You can subscribe to Cora here.
Reusable Pads and Period Underwear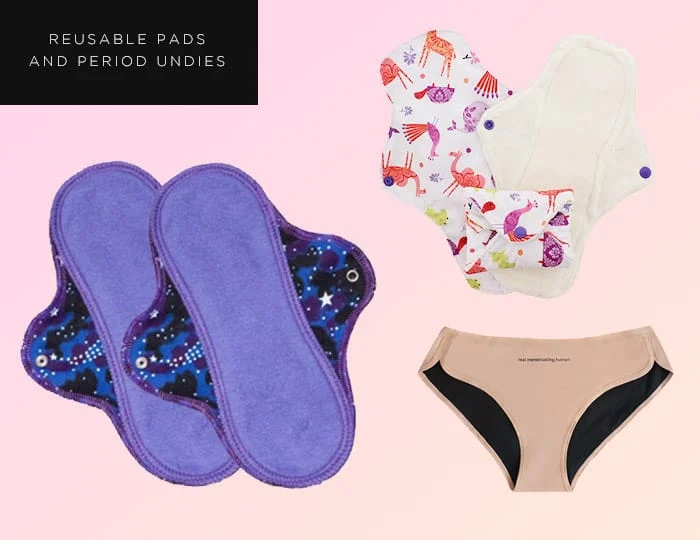 Another option is using reusabe pads, which many independent companies offer and are often handmade. It's a great option because you get to cut down on waste and use of plastic. A similar yet newer option is period underwear such as Thinx.
Lunapads are reusable cotton pads which come in a variety of colors and patterns, as well as undyed. All reusable cotton pads are a great eco-friendly option if you want to cut down on using so many products and reduce your environmental footprint.
Pink Daisy makes reusable organic cotton and natural fabric pads, as well as nursing pads. As an added bonus, all fabrics and dyes used are vegan-friendly.
Sckoon is yet another brand with a good selection of reusable cotton pads in a variety of colors and patterns. They also make a menstrual cup, which is listed below.
There are a few brands that make period underwear, but in my opinion, Thinx is the most stylish. They come in several different cuts and they are also expanding into activewear options. They are anti-microbial, moisture-wicking, absorbent, and leak-resistant. Like reusable pads, they are a great eco-friendly option to reduce waste.
Menstrual Cups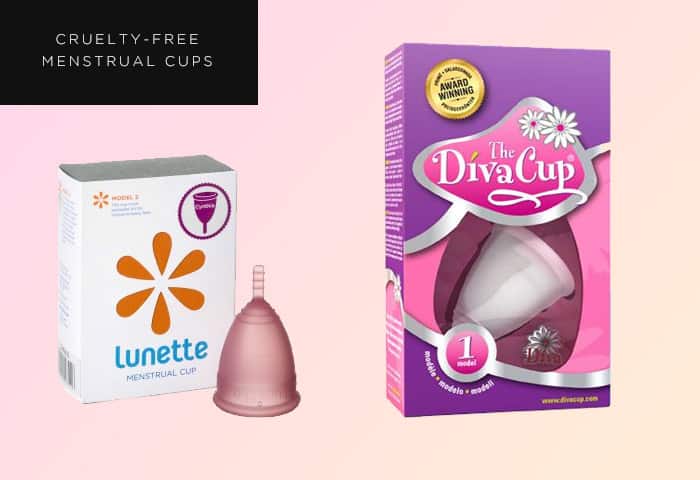 There's also the option of using a cruelty-free menstrual cup, which is becoming more and more popular. Menstrual cups are a healthy option with no risk of Toxic Shock Syndrome, and they don't have to be replaced as often as a tampon.
Perhaps the most well known menstrual cup on the market, the DivaCup is also cruelty-free! It is available online as well as at Target and select grocery and drug stores.
In addition to their eco-friendly reusable cotton pads, Sckoon also makes its own line of menstrual cups. They recently debuted a pink cup, from which portion of all sales will be donated to help fund breast cancer awareness.
Lunette is a Finland-based menstrual cup company which also has a non-profit that gives girls in Kenya life skill training and access to menstrual cups.
Mooncup is a UK-based menstural cup brand which also contributes to charitable organizations in places like Kenya and Nepal, where sanitary products are not readily available.
Hygiene Products
The Honey Pot offers a great line of natural body washes, which are available on their website as well as at Target!
The same company which makes the DivaCup also makes a cruelty-free "DivaWash", which is a gentle pH balanced cleanser intended "for face, body and The DivaCup".
Sweetspot Labs is a part of the Skinfix company, which is also cruelty-free. They have a nice selection of washes and wipes, with fun fragrances like Vanilla Blossom and Grapefruit Verbena. They are available online and in select drug stores.
Swipes "Lovin Wipes" are intended for use "before and after intimate moments", but they also work perfectly for freshening up during that time of the month! They are available online as well as at Whole Foods stores.
Creature Comforts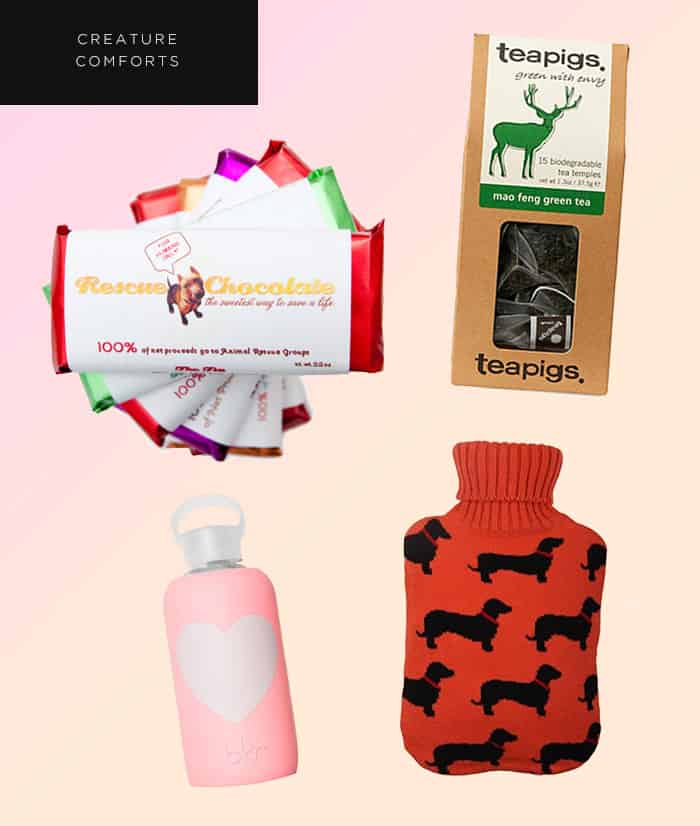 If you're not feeling your best during that time of the month, here are a few miscellaneous things that might make it more tolerable.
It's always a good thing to have some vegan dark chocolate handy this time of the month (or anytime really). I LOVE Rescue Chocolate, and they dedicate all profits to animal rescue groups so you can feel doubly good about it!
If you are looking for a little boost of caffeine without added moodiness, I highly recommend green tea! It's loaded with antioxidants and always seems to help me feel better. I love this minty one from Teapigs, and somehow I feel like even the image of the serene green camel on the packaging seems to put me at ease.
Staying hydrated during this oh-so-fun time is SO important! Of course, you don't need a water bottle to do this, but I find it super helpful to have one with me on-the-go as a reminder!
Last but not least, sometimes there is nothing more comforting than a hot water bottle to soothe cramps and aches. The puppy cover in the image is sold separately from the bottle and is wool-free.
More Cruelty-Free Guides
If you've enjoyed this post, read our other cruelty-free guides to find the best beauty products for you:
Which Brands Are Cruelty-Free?
Download our list of 600+ verified cruelty-free brands straight to your device. Bring it with you everywhere you go, and never worry about supporting animal testing again. Click here to download