The Truth About Revlon's Animal Testing Policy
Revlon is up-front about their animal testing policy. They clearly state that they do test on animals if it's required by law. They also sell in stores in mainland China, where animal testing is mandatory for foreign cosmetics.
If a company tests on animals where required by law, they cannot be considered cruelty-free, even if they don't test on animals themselves. Even though Revlon claims that their company doesn't test on animals, they did pay for their products to be tested on animals in China, which means they're not cruelty-free.
Revlon's PETA Controversy
It's not until 2012 that it was discovered that Revlon started selling its products in mainland China. The company had been on PETA's list of cruelty-free brands for over two decades until then. Revlon's decision to start selling in China had not been revealed to PETA; when it was found out that Revlon tests on animals in China, PETA removed the company from its cruelty-free list.
If Revlon will pull out of China like other cruelty-free companies have done, PETA will move it back to its list of companies that do not test on animals. To this day, Revlon has refused to end its sales in mainland China and doesn't have any plans to pull out.
"For more than two decades, Revlon portrayed itself to PETA and to millions of consumers as a company whose products were not tested on animals. During all this time, Revlon enjoyed and benefited from PETA's support and our promotion of Revlon products to women around the world. Revlon betrayed that trust. In 2012, PETA found out that Revlon has been selling its products in China."
The source can be found here.
Revlon was not the only brand to trick PETA. Avon, Mary Kay, and Estee Lauder were all paying for animals tests in China, and were also exposed by PETA.
"But now we have learned that all four companies [Revlon, Avon, Mary Kay, Estee Lauder] have been paying for tests on animals in order to sell their products in China—and they did not inform PETA or consumers that their policies had changed."
Revlon's Current Animal Testing Statement
We received their full animal testing policy (above) via email. However, Revlon Inc (which owns Revlon as well as other brands) has an animal testing statement on their website. If we look in the footer, we can see an "Animal Testing" link, which opens a PDF document. In this document, we read:
"Revlon does not conduct animal testing and has not done so for decades. We comprehensively test all of our products using the most technologically advanced methods available to ensure they are both innovative and safe to use. We believe that all women should have the opportunity to express themselves through makeup and we sell our products in many markets around the world.

Regulatory authorities in some countries conduct independent testing in order to satisfy their own mandatory registration requirements and a limited number of these countries have not yet adopted alternative testing methods. While Revlon complies with the requirements for safety in all of these countries, we continue to collaborate with other companies to advocate for the adoption of alternative testing methods and the elimination of animal testing around the world."
Here's a screenshot of this document: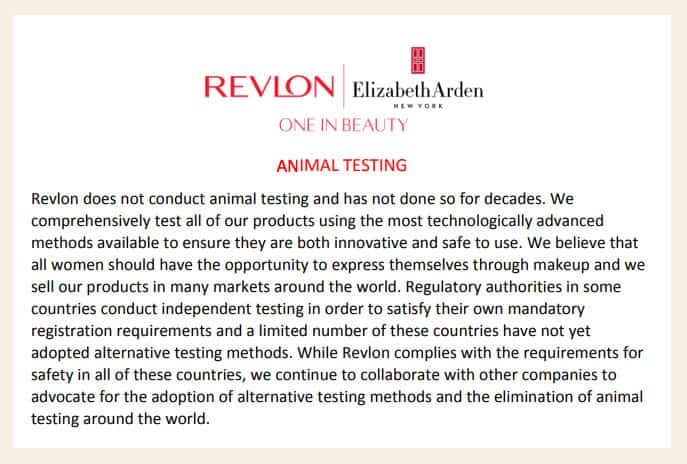 In this statement, we read that this policy extends to all of Revlon Inc's brands. These brands are: Almay, Elizabeth Arden, American Crew, CND, Cutex, Sinful Colors, and Mitchum
About Revlon
Revlon is a popular drugstore makeup brand owned by Revlon Inc. They were founded in New York City in 1932. Today, Revlon Inc owns other popular brands such as Almay, Elizabeth Arden, and Mitchum. None of them are cruelty-free.
Is Revlon owned by a parent company that tests on animals?
Revlon is not owned by a parent company that tests on animals.
Is Revlon sold where animal testing is required by law?
Yes, Revlon is available for sale in countries with mandatory animal testing. This means that their products were likely tested on animals.
Is Revlon certified cruelty-free by any organizations?
No, Revlon is not certified by any organizations.
Is Revlon vegan?
Revlon might offer some vegan products, however because this company is not cruelty-free, we recommend avoiding any products they offer even if they are vegan.
How do you determine that brands like Revlon are not cruelty-free?
Most brands don't publicly display their full animal testing policies. We contact brands directly with our questions in order to get their complete policy. If any brand states that they, their suppliers, or any third party test on animals, the brand is listed as "not cruelty-free."