Official Animal Testing Policy:
"Lancôme is committed to upholding the highest standards of safety for all the products it makes and sells. We adhere to the most rigorous standards for product safety so that our customers can purchase and use our products with complete confidence. We want you to know that: Lancôme is in full compliance with FDA regulations as well as the European Union 7th Amendment Cosmetic Directive and the requirements for safety in all of the countries in which our products are sold. Each and every ingredient used in our products has been thoroughly reviewed and tested by our internal safety team made up of toxicologists, clinicians, pharmacists and physicians. Every product formulation that Lancôme manufactures is screened and tested for safety before it is marketed to consumers. We at Lancôme do not conduct animal testing on our products or ingredients, nor ask others to test on our behalf, except when required by law. As we continue to expand globally and reach our customers around the world, it is our practice to do our part towards advancing the science of safety and validated alternative methods that eliminate the need or requirement for any animal testing globally. In 1989, our parent company, L'Oreal voluntarily stopped using animal testing for the evaluation of its entire range of finished products. The company has invested more than $1 billion over the last 25 years to develop innovative, alternative methods to animal testing, particularly in the area of reconstructed tissue development. L'Oreal and Lancôme are totally committed to a future without tests on animals."
The Truth About Lancôme's Animal Testing Policy
Simply put, Lancôme tests on animals where required by law. They also sell cosmetics in stores in mainland China, which means that they products were likely tested on animals in the country. Any brand that tests on animals where required by law cannot be considered cruelty-free, since they willingly agree to pay for animal tests to be performed on their products.
From Their Website
Lancôme's animal testing policy is displayed on their website, although you do have to dig for it in the FAQ. Typically companies clearly answer the question "are your products tested on animals?" In this case, their animal testing policy is "hidden" under the question "What is Lancôme's commitment to product safety?" Here's a screenshot of the section, with their animal testing policy: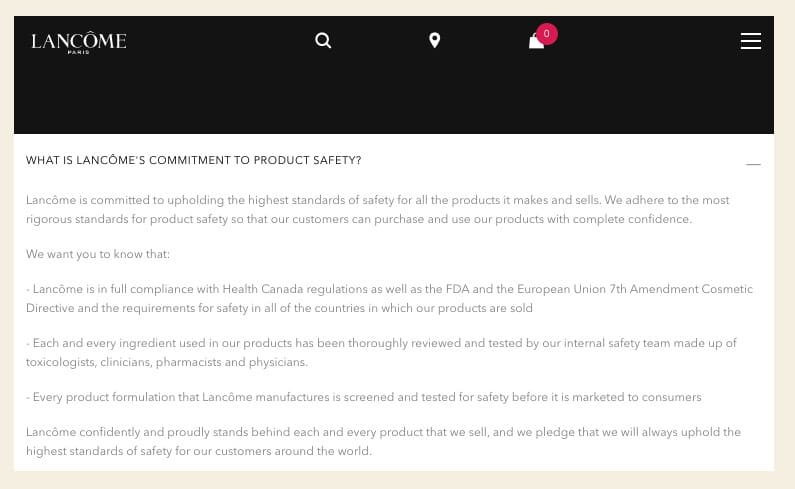 About Lancôme
Lancôme is a French luxury brand that mainly offers skincare, makeup, and fragrance. They were acquired by L'Oreal in 1964 and have been a subsidiary of the brand ever since.
Is Lancôme owned by a parent company that tests on animals?
Lancôme is owned by L'Oréal, a company that tests on animals. Not only is Lancôme not cruelty-free but neither is their parent company.
Is Lancôme sold where animal testing is required by law?
Yes, Lancôme is available for sale in countries with mandatory animal testing. This means that their products were likely tested on animals.
Is Lancôme certified cruelty-free by any organizations?
No, Lancôme is not certified by any organizations.
Is Lancôme vegan?
Lancôme might offer some vegan products, however because this company is not cruelty-free, we recommend avoiding any products they offer even if they are vegan.
How do you determine that brands like Lancôme are not cruelty-free?
Most brands don't publicly display their full animal testing policies. We contact brands directly with our questions in order to get their complete policy. If any brand states that they, their suppliers, or any third party test on animals, the brand is listed as "not cruelty-free."