Official Animal Testing Policy:
"Clinique Laboratories, LLC. is committed to the elimination of animal testing. We are equally committed to consumer health and safety, and bringing to market products that comply with applicable regulations in every country in which our products are sold.

We do not conduct animal testing on our products or ingredients, nor ask others to test on our behalf, except when required by law. We evaluate our finished products in clinical tests on volunteer panels.

Clinique Laboratories, LLC. fully supports the development and global acceptance of non-animal testing alternatives. To this end, the Company works extensively with the industry at large and the global scientific community to research and fund these alternatives."
The Truth About Clinique's Animal Testing Policy
Clinique is being misleading. They open their statement by saying they're "committed to the elimination of animal testing", yet they continue by claiming that they do test on animals where it's required by law.
In order for a company like Clinique to sell their products in stores in mainland China, they have to comply with their animal testing laws. Since Clinique does sell products in China, their products were most likely tested on animals there. Not only that, but it's the brand itself who funds these animal experiments.
A company can not be considered cruelty-free if they allow their products to be tested on animals where required by law. Companies that are cruelty-free do not sell locally in China, or sell there online only, which doesn't require any animal tests.
Even though Clinique claims not to test on animals, they make an exception for third parties (for example in China).
When it comes to their suppliers or third parties, Clinique claims that they do not "ask others to test on animals on their behalf". This claim is meaningless and misleading. They may not ask others to test on animals on their behalf, but the fact remains that they could still test on animals on their behalf without being asked to do so. A cruelty-free company must ensure and verify that third parties don't test on animals on their behalf.
We know for a fact that Clinique does allow third parties to test their finished products on animals in mainland China, which shows how meaningless the claim above is.
From Their FAQ
Here's a screenshot of Clinique's animal testing policy directly from their website: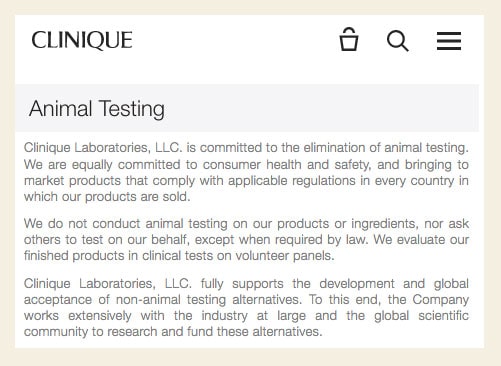 Clinique In Sold China
Clinique products are sold in mainland China, where animal testing is required by law. The following screenshot shows us that Clinique is sold at Chinese Sephora stores.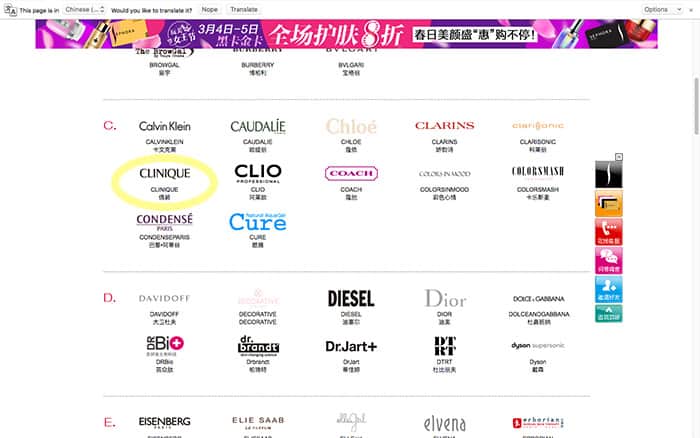 About Clinique
Clinique is a mid-range skincare and makeup brand available at Sephora, Ulta, and multiple other retailers and counters worldwide. The brand was founded by the Estée Lauder group in 1968, and continues to be owned by them today.
Is Clinique owned by a parent company that tests on animals?
Clinique is owned by Estée Lauder, a company that tests on animals. Not only is Clinique not cruelty-free but neither is their parent company.
Is Clinique sold where animal testing is required by law?
Yes, Clinique is available for sale in countries with mandatory animal testing. This means that their products were likely tested on animals.
Is Clinique certified cruelty-free by any organizations?
No, Clinique is not certified by any organizations.
Is Clinique vegan?
Clinique might offer some vegan products, however because this company is not cruelty-free, we recommend avoiding any products they offer even if they are vegan.
How do you determine that brands like Clinique are not cruelty-free?
Most brands don't publicly display their full animal testing policies. We contact brands directly with our questions in order to get their complete policy. If any brand states that they, their suppliers, or any third party test on animals, the brand is listed as "not cruelty-free."