Official Animal Testing Policy:
"We at Kiehl's do not conduct animal testing on our products or ingredients, nor ask others to test on our behalf, except when required by law. As we continue to expand globally and reach our customers around the world, it is our practice to do our part towards advancing the science of safety and validated alternative methods that eliminate the need or requirement for any animal testing globally.

In 1989, our parent company, L'Oreal voluntarily stopped using animal testing for the evaluation of its entire range of finished products. The company has invested more than $1 billion over the last 25 years to develop innovative, alternative methods to animal testing, particularly in the area of reconstructed tissue development. L'Oreal and Kiehl's are totally committed to a future without tests on animals."
The Truth About Kiehl's's Animal Testing Policy
Kiehl's inherits the animal testing policy of their parent company, L'Oreal. Although they claim not to test on animals themselves, they do admit to testing on animals where required by law. Since Kiehl's is available in stores in mainland China, this means that their products were likely tested on animals by the Chinese authorities.
No company that complies with these animal testing regulations can be considered cruelty-free. Every brand has the choice to either enter the Chinese market, which means having their products tested on animals, or to find alternatives which don't require animal testing, such as selling to China online-only.
Even though Kiehl's claims to be "committed to a future without tests on animals", they willingly paid for their products to be tested on animals, which contradicts their statement.
From Their Website
Kiehl's animal testing policy can be found on their website. We did have to dig for it, as it's displayed in their FAQ, under "Product Information".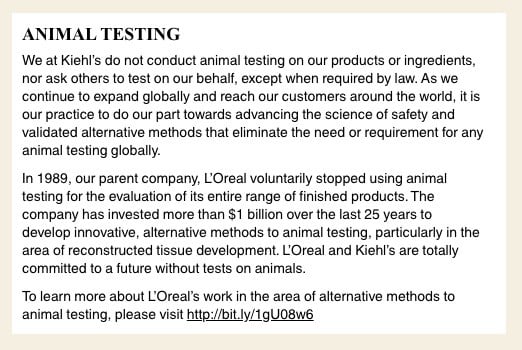 About Kiehl's
Kiehl's is a high-end skincare and body care brand available in department stores and drugstores worldwide. Founded in 1851, they were acquired by L'Oreal in 2000.
Is Kiehl's owned by a parent company that tests on animals?
Kiehl's is owned by L'Oréal, a company that tests on animals. Not only is Kiehl's not cruelty-free but neither is their parent company.
Is Kiehl's sold where animal testing is required by law?
Yes, Kiehl's is available for sale in countries with mandatory animal testing. This means that their products were likely tested on animals.
Is Kiehl's certified cruelty-free by any organizations?
No, Kiehl's is not certified by any organizations.
Is Kiehl's vegan?
Kiehl's might offer some vegan products, however because this company is not cruelty-free, we recommend avoiding any products they offer even if they are vegan.
How do you determine that brands like Kiehl's are not cruelty-free?
Most brands don't publicly display their full animal testing policies. We contact brands directly with our questions in order to get their complete policy. If any brand states that they, their suppliers, or any third party test on animals, the brand is listed as "not cruelty-free."