Most of the brands listed here specialize in hair, meaning they have a full line of hair products that goes beyond shampoo and conditioner. Some of them offer a smaller line of hair products, like shampoos and conditioners. If you're looking for shampoo and conditioner only, I have a post featuring my favorite products here.
About Our Vetting Process
At Cruelty-Free Kitty, we contact brands directly to find out their detailed animal testing policy. Once they respond with enough information, we're able to categorize the brands as either being cruelty-free, not cruelty-free, or in the grey area.
A green "CF" symbol means the brand is cruelty-free, and a pink "NCF" symbol means the brand is NOT cruelty-free. If you see a purple "GA" symbol, this stands for "grey area". It means that the company either didn't provide enough information, or we have no reason to believe that their products are completely cruelty-free.
Cruelty-Free
A cruelty-free brand is a brand that confirmed they don't test on animals at any point during product, and neither so their suppliers or any third parties. This applies not only to finished products but also to ingredients. We also ensure that these brands are not available for sale in stories in markets which require animal testing.
Not Cruelty-Free
These brands are not considered cruelty-free according to our standards. This means that their finished products or ingredients are tested on animals, either by the company itself, its suppliers, or a third party. Often, these brands are sold in markets which require animal testing.
Please note that these are just some of the brands that test on animals, and this list isn't exhaustive.
Grey Area
Brands in the grey area either didn't provide enough information regarding their animal testing policy, were unresponsive after several attempts to contact them, or use loopholes to sell in markets that require animal testing. A brand in the grey area does not necessarily test on animals. They could be cruelty-free, however they chose not to disclose any information with us.
How We Choose Brands
We're constantly adding more brands to our database, and the changes are reflected live in the list below.
There are brands for every budget from drugstore to salon in this guide, so you should be able to find cruelty-free alternatives no matter your needs and hair type. We chose the brands based on popularity as well as availability. These are brands that easy to find in stories, and many of them are available globally. We also included a selection of brands that are 100% vegan, and some that pass our sustainability criteria.
Our goal is to make it easy for you to find cruelty-free brands available in your area, and fitting your specific needs.
Looking for product recommendations? At the end of the list, I've also included a TOP TEN with 10 of the absolute best and most popular cruelty-free hair styling products.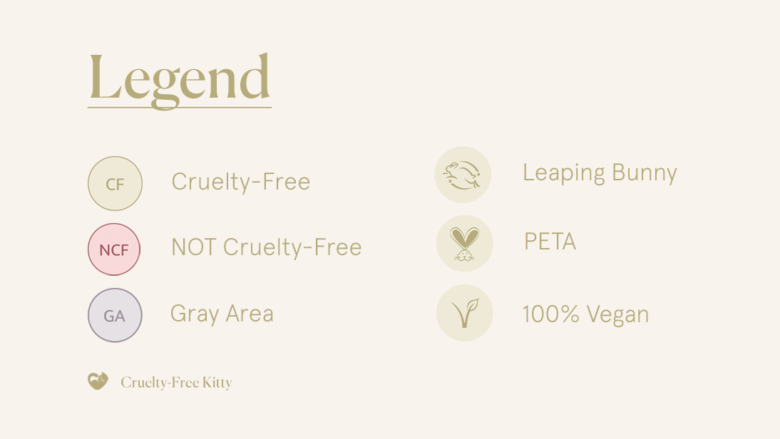 2. Best Cruelty-Free Hair Products
Cruelty-free brands offer some amazing hair products, so there's no need to look elsewhere. Here are some of the best products for various hair types and needs, from moisturizing masks that soothe damaged hair, to styling products that hold everything into place.
Although pricey, this is a fantastic award-winning product if you have straight to wavy hair. It gives your hair texture, volume, hold, and tames frizz without being sticky or making your hair stiff at all. It can also double as a dry shampoo to get rid of any oil, and it's colorless and doesn't leave a white residue.
This serum is an oldie but a goodie. It adds a gorgeous shine to the hair while also doubling as a heat and weather protectant. There is a reason this has been such a popular product for so many years. While it definitely helps with frizz, it can make the hair look greasy if you use too much, so I recommend using it sparingly.
Probably the most talked about dry shampoo lately, the Drybar Detox has a super absorbent formula, so a little bit goes a long way. It works for literally all hair types and adds tons of lift at the roots. It does have a powdery texture, so it is best to spray it from further away with darker hair colors to avoid chalky frosted look. This being said, the powdery texture is the same quality that makes this such an effective dry shampoo.
This is an amazing hairspray which provides maximum hold without too much buildup or flakiness. It helps to extend the longevity of hairstyles for up to "120 hours" yet somehow remains soft to the touch. Another major plus is that it is humidity and wind-resistant!
Beachy waves are all the rage and it seems like they're here to stay. This is an awesome spray for getting that effortlessly chic undone hair without weighing it down. Its formula is less sticky than other wave sprays, so you can avoid that dreaded crunch. It works best when sprayed and scrunched into wet hair before drying.
As the name would suggest, the Verb Ghost Oil is a transparent oil, which is great for adding a bit of shine to the hair without making it look too greasy. It's a must-have for frizzy hair!
Pacifica's new line of hair care products is really good, and actually super affordable. This mask restores and hydrates hair, while also protecting it from damage and pollutants. Another plus is that unlike other oily hair masks, it rinses out easily without buildup. This is also often compared to Aussie's 3 Minute Miracle, making this a great cruelty-free and vegan dupe!
Ideal for thick, curly hair, this "smoothie" conditions hair, restoring moisture, body and shine, while also enhancing curls and minimizing frizz. It is best applied to damp hair but can also work on dry styled hair for added definition.
This spray protects locks from heat while also providing flexible hold and frizz-control. It is the perfect spray to use to prep your hair before curling with a flat iron or curling wand. Since it is a lighter hold, I would recommend finishing with a firmer hold hairspray like the Kenra Volume Spray for maximum style control.
Brands With No Response
Back to the cruelty-free list, the following companies were contacted but we haven't heard back from them. There's still a chance of them being cruelty-free, but they might be testing on animals just as well. Brands will be moved from this list to the appropriate list once I hear back from them.
Earth's Nectar
Fairy Tales
Jonathan
Keranique
Lavett & Chin
Macadamia
Madam C.J. Walker Beauty Culture
Mermaid Hair
Oscar Blandi
Philip B
Renpure
ReTress
More cruelty-free guides!
Thank you for reading the cruelty-free hair guide, and I hope you found some great cruelty-free brands and products. Don't forget to check out our other guides:
Which Brands Are Cruelty-Free?
Download our list of 600+ verified cruelty-free brands straight to your device. Bring it with you everywhere you go, and never worry about supporting animal testing again. Click here to download