[caption id="attachment_4607" align="aligncenter" width="710"]
10 Best Cruelty-Free Shampoos[/caption]
1. Hask Argan Oil Shampoo (not pictured)
Best for: All hair types.
Buy from: Amazon.
I love and recommend any shampoo and conditioner duos from Hask. The Argan Oil line is especially great for those with dry or damaged hair as it's rich and hydrating. It doesn't weight down your hair and keeps it light and glossy. This is my new favorite shampoo as I no longer use Wen (which is pictured here).
Best for: Dry or damaged hair.
Buy from: Amazon.
This is the most gentle, nourishing shampoo I've ever tried and it's affordable. It has a mild lemony scent that isn't overwhelming, and while it's a gentle shampoo, it absolutely cleans your hair and gets the job done. I always reach for this one when my hair feels particularly dry, and it always leaves it smooth and silky as promised.
3. Kevin Murphy Blonde Angel Wash (blonde or silver hair)
Best for: Blonde or silver hair.
Buy from: Amazon.
If you have blonde or silver hair and you want to keep it from getting yellow or brassy, you need a purple shampoo in your life. This is the best purple shampoo I've used, and it's 100% cruelty-free! The scent is heavenly, and it leaves my bleached hair tangle-free. Kevin Murphy is a professional line found only in salons.
4. Paul Mitchell Clarifying Shampoo Two
Best for: Normal to oily hair.
Buy from: Amazon.
A clarifying shampoo efficiently gets rid of build-up, leaving your hair squeaky clean. If you have oily hair or use a lot of hair-styling products, using a clarifying shampoo at least once a couple of weeks might be a good idea. Paul Mitchell's Clarify Shampoo, while making my hair feel utterly clean, doesn't dry it out. It leaves it soft, shiny, and adds a boost of volume. Hands down the best cruelty-free clarifying shampoo.
5. John Masters Organics Zinc & Sage Shampoo
Best for: All hair types.
Buy from: Amazon.
This is another one of my favorite shampoos ever, and it's well-loved by women with different hair types. John Masters Organics is an organic beauty brand and their products are free of harsh chemicals and synthetics. They're also super luxurious yet effective. This shampoo smells like honey and coconut (seriously, so good) and it leaves my hair clean and shiny. Loooove this one!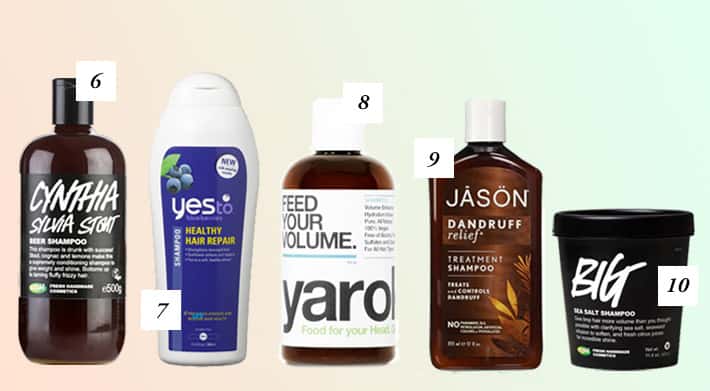 6. Lush Cynthia Sylvia Stout Shampoo
Best for: All hair types.
Buy from: Lush.
There's a reason why Lush is in this list. Twice. Simply put, their hair care stuff is the bomb. Cynthia Sylvia Stout is my favorite liquid shampoo of theirs. Its secret ingredients: beer and cognac oil for glossy hair! It's great for curly as well as thin hair, and has a strong scent I can only describe as voodoo soap, which I personally find fantastic.
7. Yes To Blueberries Healthy Hair Repair Shampoo
Best for: All hair types.
Buy from: Amazon.
Another very affordable option that's cruelty-free, 99% natural, and works wonders. The Yes To Blueberries shampoo is gentle and leaves your hair smooth and moisturized without weighing it down. This along with the Giovanni shampoo are the best affordable options I've found. You can find Yes To Products in so many drugstores nowadays, and they're Leaping Bunny-certified!
8. Yarok Feed Your Volume Shampoo
Best for: Fine hair.
Buy from: Amazon.
Have you heard of Yarok? It's an all-natural hair care brands that's also cruelty-free and vegan. They're on the luxury side of things, but their products are high-quality and totally eco-friendly -- Yarok means "green" in Hebrew. This shampoo, for instance, gives fine hair some oomph without using any harsh ingredients, and it works!
9. JASON Dandruff Relief Shampoo (all hair types)
Best for: All hair types.
Buy from: Amazon.
This is an all-natural solution for dandruff and itchiness. It contains safe ingredients that really work like Sulfur and Salicylic Acid, and it's free or SLS or any other harsh ingredients that might aggravate dandruff. It also contains Rosemary, Olive Oil, and Jojoba Oil. If you struggle with dandruff, this is the best cruelty-free solution out there.
10. Lush Big Shampoo (all hair types except colored or dry)
Best for: All except dyed, dry, or damaged.
Buy from: Amazon.
Big is a cult Lush product, and also my favorite shampoo of theirs. As its name implies, it's designed to give hair big bouncy volume. It's unlike any other shampoo out there: made with real sea salt -- which gives it a strangely pleasant texture -- it cleans hair thoroughly yet gently. My hair has never been as soft as when I wash it with Big, which is probably due to it being infused with avocado butter and coconut oil. Also, it has an absolutely amazing flowery-citrusy scent. If your hair is very dry or colored, this one might be too harsh!
I hope this list has been useful, and I'd love to hear your own picks! What's your favorite cruelty-free shampoo ever?
Which Brands Are Cruelty-Free?
Download our list of 600+ verified cruelty-free brands straight to your device. Bring it with you everywhere you go, and never worry about supporting animal testing again. Click here to download