Every month, we bring you up to $195 worth of cruelty-free and vegan products for only $34.99 with our subscription box. Click here to find out more and claim your May box.
Step 1
First of all, there are only 3 bunny logos a cruelty-free shopper should trust. The first step is therefore recognizing the logo: if it's not one of the 3 logos below, proceed with caution!
Many companies use arbitrary illustrations of rabbits to indicate that their product is cruelty-free. While this doesn't mean the company in question isn't truly cruelty-free, you will have to research it and ask them the right questions.
The 3 bunny logos you can trust are the following: the Leaping Bunny logo, PETA's cruelty-free logo, and the Choose Cruelty-Free logo (independent Australian organization; especially look for this symbol if you live in Australia!). Any other symbol or logo of a bunny is unofficial and has not been accredited by a reputable cruelty-free organization.
Does this mean that they test on animals? Not necessarily. But it means they might not be cruelty-free.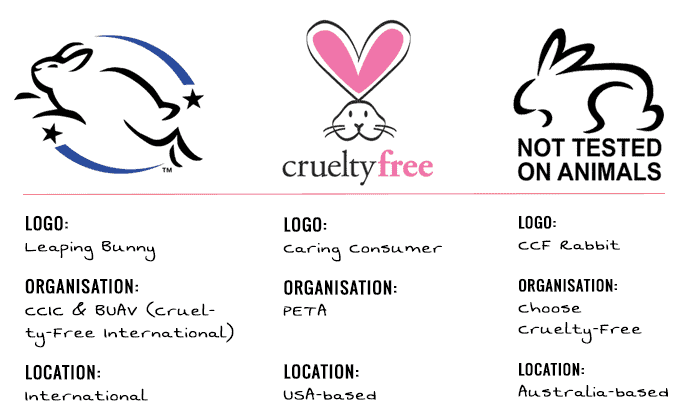 Step 2
If the product you're looking at is displaying one of these 3 trustworthy logos, the next step is to verify its authenticity by searching for the company in the organization's online database. Although it's a rare occurrence, some companies can and will display official logos unlawfully and without being certified by the organization! Here are links to each database:
Step 3
No bunny logo? You might be surprised to know that some companies can still be certified by the Leaping Bunny or PETA without displaying these logos on their packaging! This is because companies have to pay an extra fee in order to be able to display the cruelty-free symbol on their products. Roughly less than half of the companies found on the Leaping Bunny and PETA's lists sport the logo, so remember to check the databases above even if you don't see a logo!
To Sum It Up
If the logo on the packaging is not the Leaping Bunny's, PETA's, or from Choose Cruelty-Free, the logo is a fake. If the packaging displays one of these logos but you can't find the company in the organization's database (linked above), it's also a fake. And always remember that a company can be cruelty-free even without displaying any logo!
From The Cruelty-Free 101 Series:
Which Brands Are Cruelty-Free?
Download our list of 600+ verified cruelty-free brands straight to your device. Bring it with you everywhere you go, and never worry about supporting animal testing again. Click here to download