1. Nubian Heritage Abyssinian Oil & Chia Seed Body Wash ($12.99)
This is a super moisturizing gentle body wash with anti-aging ingredients. The Abyssinian oil softens rough, dry skin while the chia seeds and amaranth extract provide deep nourishment to restore healthy-looking skin. The ginseng is also a great ingredient to encourage skin's firmness.
If you have sensitive eczema-prone skin like me, I also recommend their Shea Butter & Aloe Vera Body Wash, as it is very gentle and fragrance-free!
The African Black Soap, Coconut & Papaya, Raw Shea Butter, Olive Oil & Green Tea, Mango Butter, Lemongrass & Tea Tree, Shea Butter & Aloe Vera scents are all vegan-friendly and lovely!
The Goats Milk & Chai Body Wash is not vegan, as it contains Goat Milk Extract, and the Indian Hemp & Haitian Vetiver Body Wash is not vegan as it contains Silk Proteins.
2. Yes To Cucumbers Soothing Body Wash ($8.99)
Yes To is a popular affordable and readily available cruelty-free skincare brand with lots of great vegan options. The Yes To Cucumbers wash is formulated with relaxing green tea and soothing cucumbers to make skin softer and smoother while providing some calming shower aromatherapy.
The Yes To Carrots Nourishing Body Wash, Yes To Blueberries Ultra Hydrating Body Wash, Yes To Grapefruit Exfoliating Body Wash and Rejuvenating Body Wash, Yes To Coconut Coconut Oil Body Wash, and Yes To Tomatoes Acne Fighting Body Wash are all also vegan-friendly! Most Yes To products are vegan, with the exception of some products which contain beeswax, honey, and/or silk amino acids.
3. Dr. Bronner's Pure-Castile Liquid Soap ($17.99)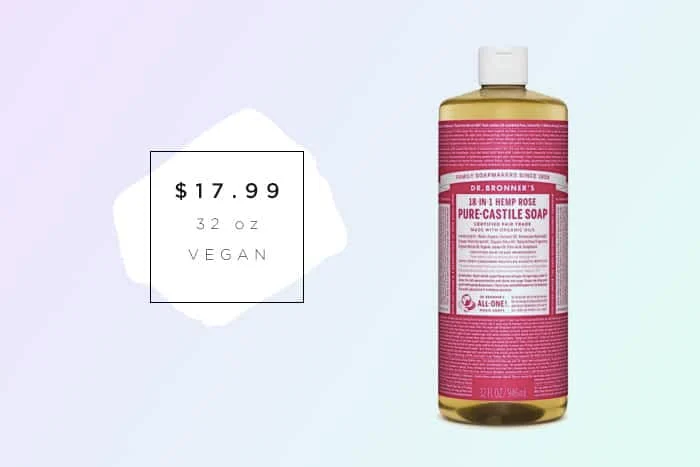 This is such a classic multipurpose soap which is fairly easy to find in a variety of stores. It works for face, body, hair, food, dishes, mopping, laundry, and even for washing pets! I also found it works amazingly for cleaning my makeup brushes and sponges! While it may seem a bit pricey, it comes in a huge bottle (32 oz), and it is actually highly concentrated so a little bit goes a long way. For cleaning and other purposes, you can dilute the soap with water, as instructed on the bottle.
It comes in 8 natural fragrances: Almond, Unscented, Citrus, Eucalyptus, Lavender, Peppermint, Rose and Tea Tree, all of which are certified vegan. My personal favorite is Almond (it smells like macaroons). All of Dr. Bronner's products are also certified organic, fair trade, non-GMO, Kosher and of course, cruelty-free (Leaping Bunny-certified). Another plus is that some grocery stores offer a bottle refill service on Dr. Bronner's soaps, which allows you to continue reusing the same bottle and reduce your environmental footprint by doing so.
4. Method Moisturizing Body Wash ($5.99)
The same Method that makes non-toxic cleaning products has expanded into making affordable body washes as well! Their Moisturizing Body Wash is formulated with naturally derived hydrating ingredients like nourishing aloe to leave your skin soft, hydrated and beautifully clean.
It comes in 5 fragrances: Coconut Milk, Magnolia, Olive Leaf, Surfside and White Tea, all of which are vegan.
If you're looking for something less moisturizing, their Foaming Body Wash and Refreshing Body Wash lines are also vegan. In fact, ALL of Method's products are vegan.
5. John Masters Organics Blood Orange and Vanilla Body Wash ($18)
This body wash is definitely on the luxury end of the spectrum, but it is really good. Many of the ingredients used are certified organic, and it is also gluten-free. They use botanically-based ingredients like corn and coconut, which give the body wash an extra creamy rich texture to leave the skin soft and smooth after removing dirt and oil.
It is also available in Rosemary & Arnica and Geranium & Grapefruit scents, both of which are vegan.
All John Masters products are vegan with the following exceptions: Lavender & Avocado Intensive Conditioner (honey), Sweet Orange & Silk Protein Styling Gel (silk proteins), Hair Pomade (beeswax), Honey & Hibiscus Hair Reconstructor (honey), Honey & Hibiscus Hair Reconstructing Shampoo (honey), and Lip Calm (beeswax).
6. SheaMoisture African Black Soap Body Wash ($10.99)
Perfect for problem skin, SheaMoisture's African Black Soap Body Wash With Frankincense & Myrrh cleanses, hydrates and calms the skin, while helping to balance oily skin for clearer complexions.
In terms of SheaMoisture's other body washes, The Raw Shea Butter Baby Head to Toe Wash and Shampoo (my fave wash for eczema), African Water Mint Bubble Bath Body Wash, Sacha Inchi Omega Rescue Replenishing Bubble Bath & Body Wash, Raw Shea & Cupuacu Hydro Defense Bubble Bath Body Wash, Fruit Fusion Coconut Water Energizing Bubble Bath & Body Wash, Beauty Hack Body & Hair Cleanser Base, and The Dragons Blood Coffee Cherry Rebound Revive Bubble Bath & Body Wash are all also vegan. (No dragons were harmed.)
The following body wash formulas are not vegan: Coconut Hibiscus Foaming Milk & Body Wash (silk proteins), Raw Shea Butter (silk proteins), Manuka Honey & Mafura Oil Intensive Hydration Body Wash (honey), and SuperFruit Complex Bubble Bath & Body Wash (silk proteins).
7. LUSH The Olive Branch Shower Gel ($32.95)
Everyone loves this classic shower gel from LUSH! It has a comforting warm citrus scent from mandarin oil and orange flower. It requires shaking up the bottle a bit to fully incorporate the olive oil, which can separate from the rest of the sea salt and mandarin juice-infused gel. This is another one great for cleansing and providing an invigorating aromatherapy experience.
Most LUSH shower products are vegan, including their Shower Gels (Dirty Springwash, Plum Rain, Happy Hippy, The Comforter, Yuzu and Cocoa, Don't Rain on My Parade, Wash That Man Right Out of My Hair, Beautiful), as well as their Shower Smoothies (Ro's Argan, Dreamwash, African Paradise, Turkish Delight), and their Shower Jellies (Needles and Pines, 93,000 Miles, Refresher).
The It's Raining Men Shower Gel and the Whoosh Shower Jelly are not vegan as they both contain honey.
8. Jack Black All-Over Wash ($21)
"The ultimate guy product from Jack Black", this is the perfect wash for those looking for a multi-purpose product. So while the price is on the higher side, it does the job of three products as it can be used for face, hair, and body. Plus, it's pH balanced, making it extra gentle for those with sensitive skin.
Their Turbo Wash Energizing Cleanser is also vegan.
9. Alba Botanica Island Citrus Very Emollient Bath & Shower Gel ($16.99)
Often on sale for $10-$12, this giant 32 oz bottle of shower gel is one of the most popular body cleansing products on Amazon! It has a fresh citrus scent and is formulated with pure botanical emollients as well as aloe vera. It is also pH balanced and designed for extra dry skin.
Their gel is also available in Honey Mango (which does not actually contain honey), Sparkling Mint, French Lavender, Midnight Tuberose, Herbal Healing and Coconut Rescue (all vegan).
10. Jason Invigorating Rosewater Pure Natural Body Wash ($10.99)
This gentle wash cleanses with botanical surfactants and safely nourishes with Vitamin E and Pro-Vitamin B5. It's formulated with a blend of rosewater and soothing calendula extract to be extra refreshing and soothing.
It is also available in Smoothing Coconut, Gluten-Free, Calming Lavender, Purifying Tea Tree, Soothing Aloe Vera, Revitalizing Citrus, Glowing Apricot, Relaxing Chamomile, Moisturizing Herbs, Softening Mango, Antioxidant Cranberry and Men's All-in-One (all vegan).
More Cruelty-Free Guides
If you've enjoyed this post, read our other cruelty-free guides to find the best beauty products for you:
Which Brands Are Cruelty-Free?
Download our list of 600+ verified cruelty-free brands straight to your device. Bring it with you everywhere you go, and never worry about supporting animal testing again. Click here to download