Cruelty-Free Drugstore BB Creams
These are the best BB Creams available at drugstores right now. You can get most of them from Ulta as well.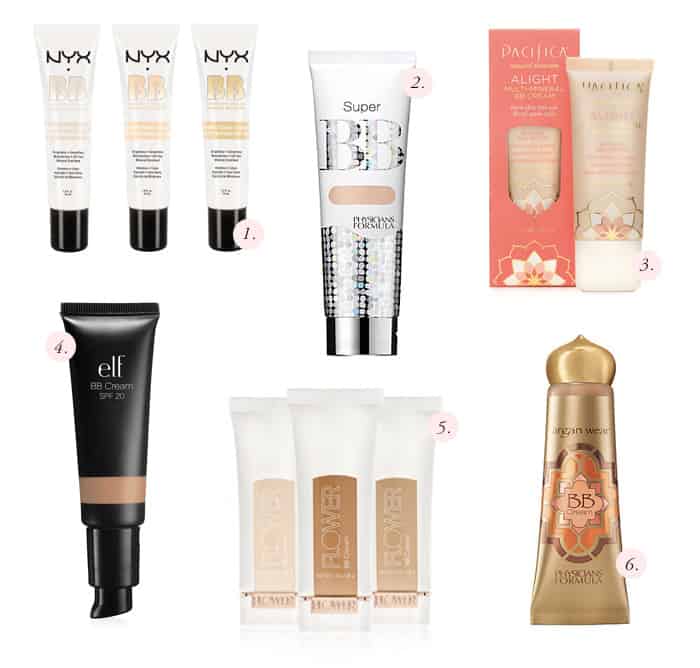 1. NYX Cosmetics BB Cream ($12.99)*
This is the highest-rated drugstore BB Cream and you can find it at Ulta. It doesn't state any SPF (although it does contain Zinc Oxide). It brightens, smooths, and moisturizes while providing light coverage and blurring imperfections.
2. Physicians Formula Super BB ($14.99)
This one provides an SPF of 30 in the form of a physical sunscreen. It does everything a BB Cream should do, including moisturizing, priming, smoothing, filling lines, brightening, and protecting from the sun.
3. Pacifica Alight BB Cream ($16)
Pacifica uses better and less harsh ingredients than mainstream brands, which makes them perfect for sensitive skin. This one contains hyaluronic acid to boost elasticity. However, it only comes in one shade and promises to "adapt" to your skin shade. This is just false but go for it if the shade fits you.
4. e.l.f. BB Cream ($6)
At only $6, this BB Cream is super budget-friendly. It provides an SPF of 20 using chemical sunscreen, and it's available in 4 shades. It contains Vitamin E, Jojoba, Aloe, and Cucumber to hydrate the skin.
5. Flower Beauty BB Cream ($12.98)
Flower Beauty is Drew Barrymore's beauty line and it's availably exclusively at Walmart. They have some great products, and this BB Cream is one of them. It's especially good for oily skin and provides light coverage. Keep in mind there's no SPF in this one.
6. Physicians Formula Argan Wear BB Cream ($14.99)
Like the name implies, this BB Cream contains Argan Oil, which is super hydrating. This is why it works best with dry skin. It provides light coverage with an SPF of 30, plus all the benefits of Argan Oil.
Cruelty-Free Drugstore CC Creams
CC Creams will provide a bit more coverage. You can find some great CC Cream options from the drugstore as well.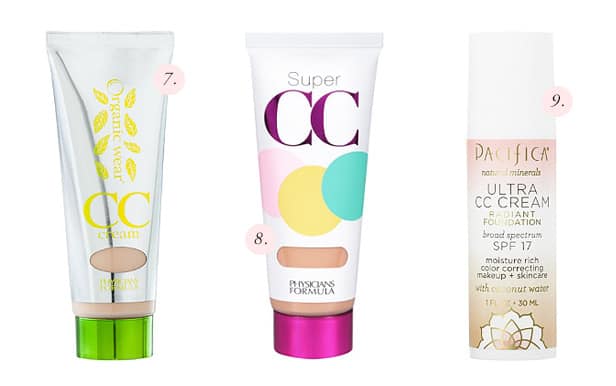 7. Physicians Formula Organic Wear CC Cream ($14.99)
This CC Cream provides good coverage and it's also 100% made from ingredients of natural origin, and 70% of them are also organic. It's nourishing and Orange Water is its main ingredient.
8. Physicians Formula Super CC Cream ($14.99)
If you're looking for slightly heavier coverage and a thicker CC Cream, Physicians Formula also makes the Super CC Cream. It has anti-aging ingredients while evening out your complexion and covering slight discoloration.
9. Pacifica Ultra CC Cream ($14.40 on sale)
Unfortunately, this CC Cream is only available in 2 shades as it claims to "adapt" to your skin tone, but it's worth a mention. It's more on the sheer side of CC Creams, but it provides other benefits and it contains natural ingredients. Plus it's vegan!
Cruelty-Free Mid & High-End BB and CC Creams
Here are some higher-end options from Sephora, Ulta, and beyond. These are the best I've found.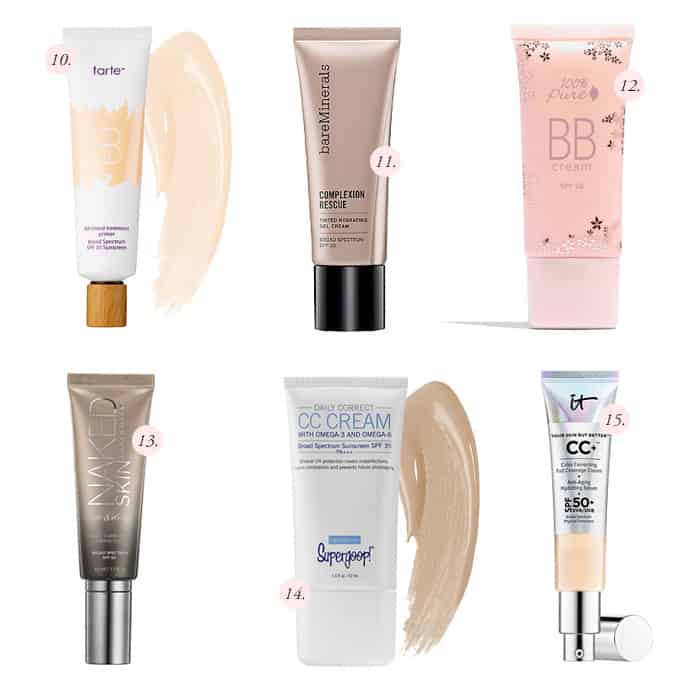 10. Tarte BB Tinted Treatment ($36)*
This is the best BB Cream, especially for normal to oily skin. It's meant to be long-wearing (Tarte claims 12 hours of wear), and it provides decent sheer coverage for a BB Cream. It has an SPF of 30 with a physical sunscreen, plus all the benefits of a great BB. This product is vegan.
11. BareMinerals Complexion Rescue ($29.50)*
This product best fits as a BB Cream, although it's described as a cross between a tinted moisturizer, BB, and CC Cream. It's also a "tinted hydrating gel cream" and it provides an SPF of 30. Best of all, it comes in 16 shades, so you're bound to find your perfect match.
12. 100% Pure BB Cream ($39)
If you love green and natural beauty, this is the perfect BB Cream for you. It also gives you a bit of sun protection (SPF 15, physical sunscreen). The ingredients are natural and non-toxic and the main one is Organic Aloe. Blurs imperfections and does everything a great BB does, but naturally. It's also vegan.
13. Naked Skin One & Done ($34)*
This is a light coverage foundation that acts as a BB Cream. It blurs imperfections and evens out your complexion, all in one step and you're good to go. It's oil-free, lasts up to 8 hours, and has an SPF of 20 (chemical sunscreen).
14. Supergoop! Daily Correct CC Cream ($32)
Supergoop! is mainly a sunscreen brand, and this CC Cream of theirs provides a protection of SPF 35+ (physical sunscreen). Not only does it blur imperfections and provide a bit of coverage, but it also contains Omega-6 and Omega-3 fatty acids to minimize redness.
15. IT Cosmetics Your Skin But Better CC ($38)*
This is an award-winning CC Cream that provides high coverage and multiple skin benefits with its "antiaging serum made of hydrolyzed collagen, peptides, niacin, hyaluronic acid, vitamins, and antioxidants". It also has sun protection of SPF 50+.
Which Brands Are Cruelty-Free?
Download our list of 600+ verified cruelty-free brands straight to your device. Bring it with you everywhere you go, and never worry about supporting animal testing again. Click here to download