As an added bonus, all 16 of these concealers are vegan-friendly! All products mentioned here are from cruelty-free brands, but some are owned by parent companies who aren't cruelty-free. Those products will be indicated with an asterisk.
Full Coverage
These first eight concealers are ideal for maximum coverage without being too cakey or drying.
1. Tarte Shape Tape ($25)*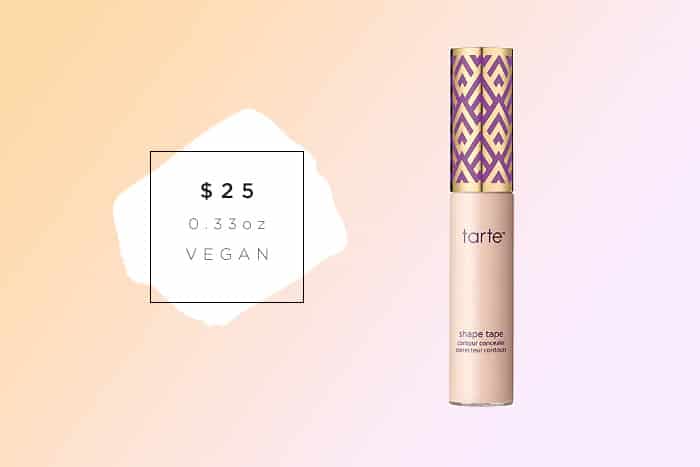 The much raved about "radiant coverage" concealer almost needs no introduction. It is long-wearing, hydrating and very well-loved. As with most opaque high coverage concealers, a little goes a long way! Read our review here.
2. NARS Soft Matte Complete Concealer ($30)*
UPDATE: As of 2017, NARS is no longer cruelty-free. They test on animals where required by law and sell in China.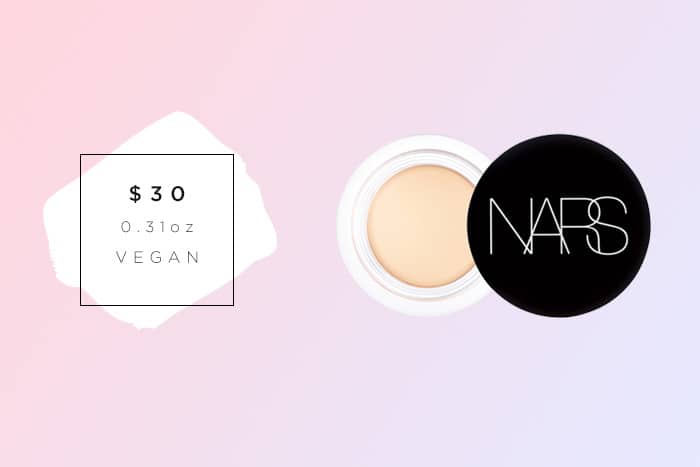 This is a fuller coverage cousin to the NARS Radiant Creamy Concealer with a thick creamy consistency and a matte finish. Its formula is oil-free yet non-drying, making it an excellent option for people that struggle with concealer creasing.
3. OCC Skin: Conceal ($23)
The OCC Skin: Conceal is my personal favorite! It is super hydrating and formulated with natural ingredients like cocoa extract, aloe leaf extract, and vitamin E. It is also versatile as it can be used for spot concealing, highlighting and contouring, as well as for a full coverage all over foundation. It also takes me forever to use up all of the product.
4. Kat Von D Lock-It Concealer Crème ($26)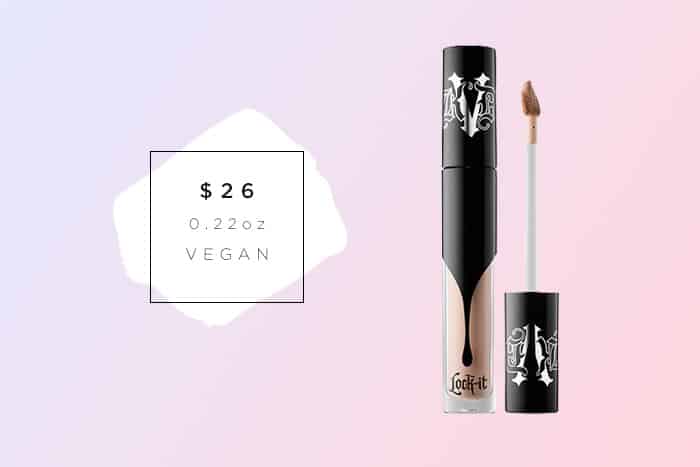 This long-lasting, highly-pigmented concealer has an impressive shade range, including a pure white shade, perfect for highlighting the fairest skin tones! It also doubles as an eyeshadow primer.
5. Physician's Formula Conceal RX ($9.99)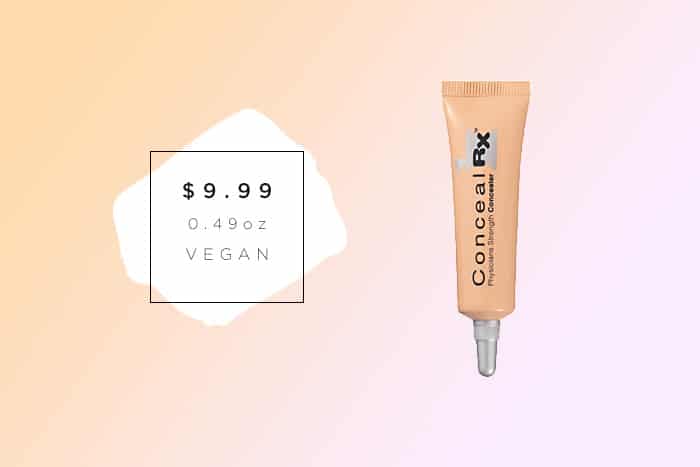 This is a great high coverage concealer you can get from the drugstore! It is also available in color correcting shades. However, the shade range is fairly limited and lacks options for darker skin tones.
6. NARS Radiant Creamy Concealer ($30)*
UPDATE: As of 2017, NARS is no longer cruelty-free. They test on animals where required by law and sell in China.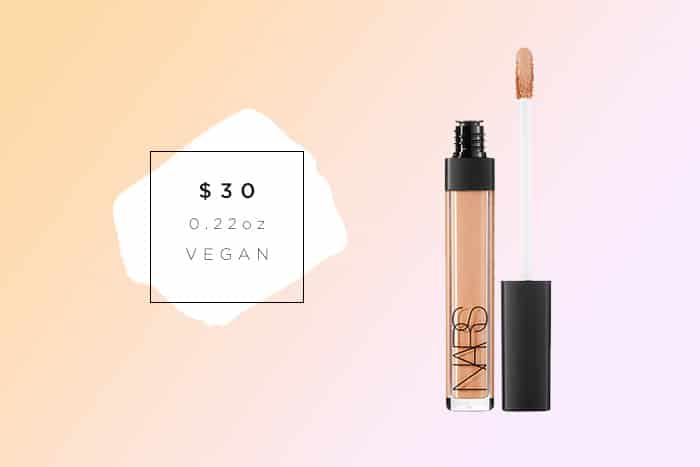 A cult classic, the NARS Radiant Creamy Concealer offers buildable coverage with a very creamy formula. It starts off "radiant" but does dry down to a more matte finish, without clinging to dry patches.
7. Marc Jacobs Re(Marc)able Full Cover Concealer ($32)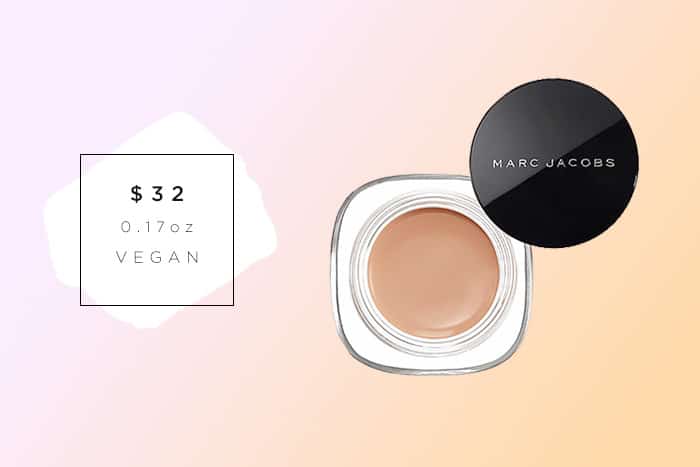 This Marc Jacobs concealer has a creamy texture similar to that of the NARS Soft Matte concealer. It is also infused with antiaging and nourishing ingredients, which makes it great for keeping skin hydrated.
8. Wet N Wild Photo Focus Concealer ($3.99)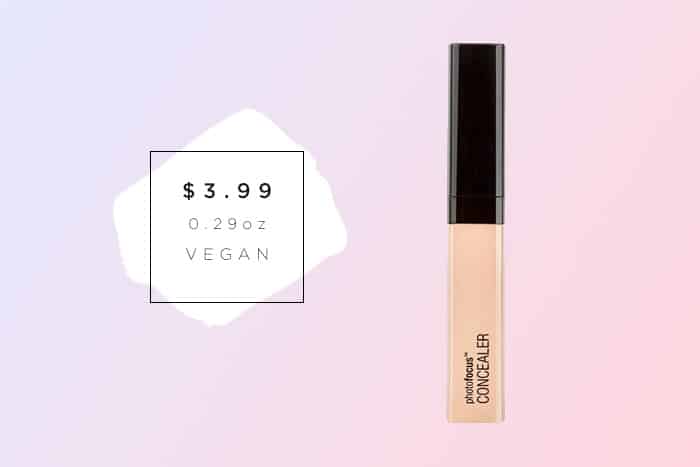 The formula of this concealer is like a perfect marriage of the NARS Radiant Creamy Concealer and Tarte Shape Tape, making it an absolute STEAL at under $4! This being said, Wet N Wild could definitely benefit from widening the shade range on both ends of the spectrum.
Medium Buildable Coverage
The next eight concealers are great if you're looking for medium buildable coverage!
9. Shea Moisture Crème Concealer ($11.99)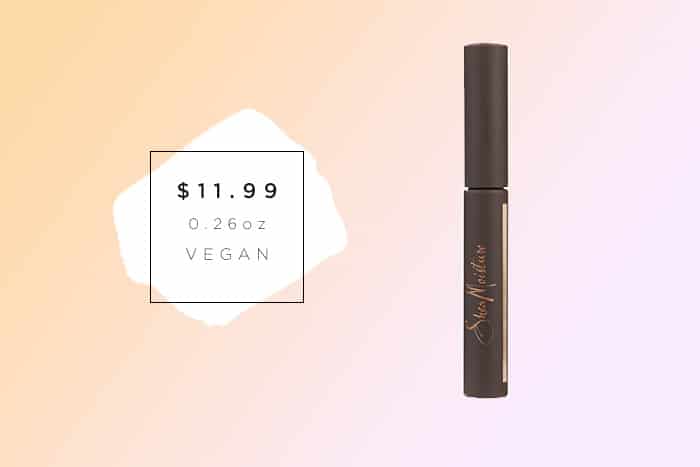 This is a creamy lightweight concealer designed primarily for use in the under eye area, but it works for spot concealing as well. It is formulated to set quickly so it won't move around throughout the day.
10. Pacifica Transcendent Concentrated Concealer ($16)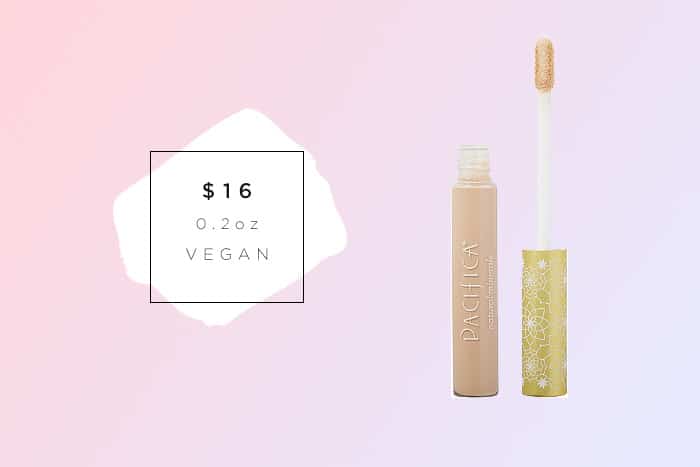 This is another great concealer option for the under eye area. It has a nice creamy buildable formula, but the shade range is pretty limited and lacks options for darker skin tones.
11. Cargo HD Picture Perfect Concealer ($28)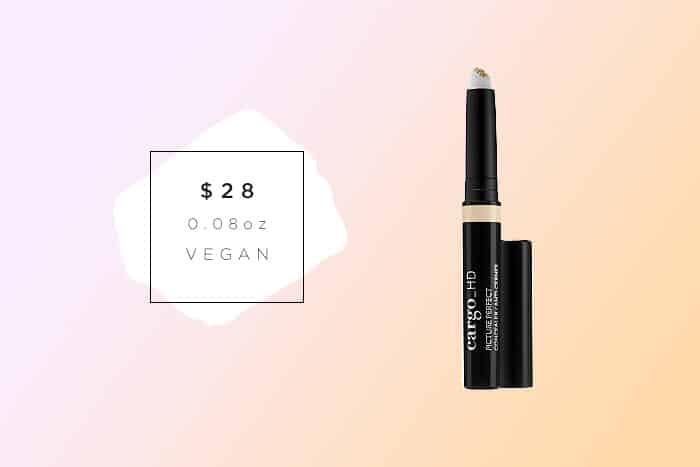 The Cargo concealer is said to be a "concealer and wrinkle eliminator in one", and some people have described it as "liquid botox". While I'm not sure if I would go that far, it is a great option to double as a concealer and primer.
12. 100% Pure 2nd Skin Concealer ($29)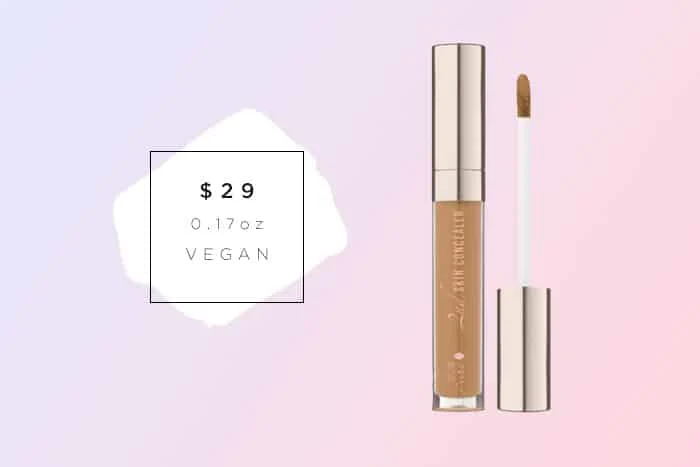 This concealer from 100% Pure is formulated with natural ingredients, including vegan olive-based squalane which gives it a hydrating finish. This is a great option if you are looking for a natural and non-toxic concealer!
13. Cover FX Cream Concealer ($27)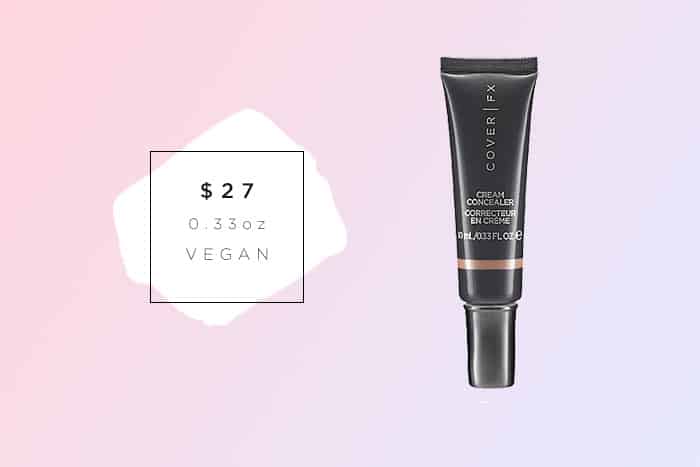 Although it is a medium coverage concealer, it can definitely be built up to full coverage where desired. The texture of this one makes it perfect for covering acne, though it can crease when used under the eyes.
14. NYX HD Photo Concealer ($4.99)*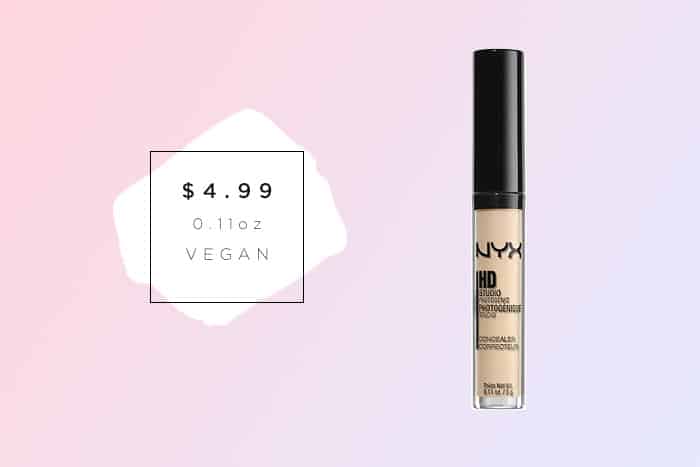 This is another one of my favorites. It reminds me of a less full coverage version of the NARS Radiant Creamy Concealer, and the price makes it pretty hard to beat! It comes in a great shade range, including options for color correcting.
15. Urban Decay Naked Skin Weightless Complete Coverage Concealer ($28)*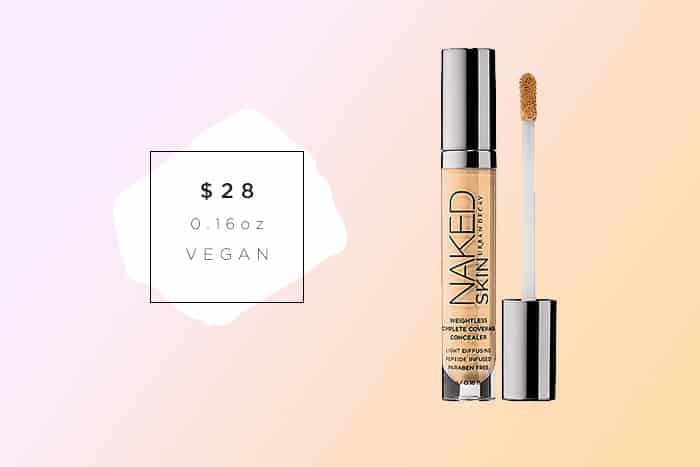 The Urban Decay Naked Skin concealer is another cult favorite which provides medium coverage. It's creamy, luminous and easy to blend, ideal for using under the eyes. It isn't ideal for covering blemishes, due to its coverage and luminous finish.
16. e.l.f. HD Lifting Concealer ($3)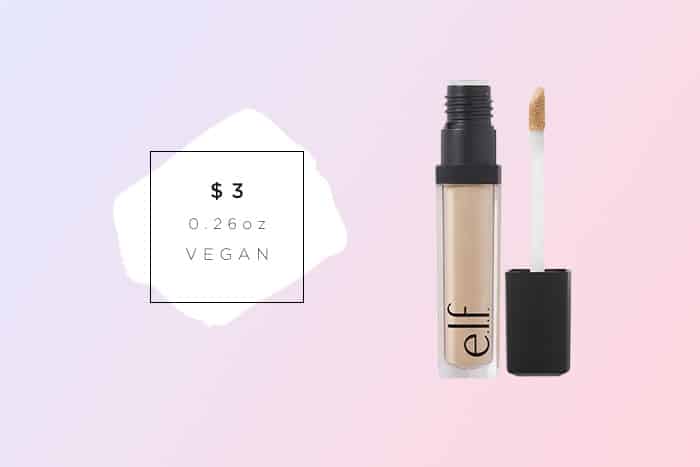 This is an excellent concealer formula for the amazing price of $3! It provides great coverage and lasts all day. The major downside is its very small shade selection.
More Cruelty-Free Guides
If you've enjoyed this post, read our other cruelty-free guides to find the best beauty products for you:
Which Brands Are Cruelty-Free?
Download our list of 600+ verified cruelty-free brands straight to your device. Bring it with you everywhere you go, and never worry about supporting animal testing again. Click here to download