Why Cream Blush?
Cream blush has the advantage of looking more natural than the standard powder blushes. With glowy makeup looks gaining popularity, it's not surprise that cream products, such as blushes, are on trend. Cream products melt into the skin and are very blendable, which results in a natural flush of color.
Cream products can also be quicker and easier to use than powder. Unlike with a powder, you can use your fingers to apply the product. Some even come in a stick format which makes application simple. Cream blush is an ideal product if you're going for a quick, natural look.
Cream blush can also be versatile, with many products on this list being suitable for cheeks, eyes and lips.
What to look for in a cream blush
There are quite a few different formats and formulas, and although there's a cream blush for everyone, not every product will work for your personal taste or skin type.
The Format
In this list, you'll find cream blushes in a compact, stick form, or tube form for liquids. Application is easy no matter the format, so it's a matter of personal preference which type of product you choose.
The Formula
Whether you're going for a compact, a stick, or a liquid, make sure to choose a product that has a matte finish if you have oily skin. Cream products are ideal for dry skin types, but that doesn't mean you should stay away from them if you have oily skin. Some products on this list (such as ILIA's Color Haze or Rituel de Fille) have a drier formula and a matte finish that will last a long time even on oily skin.
Other than that, it's a matter of preference. Do you prefer a dewy finish, or one that's natural yet matte? Do you prefer to work with a liquid product, a stick, or a compact? There are options for everyone in this list.
All the options listed are cruelty-free, and some are also vegan.
1. Milani Cheek Kiss
If you're looking for a drugstore option, we highly recommend this one from Milani. It comes in a liquid blush form, and you'll find many beautiful shades that are pigmented. For this reason, this cream blush works well on many different skin tones. It's easy to apply and blend, a little bit goes a long way, plus it's buildable. You can use your fingers or a brush for a flawless application.
Finish: Natural
Price per ounce: $27

Swatches: Instagram
2. Glossier Cloud Paint
This liquid blush is one of the originals, and it's been around since before cream blushes were popular. The main benefit of Cloud Paint is how blendable and easy to use the formula is. It's easy to apply with your fingers, and it has a natural finish. It comes in a few pretty shades, however not all of them are suitable for all skin types as most shades are too sheer. If you have darker skin, they did introduce some deeper shades recently, namely Dawn and Eve.
Finish: Dewy
Price per ounce: $54.54
Swatches:
3. Au Naturale Anywhere Creme Multi-Stick
For a beautiful clean option, we recommend the Anywhere Multi-Stick from Au Naturale. It comes in many great shades for every skin tone, and the stick format makes it quick and easy to use. You can apply it to your cheeks, lips, or eyes, and blend it with your fingers or with a brush. Some shades come in a dewy formula which I recommend over the matte one. It's easy to blend and work with, contains organic ingredients, and is long lasting.
Finish: Dewy (some shades matte)
Price per ounce: $109.36
Swatches:
4. ILIA Color Haze Multi-Use Pigments
For a clean beauty option, ILIA's Color Haze pigments are a great option to go with. They're suitable for your cheeks, lips, and eyes as well, and they're available in many shades suitable for different skin tones. They are pigmented enough but easy to blend out, and they're more on the matte side and long-lasting.
Finish: Natural Matte
Price per ounce: $139.13
Swatches:
5. Rituel De Fille Inner Glow Creme Pigment
This cream blush formula is matte, more on the dry side, and because of this, it's also very long-lasting. It's highly pigmented and a little goes a long way, but it's still easy enough to blend with a brush. Because they're so pigmented, and because they have many deep shades available, there are options for every skin type. Rituel de Fille is a clean makeup brand offering high-quality products, and it's available at Ulta.
Finish: Natural Matte
Price per ounce: $223.08
Swatches:
6. elf Putty Blush
For an affordable option, look no further than elf's Putty Blush. These are versatile products that can be used to cheeks, lips, and eyes. They offer several shades and deeper skin tones will find great matches as well. This product is highly pigmented but can easily be blended out, and it's also long-lasting. The finish is natural and on the matte side, and these are suitable even for oily skin types.
Finish: Natural Matte
Price per ounce: $17.14
Swatches:
7. Milani Cheek Kiss Cream Blush
Not to be confused with their Cheek Kiss liquid blush, this one by Milani is a true cream blush in a compact. The formula is buildable, easy to work with, and it leaves a natural dewy finish. It's not as pigmented as other blushes on this list when it blends out, but this means it's easier to work, and you can build it up. It currently comes in 4 shades, a couple of which being compatible with deeper skin tones.
Finish: Dewy
Price per ounce: $24.30
8. elf Monochromatic Multi Stick
This product from elf is very affordable, however it doesn't hold as much product as other stick blushes on this list. A big warning: this is a shimmery blush with glitter particles, so it's not for everyone, and it's not the most natural look. If you love glitter, you might want to pick this one up as it comes in many beautiful shades and it's super easy to apply. It's a multi stick, and it can be used on the cheeks, lips, or even eyes.
Finish: Shimmery
Price per ounce: $26.67
Swatches:
9. Kjaer Weis Cream Blush
This is a luxury option that's also clean and contains several organic ingredients. The product either comes in the "iconic" Kjaer Weis packaging or you can purchase a refill in an eco-friendly cardboard packaging, which brings down the price to $40. This formula is long-lasting and has a natural-matte finish, and it's easy to blend and work with. You can choose from 11 shades, including shades for very fair skin and deeper skin. This is also a multi-tasting product which can be used on cheeks, lips, or eyes.
Finish: Dewy
Price per ounce: $455.28
Swatches:
10. Lilah B Divine Duo Lip & Cheek
If you're looking for a luxurious option, Lilah B is now available at Sephora and offers a multi-purpose cream product for cheeks and lips. It's very creamy and moisturizing while also being long-lasting. The sleek, magnetic packaging if definitely a big draw for this product. Most shades are buildable and provide good pigmentation with a natural matte finish, and they also offer a shimmery shade.
Finish: Natural Matte (1 shimmer shade)
Price per ounce: $575
Swatches: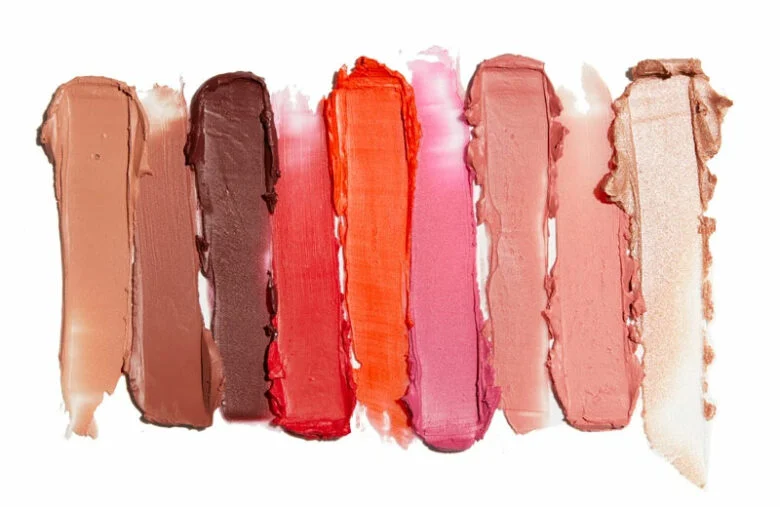 In Conclusion
There are many great cream blushes on the market, and we've chosen the best products above. The price range is huge, going from $17.14 per ounce (elf Putty Blush) to $575 (Lilah B. Divine Duo). Based on the format and finish you're looking for, I hope you've selected the right product for you.
More Guides
If you liked this roundup of the best cream blushes, check out out other guides:
Which Brands Are Cruelty-Free?
Download our list of 600+ verified cruelty-free brands straight to your device. Bring it with you everywhere you go, and never worry about supporting animal testing again. Click here to download