Every month, we bring you up to $195 worth of cruelty-free and vegan products for only $34.99 with our subscription box. Click here to find out more and claim your May box.
Since most hand sanitizers on the market are not cruelty-free, I've put together this guide to finding the best cruelty-free options.
Note: Due to the current COVID-19 pandemic, most of these options are sold out right now. However they're all trying to restock as quickly as possible, so please check each option to see the current status. You can also sign up for email alerts in some cases, so you get notified when they restock.
Important: Choose Alcohol-Based Hand Sanitizer
The most important thing when choosing a hand sanitizer is to make sure the product is alcohol-based. Witch hazel, essential oils, benzalkonium chloride, or other common ingredients are not effective against Coronavirus.
To find out if your hand sanitizer is alcohol-based, simply look at the ingredients. Under the active ingredients (or "drug facts"), Ethyl Alcohol should be listed as well as the concentration. It's recommended to use a hand sanitizer which contains at least 60% alcohol. Of course, watch out for any product that claims "alcohol-free" on the bottle.
In this post, I'm also going to list some products not to use, whether or not they're cruelty-free.
Cruely-Free Hand Sanitizer Options
The following products are cruelty-free AND contain a minimum of 60% alcohol.
1. Everyone Antibacterial Hand Sanitizer ($7.99)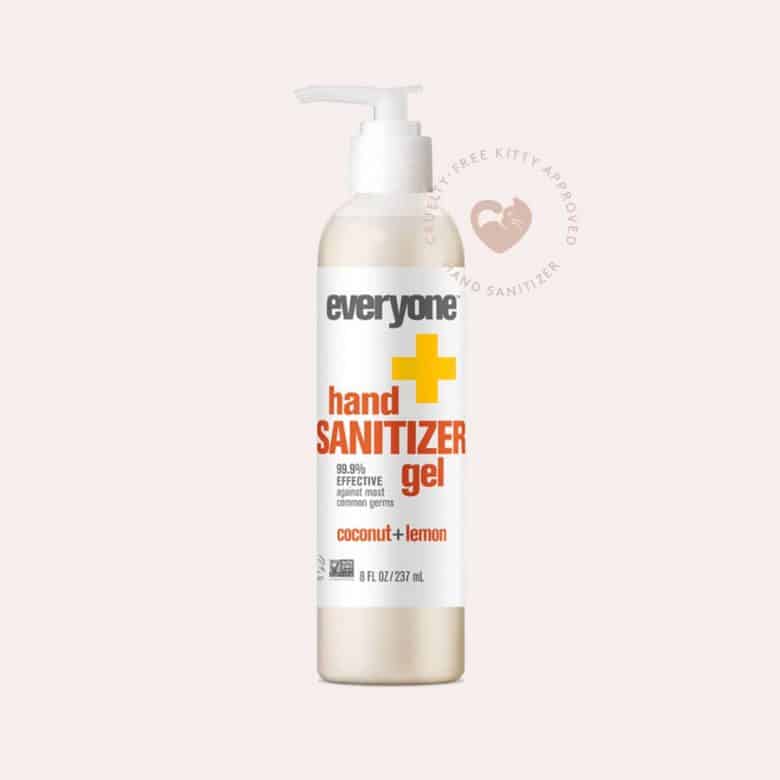 Great option which you might find in some drugstores. It's made from 62% alcohol and contains essential oils as well as fragrance. On their own website, you can purchase them in 4-packs. They come in several scents: Coconut Lemon, Lavender Aloe, Peppermint Citrus, and Ruby Grapefruit. They also offer hand sanitizing wipes.
This option is currently available at certain Walmart locations, but sold out on Amazon and on the brand's official website. Please check Walmart's site to find out if it's available at a store near you.
Official site -- Amazon -- Walmart
2. Dr. Bronner's Organic Hand Sanitizer ($4.99)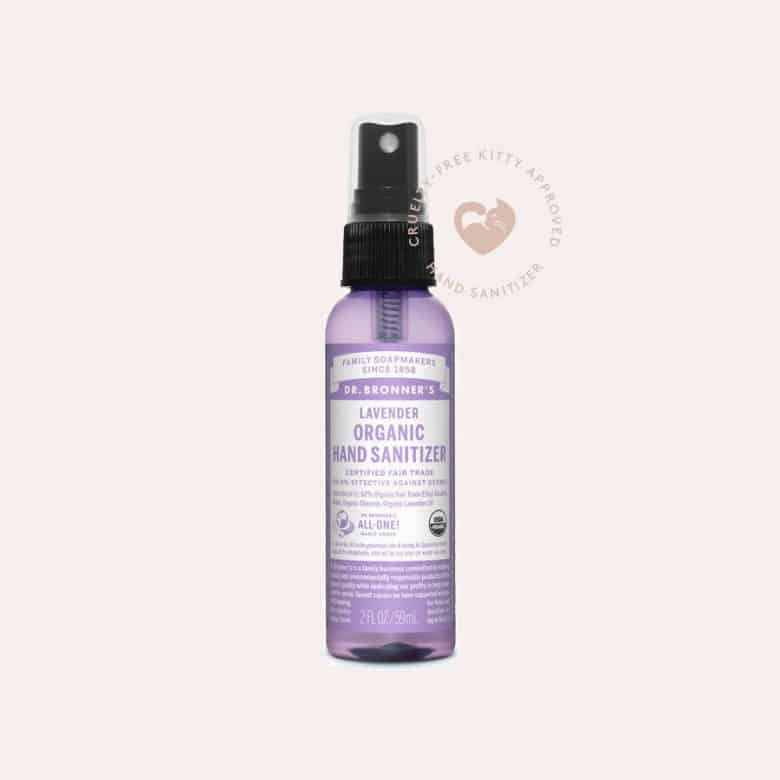 I love Dr. Bronner's products in general, and they make a hand sanitizer which is not old alcohol-based, but also USDA approved organic, certified vegan, and Leaping Bunny certified. Though I haven't seen it in stores, it's available online.
Currently out of stock on Dr. Bronner's website. Currently out of stock on Amazon. In stock at some Target locations. You might have better luck in some drugstores or health/natural stores.
Target -- Amazon -- Official Site
3. EO Hand Sanitizer Gel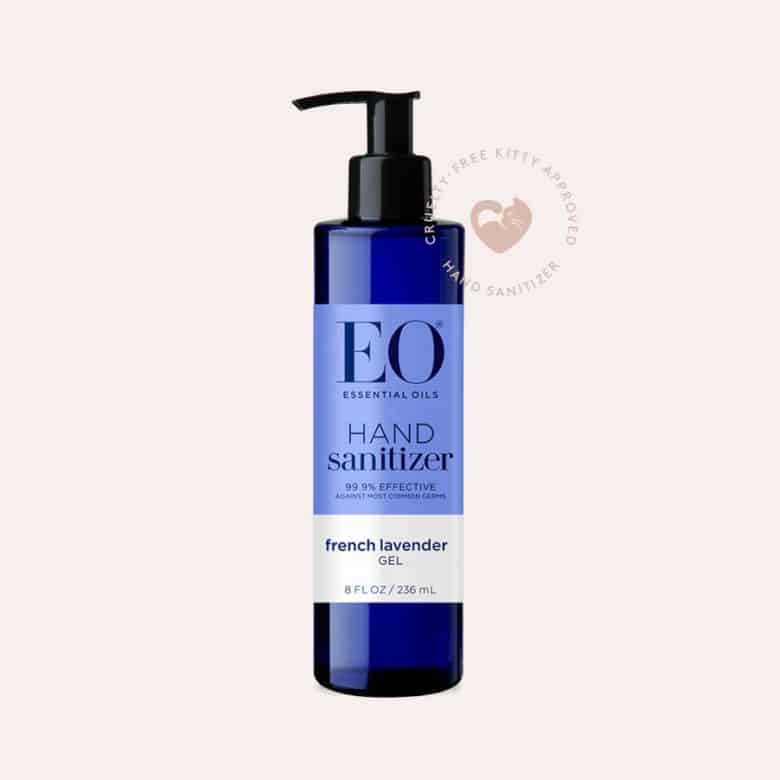 Made with 62% organic alcohol, this is another effective cruelty-free option. This brand is also Leaping Bunny certified. It also contains glycerin, organic jojoba oil, silicones, and essential oils. Comes in Lavender, Sweet Orange, and Peppermint They also offer hand sanitizing wipes.
Currently sold out on their official website, however you can receive alerts when they restock. Out of stock on Amazon.
4. Mrs. Meyer's Hand Sanitizer ($3.49)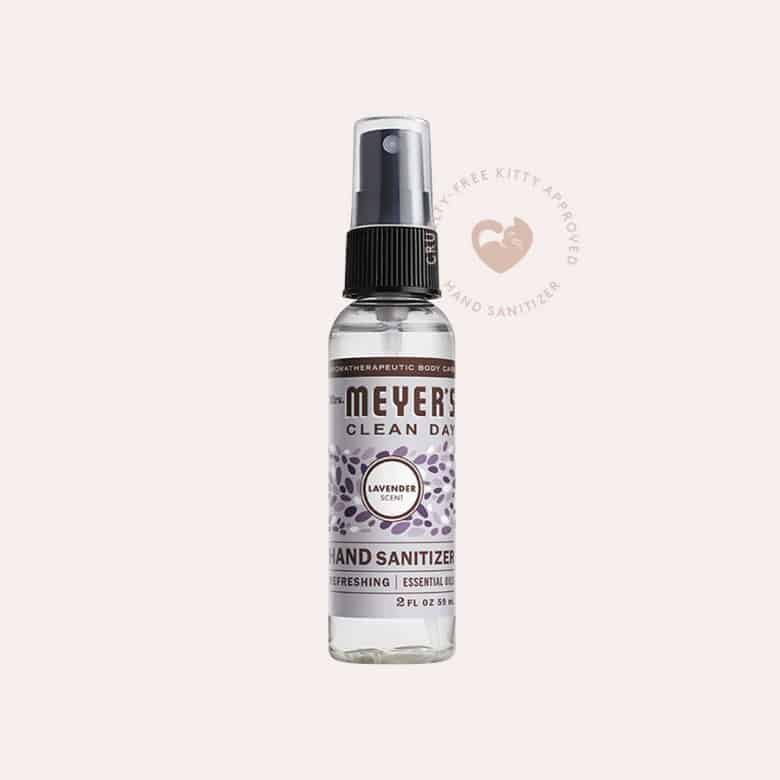 This is a Leaping Bunny approved cleaning brand that also makes hand sanitizer, and their products are commonly available in drugstores as well as online. It contains 62% alcohol as well as glycerin, essential oils, and fragrance. You can find it at Target and Walmart
Currently available at certain Target and Walmart locations. Please check the website to find out if it's available near you. Out of stock at their official site and Amazon.
Target -- Walmart -- Official Site -- Amazon
5. Desert Essence Probiotic Hand Sanitizer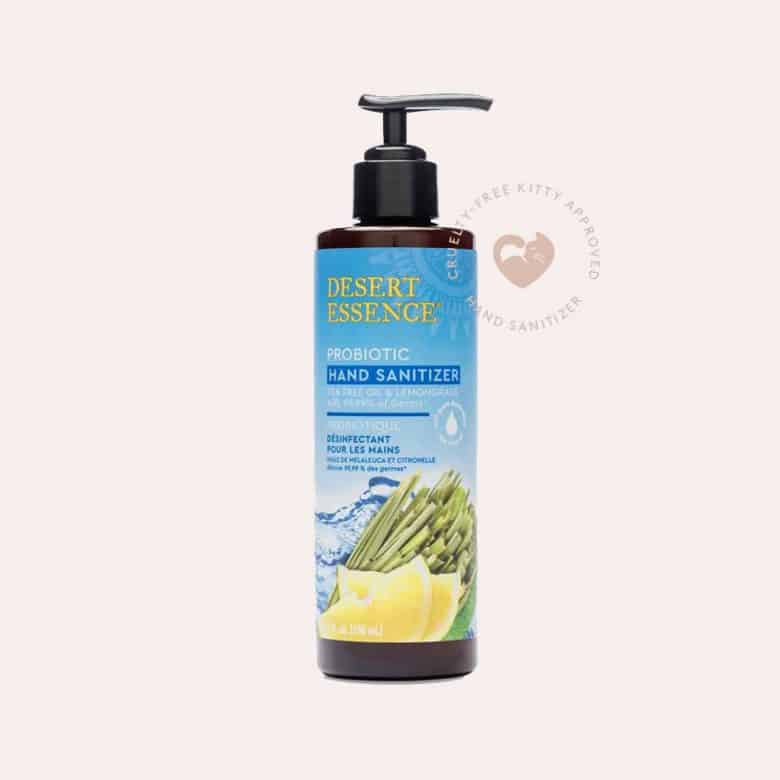 Desert Essence is another Leaping Bunny certified brand that offers skin and body care products. Their hand sanitizer is made from 75% alcohol content, which makes it effective. The "probiotic" part is meant to replenish the good bacteria using kefir (but isn't any good bacteria already killed by the alcohol?).
Out of stock on their official site, with a limit of 1 per customer. Currently unavailable on Amazon. Check your local Target store or health store.
6. Rituel De Fille Essential Hand Sanitizer ($9.99)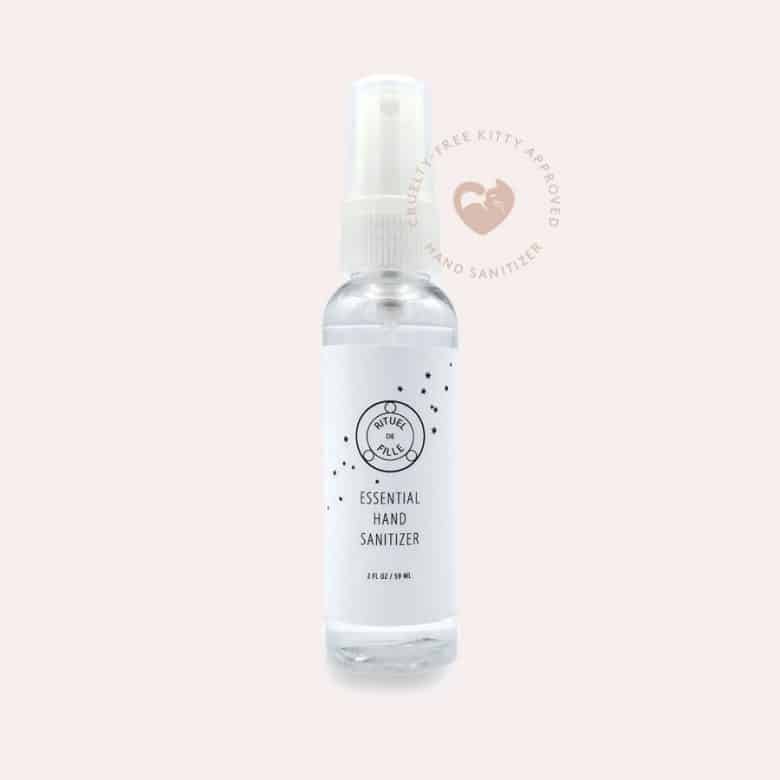 Rituel De Fille is an independent makeup brand, but because of COVID-19, they started manufacturing hand sanitizer. Because of the shortage, they also offer three different price points: the cost to make the product, the cost to make the product plus overhead, and the traditional retail price of $9.99. This product is alcohol-based.
Currently available to preorder.
7. Paume Antibacterial Hand Gel ($14)
Paume is a Leaping Bunny certified brand that specializes in vegan hand sanitizers. Their Antibacterial Hand Gel contains 69% ethyl alcohol, premium plant-based emollients, and a signature blend of five essential oils. This sanitizer comes in different starter packs, which include a refill bag and a pump or a bottle.
Currently available on their website.
Avoid These Options
CleanWell: This option is cruelty-free, however it's alcohol-free. Their active ingredient is Thymol, a natural alternative derived from thyme oil. These products are not yet listed as effective by the EPA. CleanWell claims that they were sent for approval. Only one Thymol-based product from another brand is currently approved.
Seventh Generation: Disinfectant products from this brand are also Thymol-based and were not yet approved by the EPA.
Purrell: Purrell is typially not alcohol-based, and its active ingredient is benzalkonium chloride. These hand sanitizers are not effective against Coronavirus. Purrell is also not a cruelty-free brand.
Back to Earth: Hand sanitizers made by this brand are not effective against Coronavirus -- and not effective in general. They contain no alcohol and are made from ingredients like St. John's Wort, colloidal silver, essential oils, and cinnamon bark.
One Step: Not a confirmed cruelty-free brand, however their hand sanitizers are alcohol-based.
In Conclusion
Hopefully this guide made it easier to choose cruelty-free hand sanitizer options for everyone! There are quite a few options to choose from, but unfortynately there's a shortage right now. They should be restocking very soon, so keep your eyes peeled for these cruelty-free options. I hope you're able to stay safe and healthy during these uncertain times!
Which Brands Are Cruelty-Free?
Download our list of 600+ verified cruelty-free brands straight to your device. Bring it with you everywhere you go, and never worry about supporting animal testing again. Click here to download