Personally what I like to do is buy everything I need from Amazon and iHerb, which carry several brands that don't test on animals.
Another option is Target, which carries a few cruelty-free and green beauty brands. Don't forget about your local health store, too!
Brands To Avoid
As I mention in my list of Companies That Test On Animals, a few toothpaste brands that aren't cruelty-free are listed here:
Aim
Aquafresh
Close-up
Colgate
Crest
Listerine
Mentadent
Pearl Drops
Reach
Scope
Sensodyne
Signal
If you look at the fine print of a product and can see that it's owned by Colgate-Palmolive, Procter & Gamble, Church & Dwight, or Johnson & Johnson, chances are it's tested on animals. There are only a handful of exceptions to this rule, such as Tom's of Maine (which is owned by Colagte-Palmolive while remaining cruelty-free).
Cruelty-Free Brands
I'll pinpoint specific products in a moment, but first let me list some brands that are cruelty-free and offer oral care products like toothpaste:
JASON
Tom's of Maine
Desert Essence
Nature's Gate
Kiss My Face
Auromere
Vitacare
Eco-Dent
Radius
Hello Products
Cruelty-Free Toothpaste
The cool thing about cruelty-free toothpaste is that it's easy to find more natural alternatives. This is great if you're looking for fluoride-free or SLS-free toothpaste!
A word on these 2 ingredients before I get into the toothpaste. Fluoride strengthens teeth and reduces chances of getting cavities, which is why it's traditionally added not only to toothpaste, but also to tap water. However, it's now been proven that fluoride is toxic when ingested.
While it remains safe to use topically, whether or not you continue to use fluoride toothpaste is a matter of choice. The same goes for Sodium Laureth Sulfate, which is a foaming agent that's also an irritant.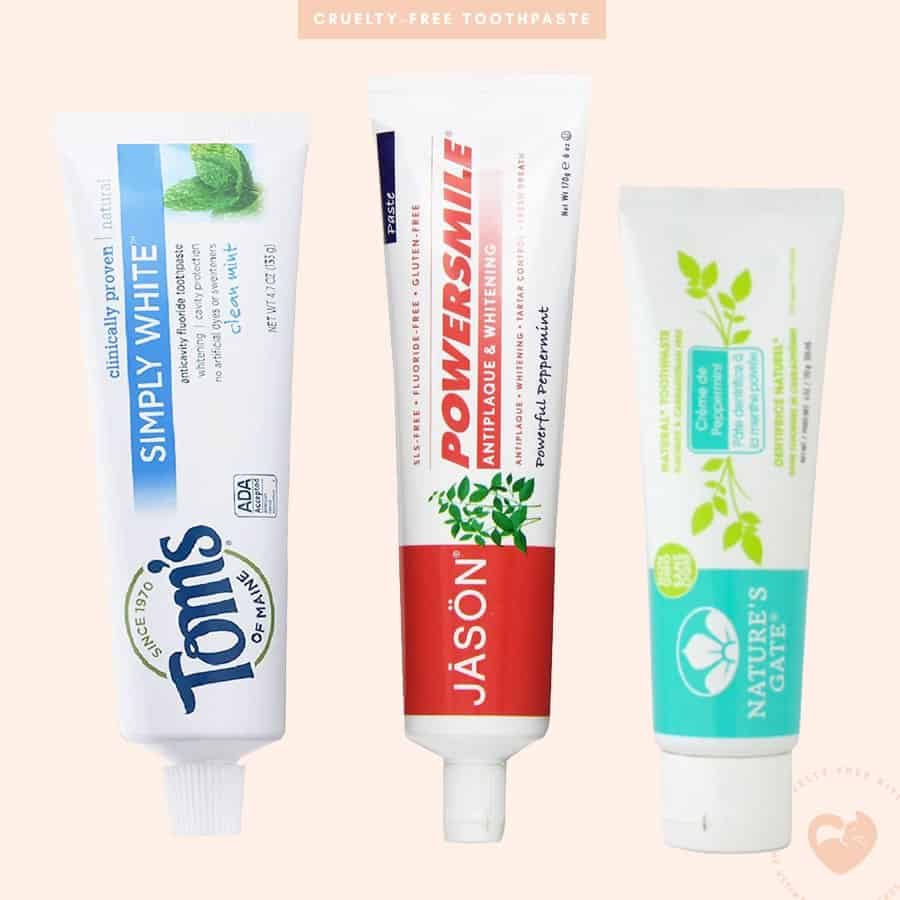 Now, if you want regular minty toothpaste with fluoride, try Tom's of Maine's Simply White Natural Toothpaste. Note that Tom's parent company is not cruelty-free.
For something without fluoride and without SLS, there are lots of options such as Desert Essence's Natural Toothpaste in Wintergreeen, JASON's Powersmile, or Nature's Gate's Creme de Peppermind Natural Toothpaste.
There's also Tom's of Maine that comes in various flavors; I've liked every single toothpaste from them so I recommend this brand as well! My last suggestion for cruelty-free toothpaste is a brand called Auromere, which is also cruelty-free, vegan, and herbal.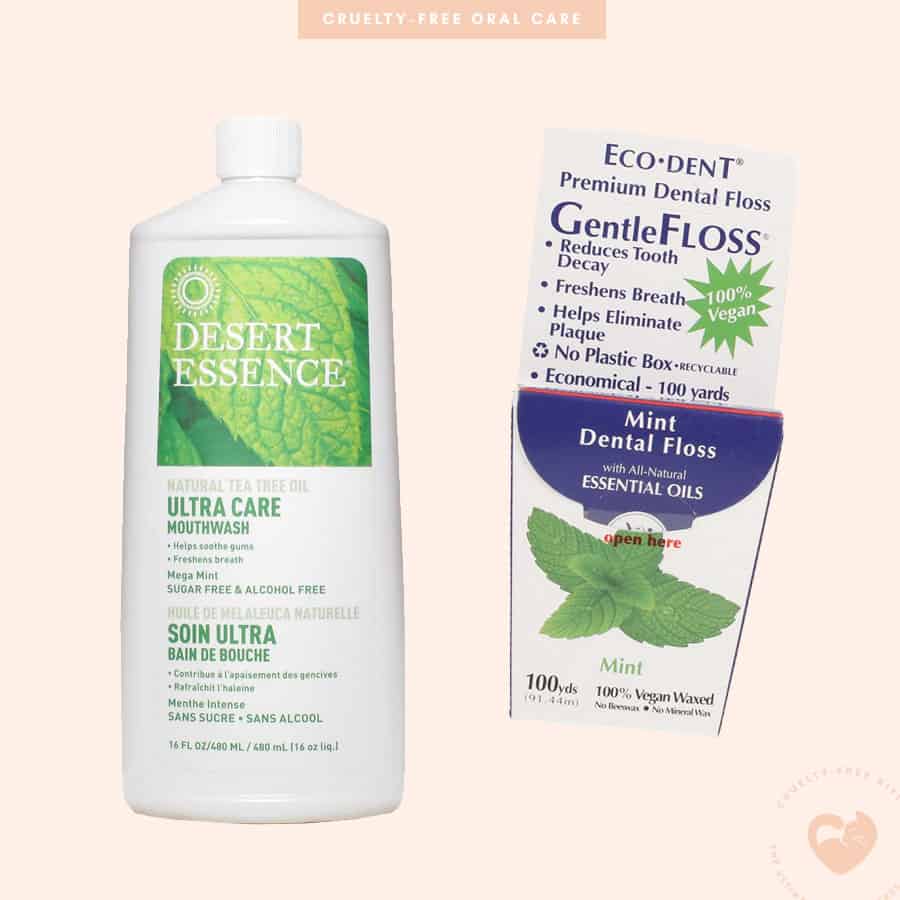 Cruelty-Free Mouthwash
For a good mouthwash, I'm a fan of Desert Essence's Natural Refreshing Mouthwash. Other cruelty-free brands offer their own mouthwash, but this one has been my personal favorite! It has tea tree oil which is an antiseptic and a natural breath-freshner, contains no alcohol at all, and has a minty taste without burning.
Cruelty-Free Dental Floss
I've tried the Eco-Dent Gentlefloss and have found it decent. It's a good price for 100 yards, but keep in mind that it doesn't come in a plastic holder! This makes it a tad inconvenient, but I appreciate the eco-friendliness.
Another good option is by Desert Essence (again!). It's called the Tea Tree Oil Dental Floss and just like their mouthwash, it's coated with tea tree oil which is antiseptic. Desert Essence makes two kinds of floss, so choose according to your needs! Their "dental floss" is what I use; it's thinner and works best for those with smaller gaps between their teeth. They also make a "dental tape" (here) for those with wide gaps between teeth.
I hope this was helpful to some of you! If you have any favorite cruelty-free or vegan oral care products, please share them in the comments as well!
Which Brands Are Cruelty-Free?
Download our list of 600+ verified cruelty-free brands straight to your device. Bring it with you everywhere you go, and never worry about supporting animal testing again. Click here to download