Every month, we bring you up to $195 worth of cruelty-free and vegan products for only $34.99 with our subscription box. Click here to find out more and claim your May box.
Wet n Wild's presence is mainland China, more specifically in Shanghai, has been confirmed to me by multiple sources who have seen the products in person in stores, and I've also gathered proof.
I'm shocked that a brand who markets itself so heavily as being "cruelty-free" would manipulate their customers and lie to them about their presence in China. To this day, Wet n Wild is denying selling in mainland China:
"Thank you for contacting us. At this time, we do not have any retail partners located in China. We thank you kindly for your interest in our products."
The response above was received in March, after I had already been tipped off that Wet n Wild has a retailer in China and is available in stores.
Earlier that month, Giuliana, a Cruelty-Free Kitty reader, reached out to me and informed me that she had seen a Wet n Wild makeup display in Shanghai. It took me nearly 2 months to confirm this news with certainty, and gather more information from other sources.
All the pictures in this post were taken exclusively for Cruelty-Free Kitty by an impartial contact in China. They were taken on May 7, 2019 at a Watsons store located on Changhsou Road in Shanghai. This is the exact location on Google Maps:
Inside China's Most Popular Drugstore
This is Watsons. With over 3,000 locations in mainland China alone, Watsons is the largest Chinese health and beauty store.
Many drugstore beauty brands can be found at Watsons. In the picture above, we can spot Maybelline, which is known to be sold in China, as well as Believe and Kate Tokyo, two prominent Asian brands.
Shockingly, this is the Wet n Wild display at Watsons. They have a fully-stocked stand with all of their popular products.
China does have an issue with counterfeit beauty products, but everything about this stand looks official. For one, this is Watsons, an industry giant with more than 9,000 locations in and around Asia. The display also looks official, and so do the products themselves. There's also QR codes on the display (more on this later). There's no reason whatsoever to believe that this Wet n Wild stand is illegitimate.
Typically, counterfeit makeup targets mid-range to high-end brands. It makes little sense to create counterfeits of a product that has a very low selling price. Counterfeit makeup is also usually sold directly to consumers and not mass-produced to be sold to retailers.
No Loopholes, No Excuses
Although there recently were developments in mainland China concerning both pre-market and post-market animal testing, the Chinese government may still require animal tests to be performed on cosmetics. Even though Wet n Wild is made in China, all cosmetics sold in China may undergo tests on animals post-market as of May 2019, when these pictures were taken. There's no possibility of a "loophole" here.
Whether or not the brand is aware that their products are being sold in Chinese stores, the risk of animal tests exists there, and Wet n Wild products might have been tested on animals, or could be tested on animals in the future if they don't pull out of China.
The only way to completely remove the risk of animal testing for a cosmetics company is not to sell in China. This is a route many cruelty-free companies have taken in order to ensure that no animal testing is being performed on their products.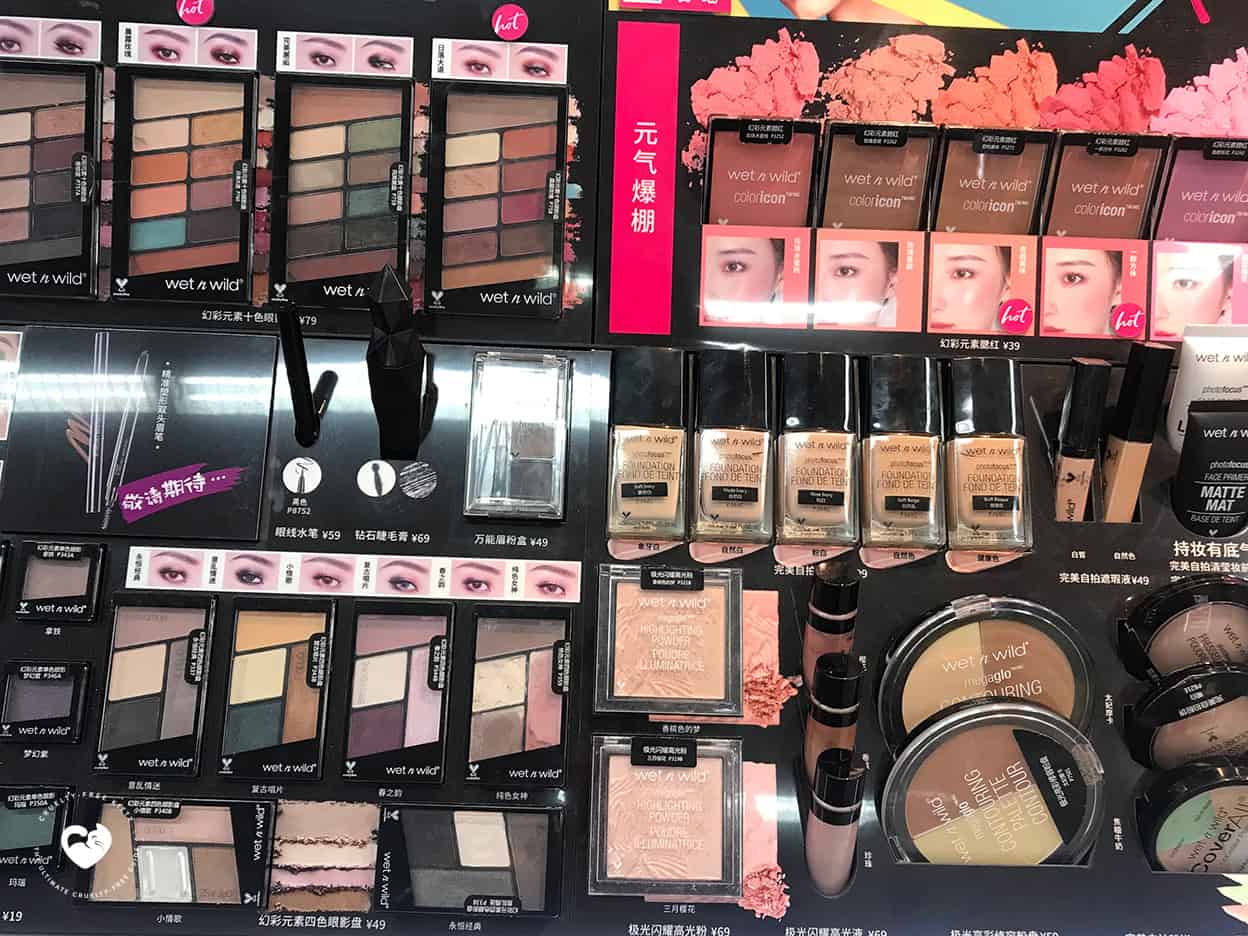 There's a bunny at the top left.
This can roughly be translated to "cruelty-free, non-animal hair that is comparable to the soft texture of real hair".
What's Behind The QR Codes?
I scanned the QR codes and they direct to Wet n Wild's profile on WeChat, the most popular social media app used in China. Here are some screenshots:
When translating the profile information to English, you'll find a company name: Blue Cursor E-commerce (Shanghai) Co., Ltd. It's unclear whether this company is responsible for their WeChat profile only, or for their online presence in China, or for their presence in stores. The company offers internet marketing, mobile, and e-commerce services, so it seems unlikely they would be linked to Wet n Wild's distribution in stores.
Wet n Wild Is No Longer Leaping Bunny Certified
Another suspicious sign is that Wet n Wild is no longer found on Leaping Bunny.
In 2016, when I published a post about Wet n Wild's cruelty-free status, the brand was certified cruelty-free by the Leaping Bunny program. They weren't listed under Wet n Wild, but under Markwins, which is their parent company.
Since last year, Markwins has been removed from the Leaping Bunny's website. This happens when brands refuse to recommit to the Leaping Bunny standards in order to maintain their status. Some brands who don't recommit remain cruelty-free, but in this case, Wet n Wild's expansion to mainlaind China might have something to do with their refusal to recommit. This could mean that Wet n Wild entered the Chinese market voluntarily, and not because of a miscommunication error with their distributors.
Was Wet n Wild caught by PETA in 2012?
I also found an interesting piece of information on PETA's site. In 2012, PETA states:
After talks with PETA, cruelty-free cosmetics giant Markwins, the parent company of the popular brand wet n wild, confirmed that it does not market its products or pay for any animal testing in China. Markwins has been restored to our list of companies that do not test on animals.
This tells us that Wet n Wild had been removed from PETA's list, and it's implied that they might have been caught selling their products in mainland China. If this was the case in 2012, then Wet n Wild has repeated the same mistake.
A Broken Cruelty-Free Promise
One of the reasons why this news is so shocking is because of how outspoken Wet n Wild is about being cruelty-free. On their website, they still claim to this day:
"Wet n wild® NEVER tests on animals, and we are super proud of this. We never have, and we never will. We believe in beauty without cruelty first! None of our furry, feathery, or scaly friends were harmed in the making of our products. Whether you're a card-carrying vegetarian who is committed to animal rights (and good for you!), or you just love puppies and bunnies and want them to smile (and who doesn't?), we are with you! We want that too!"
Below is the screenshot where the quote can be found. You can click the image to see the full size.
Blatant Hypocrisy Or Oversight?
We know that Wet n Wild products are sold in mainland China, but it's unclear whether or not Wet n Wild itself is aware of this. On one hand, they refused to recommit to the Leaping Bunny program, which would indicate that they're aware of the issue. On the other hand, Wet n Wild is a huge brand with many distributors across the world, and it's possible that lack of communication or mismanagement led to the brand being available in mainland China.
I'm going to reach out to Wet n Wild again and include a statement from them when I hear back.
EDIT: Here's my updated post on this situation.
I have disabled ads on this page, and this post is not monetized in any way. I encourage you to share this news with your friends and on social media.
Click here to share this post on Facebook.
Which Brands Are Cruelty-Free?
Download our list of 600+ verified cruelty-free brands straight to your device. Bring it with you everywhere you go, and never worry about supporting animal testing again. Click here to download