The loophole?
Customers can not purchase the products in stores. Instead, they make an online, cross-border purchase while in the store, and the order will ship from outside of China.
The problem?
While Charlotte Tilbury products are not available for purchase, the stores stock inventory for testers and for use on clients. In these stores, makeup is applied to customers. In the event of a customer complaint, the Chinese authorities would be able to test Charlotte Tilbury products on animals.
As innovative as this loophole is, and as much as I want companies to be able to sell in China without losing their cruelty-free status, it's too early to be confident that Charlotte Tilbury products will never be tested on animals in China while they're sold in Little B stores.
After thoughtful consideration, research, and speaking with experts on the topic, we decided that Charlotte Tilbury can no longer be officially considered cruelty-free. While Charlotte Tilbury will not be moved to the list of brands that test on animals, they're now in the grey area.
Little B And Cross-Border Shopping In China
If you're unfamiliar with Chinese laws, it's important to mention that the country requires most foreign cosmetics to be tested on animals in order to be sold in stores.
China also keeps a close eye on cosmetics that are sold there, and has post-market testing practices in place, some of which are animal tests. Even though there has been a decrease in post-market tests involving animals recently, there's still a small chance that animals could be used in post-market tests according to Humane Society International.
Because of the possibility of animal testing, beauty brands who wish to remain cruelty-free stay away from China. Instead, some choose to sell their products online only, which bypasses any possibility of animal testing. If products are shipped directly to the consumer, the Chinese authorities won't interfere and there are no animal testing laws that affect cross-border shopping.
Cross-border shopping in China is huge, and it's growing by 50% every year. By shopping online for foreign goods, Chinese customers avoid duties and any potential fakes or counterfeit merchandise. This makes cross-border shopping particularly attractive for luxury and high-quality goods. Like Charlotte Tilbury.
From Cross-Border Shopping To Pop-Up Store
But when it comes to makeup, there's a big purchasing barrier when buying online. Customers can't experience, touch, and feel the quality of the product. They can't apply it to their own faces. They can't choose their perfect foundation shade. For brands like Charlotte Tilbury, this means they're leaving money on the table by selling cross-border without being in actual stores.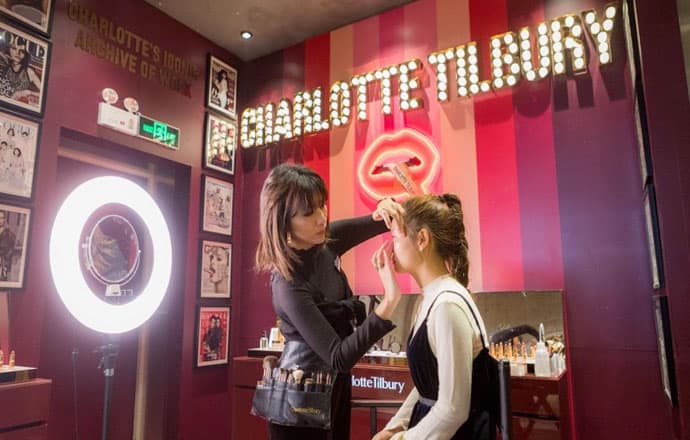 How do you overcome these issues, while keeping all the advantages of cross-border shopping, and while keeping your cruelty-free status intact? The solution for Charlotte Tilbury was to partner with Little B.
Little B stores showcase Charlotte Tilbury's entire range of products in an attractive, luxury setting. Makeup artists are giving customers makeovers, while they're able to touch and feel every product and test out all the foundations to find their perfect match.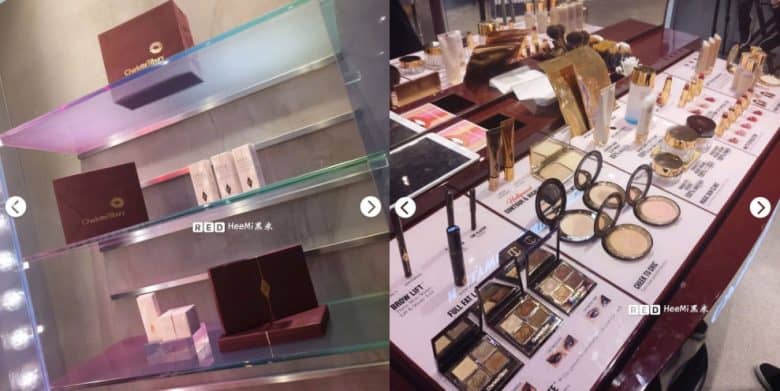 Little B only stocks the necessary inventory for testers, and customers can't purchase the products in stores. Instead, they use their phone to make an online, cross-border purchase.
But was this really a solution?
What's The Risk Of Animal Testing?
Is it likely that these testers (or any stock of Charlotte Tilbury products carried by Little B) will be tested on animals? No. But is there a risk? After speaking with experts, we were told that there's never zero risk. For this reason, I believe it's most fair to move Charlotte Tilbury from the list of cruelty-free brands to the grey area.
Even if there's a small risk of the products being tested on animals, I wouldn't want to support a brand who takes this risk, no matter how small it is. Being cruelty-free means taking every precaution to ensure that your products will not be tested on animals. Even if that means leaving some money on the table in China.
Charlotte Tilbury was already selling to China cross-border, using cruelty-free means, but they wanted a bigger piece of the pie. They took a big risk by partnering with Little B, and I believe they chose corporate greed over ethics, knowing that their cruelty-free status would be at stake.
Silence From Charlotte Tilbury Customer Service And PR
Charlotte Tilbury partnered with Little B in from December 2018 to January 2019, and again from December 2019 to January 2020. They have flash pop-up stores that appear for the holidays, and disappear again. They have several locations in major cities, including Shanghai and Shenzhen.
This is documented information online. After contacting Charlotte Tilbury's Customer Service department via email and social media, as well as their Public Relations contact several times, I have heard nothing back from the brand.
I tried contacting Charlotte Tilbury PR in December, and I have never received a response to either of the my emails.
If they choose to respond now after this post goes live, I'm sure they're going to assure their customers that Charlotte Tilbury is and will always be cruelty-free, and that they only sell to China cross-border, therefore bypassing any animal testing. Hopefully they will understand where the problem lies, and where their mistake was.
After this post goes live, I'm sure that we will finally hear from Charlotte Tilbury. They will choose to take one of two paths.
1. They will ignore the problem of the risk of post-market animal testing, and claim that Charlotte Tilbury is bypassing any animal testing because they only sell cross-border. This is false, because they choose to have testers and product stock in stores.
2. They will address the problem and vow not to continue the Little B pop-up stores in the future. If this is the case, Charlotte Tilbury will be added back to the cruelty-free list.
Thank you for reading! If you have any questions, I'll be happy to answer them in the comments.
Which Brands Are Cruelty-Free?
Download our list of 600+ verified cruelty-free brands straight to your device. Bring it with you everywhere you go, and never worry about supporting animal testing again. Click here to download