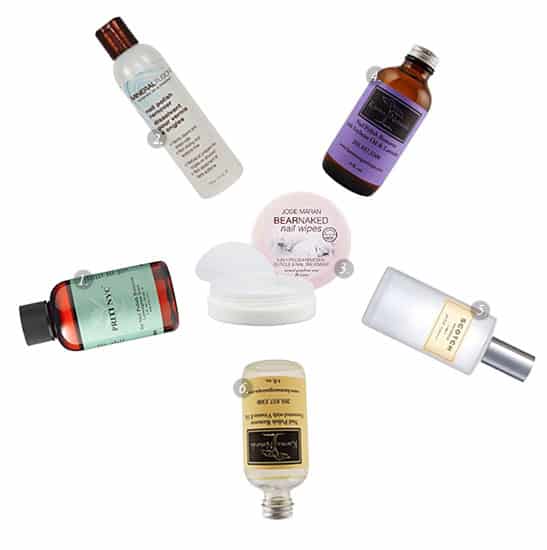 1. Priti NYC Soy Nail Polish Remover (15$)
This Leaping Bunny-certified top cruelty-free nail polish brand makes a fantasic nail polish remover! It's soy-based and has an oily texture, which conditions your nails as opposed to stripping them completely -- my favorite removers are soy-based and I highly recommend them! A bottle will last a very long time, as you only need a small amount. Buy it from amazon.
2. Mineral Fusion Natural Nail Polish Remover (10$)
If you prefer traditional acetone nail polish remover but want to try out a less harsh and cruelty-free alternative, get this one. It's mango-scented and quite strong, as it isn't soy-based, but I don't find the scent unpleasant. You can find it in some Target stores or buy it online from amazon.
3. Josie Maran Bear Naked Nail Wipes (9$)
How cute are these? They're pre-soaked individual pads, which is great if you're in a hurry to get that polish off, or if you're traveling. They smell like grapefruit and contain organic argan oil (as do pretty much all of Josie Maran's products). Get them here from Sephora.
4. Organic Lavender Nail Polish Remover (12$)
Karma Organic Spa is a non-toxic nail care company from New Jersey. They make one of my favorite soy nail polish removers! It's made from soybean oil but is also infused with lavender oil, so it smells absolutely wonderful. It completely removes nail polish very quickly.
5. Scotch Soy Nail Lacquer Remover (20$)
This one from Scotch is another soy-based remover. It's more of a splurge as the package is pretty and feels little bit more luxurious than the others even though it performs just as well. If you're into pretty packaging that looks nice to display and want to try this one out, amazon sells packs of two, which saves you almost 10$.
6. Organic Nail Polish Remover Unscented (12$)
This is another one by Karma Organic Spa, but it's the unscented version. If you're not into lavender, this one's perfect for you! You only need a little bit to remove all your polish. I dip it once and it's enough for both hands! Again, it's also available on amazon and you can buy it right here.
Which Brands Are Cruelty-Free?
Download our list of 600+ verified cruelty-free brands straight to your device. Bring it with you everywhere you go, and never worry about supporting animal testing again. Click here to download