BH Cosmetics makes trendy colorful makeup products as well as brushes and sponges. They're an especially great option for beginners because of their drugstore price point. That being said, their quality is on par with many expensive brands.
Not all of their brushes are vegan. Some do contain animal hair, so it's important to check before you buy! I recommend shopping from the dedicated vegan makeup brushes page on their website.
Their single brushes range from $3 to $11, and their brush kits range from $20 to $30.
2. EcoTools
My personal favorite brand of makeup brushes, EcoTools has a small but mighty selection of makeup brushes. They also have shower items like loofahs and sponges, all vegan and made with sustainable materials.
Their eco-friendly policy is what sets Ecotools apart from other brands in my opinion, as they use recycled aluminum and plastic, tree-free paper, and sustainably-grown bamboo, whilst still being budget-friendly.
Their single brushes range from $5 to $10, and their brush kits range from $10 to $20.
3. elf
elf is a completely vegan brand that sells makeup, skincare, and makeup tools. A high-quality drugstore option with incredibly affordable prices, they have a wide selection of makeup brushes which are great for someone wanting to set up a kit, or for those looking for a variety in the brushes they use at home.
Their brushes range from $1 to $12, and their brush kits range from $10 to $50.
4. Furless
Furless is another completely vegan brand that sells both makeup brushes and a small selection of makeup products. They're very reasonably-priced especially for their high quality.
Their single brushes are all around $3.
5. IT Cosmetics
IT Cosmetics is a brand you've probably seen if you've ever shopped at Ulta or watched QVC. The brand is well-known for a reason, and its high performance is apparent in every brush, making them worthy of their high price point.
They are priced from $24 to $58 for single brushes and up to $80 for their kits.
6. Real Techniques
Created by two sisters from the UK, Real Techniques is one of the best makeup brush companies in the world. Having been surrounded by the beauty industry and makeup their entire lives, Sam and Nic Chapman understand the need for versatility, quality, and ease of use when it comes to makeup brushes.
Their line is great for professionals and amateurs alike, thanks to their incredibly high quality coupled with affordable prices.
They can be found at Ulta and Target in the US, and Superdrug and Boots in the UK. Their brushes are $8 to $12 individually, and their kits are $20.
7. Sigma Beauty
Sigma Beauty was founded by a molecular biologist and civil engineer, with the launch of a singular brush set. Now they sell a variety of single brushes, brush sets, and makeup.
It's important to note that not all of their brushes are vegan. Make sure it says "synthetic fibers" in the details section.
Single brushes start at $15, and sets go for up to $100.
8. Spectrum Collections
Another UK-based brand, Spectrum Collections sells makeup brushes as well as cleaning and storage accessories. The goal of their brand is to create brushes that are not only high quality and stunning, but also affordable.
They have a variety of vibrant brush kits with different unique themes, like "Zodiac" and "Disney", and the aquamarine "Oceana" set pictured above.
Their brushes range from $6 to $15, with kits from $40 to $135.
9. Urban Decay
Another huge name in beauty, Urban Decay sells all kinds of single brushes perfect for upgrading your kit. Their face and eye brushes have soft, synthetic bristles ideal for blending or packing pigment.
Although Urban Decay doesn't sell brush kits, they are a great brand for those looking to add individual brushes to their current set.
Their brushes range from $20 to $60.
10. Zoeva
Although not all of their products are vegan, Zoeva is another great brand to check out if you're looking to buy some brushes or makeup.
Zoeva has single brushes, but where they really shine is in their brush sets. They are super sleek look is absolutely on par with their quality. For those looking for a gorgeous new kit of luxury brushes, I would completely recommend Zoeva!
Their single brushes are between $20 to $30, while their larger brush kits can cost several hundred.
Beginner Brush Kit
Although you can buy a complete brush kit from a lot of the brands above, for those of you who wish to build their own, here are some recommendations to create a versatile and affordable brush kit yourself.
BH Cosmetics V9 Vegan Eye Precision Brush
A perfect tool to add extra detail to your looks, this vegan brush is precise enough to fix mistakes using concealer, create a wing, or apply liquid eyeliner with ease.
| | |
| --- | --- |
| Brand | BH Cosmetics |
| Price | 3.50$ |
| Materials | synthetic fiber |
| Buy | BH Cosmetics |
EcoTools Full Powder Brush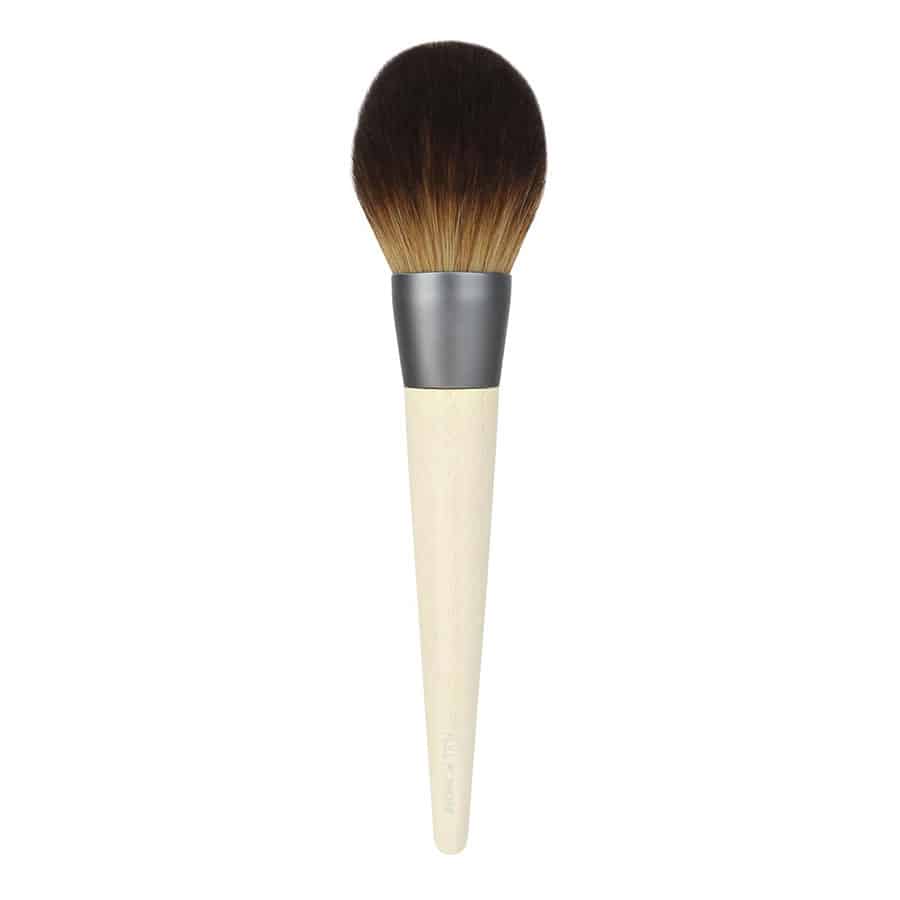 A dense but soft all-over face brush, this brush evenly distributes loose and pressed powders for a flawless matte finish.
| | |
| --- | --- |
| Brand | EcoTools |
| Price | 9$ |
| Materials | recycled synthetic fiber, recycled bamboo handle |
| Buy | Ulta |
elf Precision Airbrush Stipple Brush
This brush applies foundation, blush, bronzer, and highlighter in sheer layers for buildable, airbrushed coverage. The size is perfect for precise and even application.
| | |
| --- | --- |
| Brand | elf |
| Price | 10$ |
| Materials | synthetic fiber |
| Buy | Amazon |
Furless Pro Angled Liner Brush
Ideal for applying brow pomade and precise liner, this brush can create both sharp angles and seamless curves thanks to the controls it allows. It's big enough to fill an eyebrow quickly and easily, but can also be used for detailing.
| | |
| --- | --- |
| Brand | Furless |
| Price | 3$ |
| Materials | synthetic fiber |
| Buy | Furless |
Real Techniques Setting Brush
This micro setting brush is extremely versatile and works really well for targeted setting powder and highlighter, and even blending eyeshadow. It strikes the perfect balance between softness and precision.
| | |
| --- | --- |
| Brand | Real Techniques |
| Price | 8$ |
| Materials | synthetic fiber |
| Buy | Ulta |
Zoeva 227 Soft Definer
A flat oval-shaped brush is perfect for blending eyeshadow in both defined and soft looks. It works equally well with pressed and loose pigments and cream eyeshadow.
| | |
| --- | --- |
| Brand | Zoeva |
| Price | 12$ |
| Materials | synthetic fiber, bamboo handle |
| Buy | Zoeva |
In Conclusion
Overall, there's no reason to buy animal hair brushes when there are such incredible alternatives available! Did we miss any of your favorite cruelty-free and vegan brands? Let us know in the comments down below!
Which Brands Are Cruelty-Free?
Download our list of 600+ verified cruelty-free brands straight to your device. Bring it with you everywhere you go, and never worry about supporting animal testing again. Click here to download