Subscription boxes are a great way to find new cruelty-free brands and products, not to mention they're a really sweet surprise delivered straight to your mailbox every month.
So let's see what each box has to offer!
All 3 of the boxes above are the February boxes. We have Petit Vour, Vegan Cuts, and LaRitzy. Note: As of August 2016, LaRitzy no longer offers a subscription box.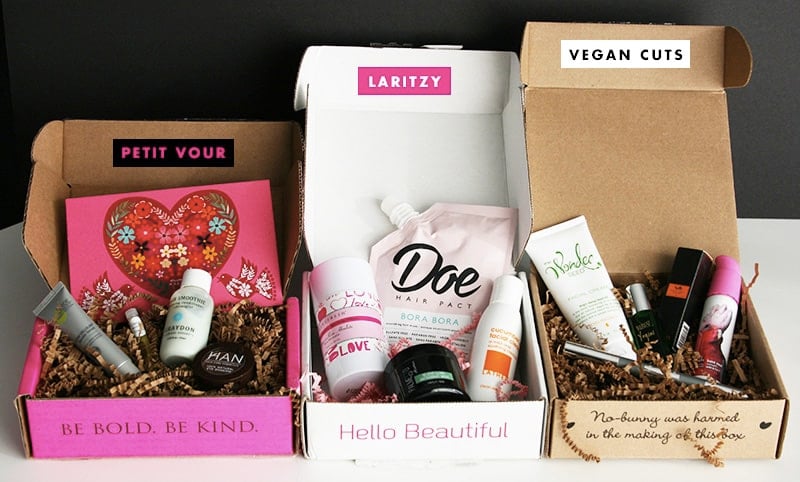 LaRitzy
$24.99/month
4-5 items
Subscribe
Petit Vour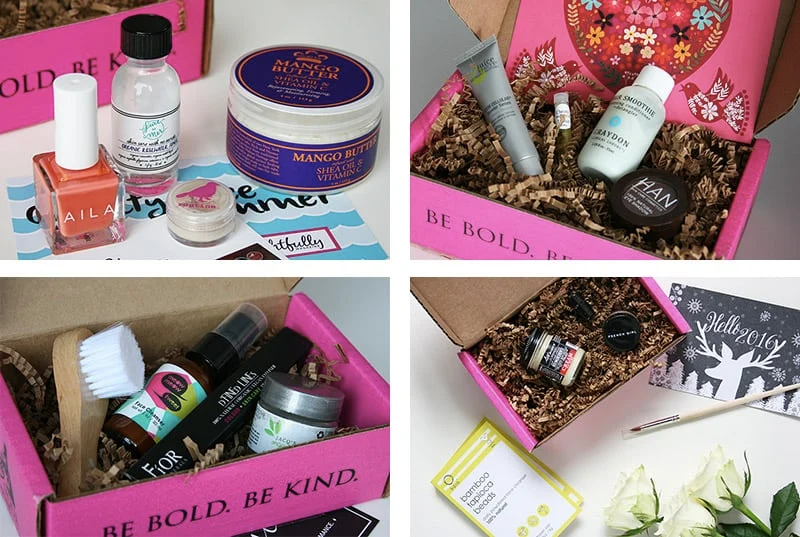 Click here to subscribe to Petit Vour.
I've personally had very good luck with Petit Vour's boxes. They offer the best value (only $15 a month) and always include products from brands I love. I find that they're really good at curating their boxes. The 4 products you'll find in every box are generally deluxe samples, but they throw in full-size items occasionally as well.
They focus on luxury beauty, and you can mostly expect to receive makeup and skincare products. Everything is 100% vegan and cruelty-free, of course.
Another cool thing about Petit Vour is their beautiful online store, where you can purchase full-size products of the samples you love. They offer a 20% discount every time you shop through them! And their website is seriously gorgeous.
A monthly box is $15 shipped to the USA. For Canadians, the total cost is $23 a month. For international readers, unfortunately I don't believe they ship worldwide yet.
Petit Vour is for you if...
You're a beauty junkie looking for an affordable cruelty-free box.
Vegan Cuts

Click here to subscribe to Vegan Cuts.
What I like about this box is the nice variety of products they offer. They're not limited to makeup and skincare, and I've even received vegan toothpaste in the December box above. This month, the box featured a makeup item, a skincare item, a hair item, and a fragrance.
If you like variety and you're willing to spend a little bit more, it's a great vegan box. They generally include 4 to 7 items per box, and everything is 100% vegan.
For US residents, this subscription costs $22.95 a month. For Canada, add $9. They do ship internationally for extra $15 per box.
Vegan Cuts is for you if...
You want a practical vegan box with a variety of products.
Take a look at my last Vegan Box review:
LaRitzy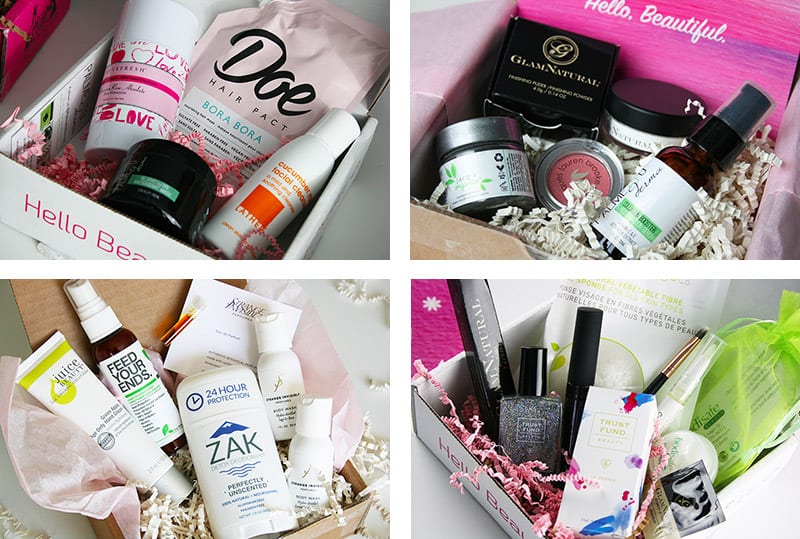 Click here to subscribe to LaRitzy. Sorry guys, LaRitzy no longer offers subscription boxes!
LaRitzy is a relatively new vegan box in the game. They were initially an all-natural subscription box and they quickly upgraded to also being a 100% vegan beauty box.
At $24.99 per box, the price point is a little bit more steep comapred to other boxes. They generally include 4-5 items in every box, most of them being skin and body care items in my experience. The cool part is that they sometime sneak in a full-size item! For instance, I've received 2 full-size natural deodorants from LaRitzy recently.
They include a lot of lesser known brands, but I've also received some nice products from established brands like Juice Beauty, Strange Invisible, and Trust Fund Beauty.
LaRitzy is for you if...
You love natural vegan products and don't mind to splurge.
Which box is your favorite?
Which Brands Are Cruelty-Free?
Download our list of 600+ verified cruelty-free brands straight to your device. Bring it with you everywhere you go, and never worry about supporting animal testing again. Click here to download