When it comes to creating flawless makeup looks, a lip liner is a necessity. Not only will it make your lips look fuller and more defined, but it also helps to shape them and stop the lipstick color from bleeding out.

And, if you prefer a softer, more subtle lip look, you can even use lip liner on its own without lipstick. (A neutral shade works best with this option.) Simply trace the lip line and then blend it into your lips, before adding a touch of gloss.
But, like a number of popular makeup products, lip liners aren't always vegan.
What animal products are in lip liner?
Much like its closest companion lipstick, lip liner often includes ingredients like carmine, beeswax, and lanolin.
Carmine, which helps to give cosmetics a rich pigment, comes from Cochineal beetles.
The insects (who are native to Latin America and live on cacti) are harvested, dried, crushed, and boiled. The resulting red dye is then utilized by the cosmetics industry, but it's also used in food and textiles. It's a huge industry. In fact, last year, it was valued at more than 43 billion.
But these beetles aren't the only insects used in lip products. Bees are also relied upon by the cosmetics industry, and, when it comes to lip liner, beeswax helps to give texture and provide structure. To obtain beeswax, honeycombs (which the bees create for their hives) are melted and cooled.
Another animal ingredient sometimes found in lip liner is lanolin, which is sourced from the oil glands of sheep. It's often added for its softening, and moisturizing properties.
But you don't need to put animal grease or beetle blood on your lips to achieve a flawless makeup look.

The vegan cosmetics industry is growing: by 2028, the market is predicted to reach a value of more than $24 billion.

According to Fortune Business Insights, this is partly because veganism is becoming a more "mainstream" lifestyle choice. But it's also because consumers are prioritizing sustainability. (It's worth noting here that lanolin, for example, is a byproduct of animal agriculture; an industry responsible for 14.5 percent of global greenhouse gas emissions.)
The best vegan lip liners
The growth of the vegan makeup market means there are plenty of animal-free lip liners to choose from. We've gathered our top picks below.
Plus, as always, every item on the list is totally cruelty-free. Animal testing has no place in the modern beauty world.
Best range of shades:
NYX
Suede Matte Lip Liner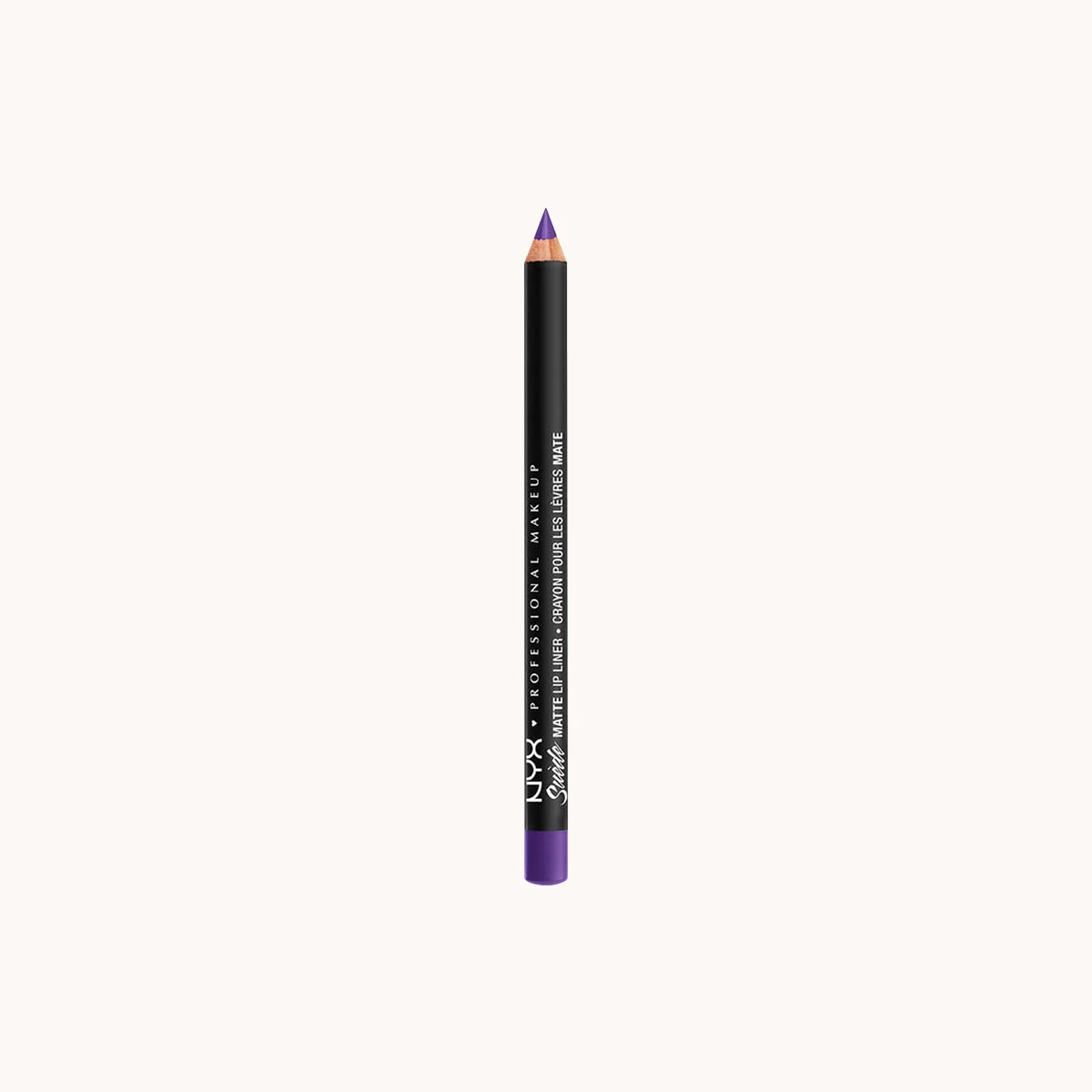 $4
| | |
| --- | --- |
| Number of shades | 50+ |
| Great for | Long-lasting color |
| 100% vegan brand | No |
| Parent company tests on animals | Yes - L'Oréal |
With more than 50 shades available, this matte lip liner will go with virtually every product in your lipstick collection. But naturally, the brand recommends that you use it with its own lipstick (particularly its Soft Matte Lip Cream).
The liner glides on smoothly, is easy to use and sharpen, and will stand the test of time while you're out doing your thing at work or at the bar. Plus it's a bargain too, at less than $5.
| | |
| --- | --- |
| Number of shades | 10 |
| Great for | Rich color |
| 100% vegan brand | Yes |
| Parent company tests on animals | Yes - LVMH |
KVD Vegan Beauty (formally known as Kat Von D Beauty), took all of the animal products out of its formulas back in 2016. Since then, it has remained passionately vegan, and of course, cruelty-free.
The brand's Everlasting Lip Liner comes in a wide range of shades, but Lolita, a chestnut rose shade, is one of its best-sellers. It's versatile, long-lasting, and offers rich-pigmented color that goes on with a clean, smooth glide.
Best for the planet:
This product listing is sponsored.
| | |
| --- | --- |
| Number of shades | 3 |
| Great for | Sustainability |
| 100% vegan brand | Yes |
| Parent company tests on animals | No |
Founded back in 2016 by Jenn Harper, Cheekbone Beauty describes itself as "the first Indigenous cosmetics company in Canada."
Doing right by the planet is a huge priority for the brand, which is a certified B Corp (which means it consistently prioritizes people and the planet across its operations).
It's also a member of the Pact Collective, a nonprofit that collects and sorts through hard-to-recycle beauty packaging, as well as 1% For the Planet. Through the latter, it has committed to donating the equivalent of 1% of gross sales to environmental nonprofits.
But Cheekbone Beauty is also about high-performing, top-quality products. And that shows through in its Sustain Lip Pencil.
Available in three shades and made with sustainably-sourced wood, the highly pigmented, matte lip pencil glides smoothly onto your lips. (That's largely thanks to the addition of natural, organic coconut oil in the formula.)

Wear it with your lipstick for a defined, full look, or wear it alone and blend for a more subtle finish.
Best for lip care:
About-Face
Matte Fix Lip Pencil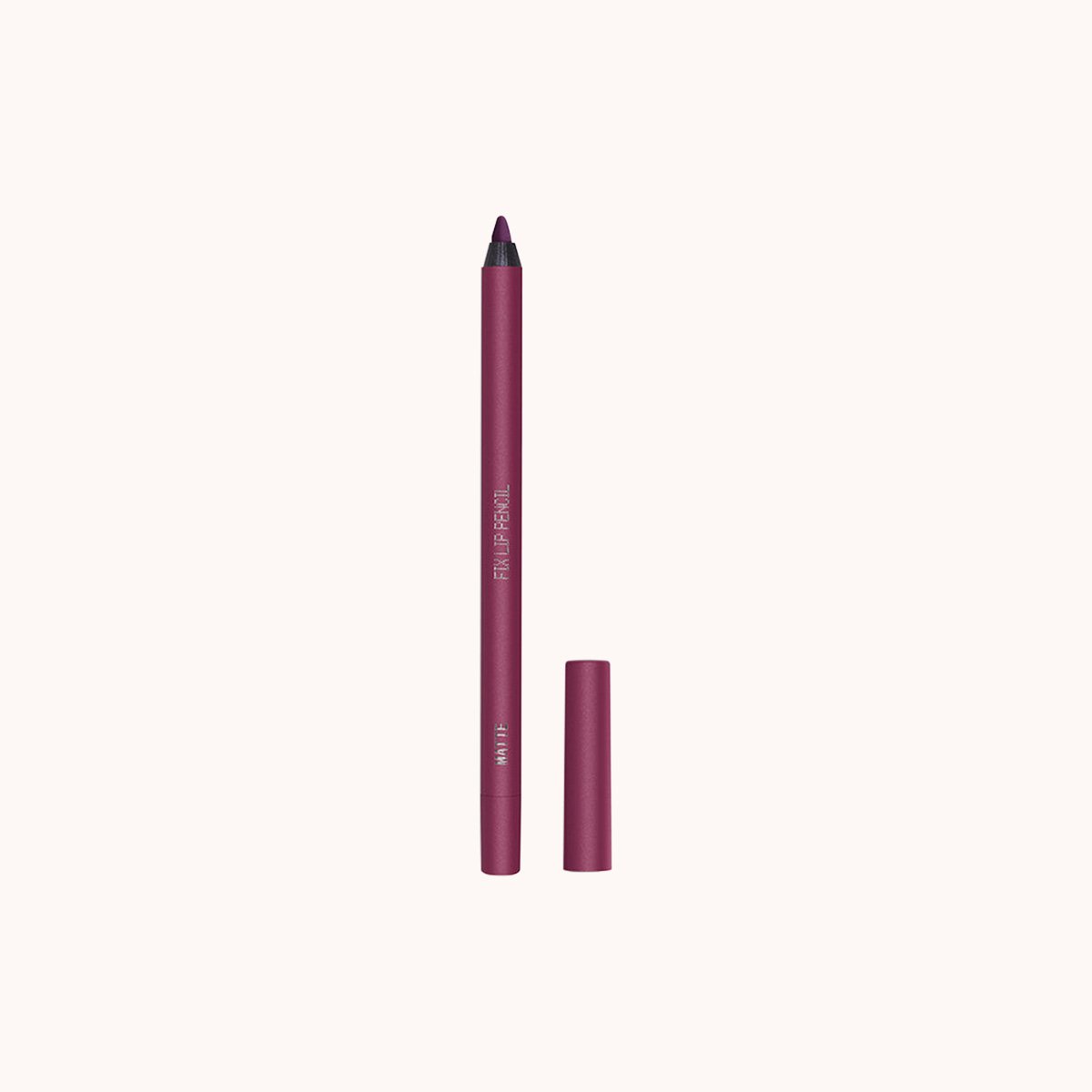 $12
| | |
| --- | --- |
| Number of shades | 20+ |
| Great for | Lip care |
| 100% vegan brand | Yes |
| Parent company tests on animals | No |
Singer Halsey, who also used to be a makeup artist, founded About-Face last year. The brand is about creativity, color, and fun (much like its sister brand Af94).
The Matte Fix Lip Pencil comes in several classic shades, including Blushing Beige and Midnight Seduction. It's creamy, pigment-rich, and, according to customer reviews, the color has some serious staying power.
Plus, it's good for your lip care routine too, because the formula includes ultra-hydrating hyaluronic acid, as well as antioxidants vitamin E and C.
Ere Perez
Açaí Lip Pencil
$23
| | |
| --- | --- |
| Number of shades | 3 |
| Great for | Sustainability |
| 100% vegan brand | No |
| Parent company tests on animals | No |
Ere Perez is all about enhancing and embracing natural beauty, which is why its products are always developed with the power of plants in mind.
This Açaí Lip Pencil stars, you guessed it, açaí berries. The fruit is known for its lip health-boosting qualities, thanks to antioxidants vitamins A and C.
Plus, the nourishing formula contains conditioning coconut oil, too.
But a lip pencil isn't just about lip care, it's also about performance. And Ere Perez delivers on that too. Available in three shades, this formula is creamy and easy to apply, giving you a pout that looks undeniably fuller and more defined.
This product is totally plastic-free. The pencil consists of wood, while the lid is made of aluminum.
| | |
| --- | --- |
| Number of shades | 7 |
| Great for | Long-lasting color |
| 100% vegan brand | No |
| Parent company tests on animals | No |
Victoria Beckham is renowned for her fashion line (and, of course, for being a Spice Girl). But she's also a beauty entrepreneur.

Beckham's eponymous line launched back in 2019, and since then, it's gone from strength to strength.
From science-backed, award-winning skincare serums to luxury lipsticks (naturally they're titled Posh) complete with accompanying liners, its formulas do not disappoint.
This waterproof Lip Definer will help to enhance your natural lip shape. It's easy to use, long-lasting, feels smooth, and it's blendable too.
Best budget:
| | |
| --- | --- |
| Number of shades | 7 |
| Great for | Easy application |
| 100% vegan brand | No |
| Parent company tests on animals | No |
E.l.f. Cosmetics has gone beyond the standard lip pencil. Instead, it has created a 2-in-1 liner with a triangle-shaped tip, which helps you to sculpt and fill in lips for a super defined, plumped-up pout.
While not everyone is a fan of the unique shape, others find it makes the liner far easier to apply. Plus, it's versatile: use it with a separate lipstick or fill in your lips all over. The texture is soft and creamy, while the color is high-pigmented without being too strong.
Lime Crime
Velvetines Lip Liner
$20
| | |
| --- | --- |
| Number of shades | 22 |
| Great for | Long-lasting color |
| 100% vegan brand | Yes |
| Parent company tests on animals | No |
One of Lime Crime's best-selling products is its range of Velventines Liquid Lipstick. So it makes sense the brand created an accompanying lip liner.
Available in a wide range of shades, this creamy liner feels soft and smooth to apply.
The thicker tip makes the product ideal for a fuller look, and it has real staying power too. Once it's on, it's on. While you're out and about, you can feel safe in the knowledge that this liner is unlikely to smudge or transfer.
Fitglow Beauty
Vegan Lip Liner
$24
| | |
| --- | --- |
| Number of shades | 5 |
| Great for | Lip care |
| 100% vegan brand | No |
| Parent company tests on animals | No |
One of Fitglow Beauty's biggest priorities is making high-performance cosmetics that benefit your skin.

That's why as well as its creamy long-lasting color, its Vegan Lip Liner is also enriched with moisturizing, hydrating ingredients ideal for optimal lip care.
The formula includes nourishing mango seed oil, conditioning shea butter, and moisturizing cloudberry seed oil to leave your lips feeling soft and hydrated.
Plus, the color won't bleed, it's comfortable to wear and easy to apply too.
The verdict
The right lip liner helps to shape your lips, making them look fuller and more defined. It also helps to prevent your lipstick color from bleeding out. But often, lip liners contain animal ingredients like carmine and beeswax. However, there are plenty of vegan options on the market.
To summarize, here are some of our favorites:

Best for...
The planet: Cheekbone Beauty Sustain Lip Pencil
Lip care: About-Face Matte Fix Lip Pencil
Budget: E.l.f. Love Triangle Lip Filler Liner
Range of shades: NYX Suede Matte Lip Liner
Which Brands Are Cruelty-Free?
Download our list of 600+ verified cruelty-free brands straight to your device. Bring it with you everywhere you go, and never worry about supporting animal testing again. Click here to download