Cream Bronzers: The Basics
Unlike powder or liquid bronzers, cream ones sit comfortably in between to offer a consistency that can achieve either a subtle or bold look. Most are buildable, which means you can go from a sheer finish to a full dramatic aesthetic. They're great to create dimension for a sculpted face or to simply add warmth when you need it. While most apply bronzer on the cheekbones, it's also an effective product to apply around your temples, jawlines, and even eyelids.
How We Chose The Products
Product Performance
With the purpose of highlighting and sculpting the face, we chose bronzers that do exactly that. A fading glow is also not welcome when it comes to bronzers, so products that can last for hours on end gets a spot on our list. To narrow down the choices, we consulted third party reviews, social media, and word of mouth.
Cruelty-Free Companies Only
At Cruelty-Free Kitty, we only want to share products that have not been tested on animals. All the brands mentioned are made cruelty-free, as we believe animal testing has no place in the 21st Century.
The Best Brush For Cream Bronzers
For cream bronzers to go on the face flawlessly, go for angled contour brushes. An angled head makes for a precise application, which is what you need when applying bronzers. Synthetic brushes are even better for cream bronzers, as they tend to absorb less moisture from the product, compared to a natural brush.
Our top pick:
Real Techniques – Sculpting Brush
$9.99 - Shop on: Amazon
The brush that tops our list also happens to be a drugstore brand favorite of many. Real Techniques' Sculpting Brush is a suitable bronzer brush, due to its dense bristles, which help achieve a seamless blend when buffing out the color.
The Best Cream Bronzers
Danessa Myricks
Power Bronzer
$26
Don't settle for the pale complexion during the colder months and pick up Danessa Myricks Beauty's Power Bronzer. This one will shade and contour the face, as well as adding instant warmth to the skin. The creamy bronzer melts into the skin when applied with any method – brush, sponge, or finger – and sets in quick. Wear it under or over your foundation, depending on how subtle or strong you want your look to be.
Product Overview
| | |
| --- | --- |
| Best For | Best Overall |
| Finish | Matte |
| Shade Range | 3 |
Tarte
Sea Breezy Cream Bronzer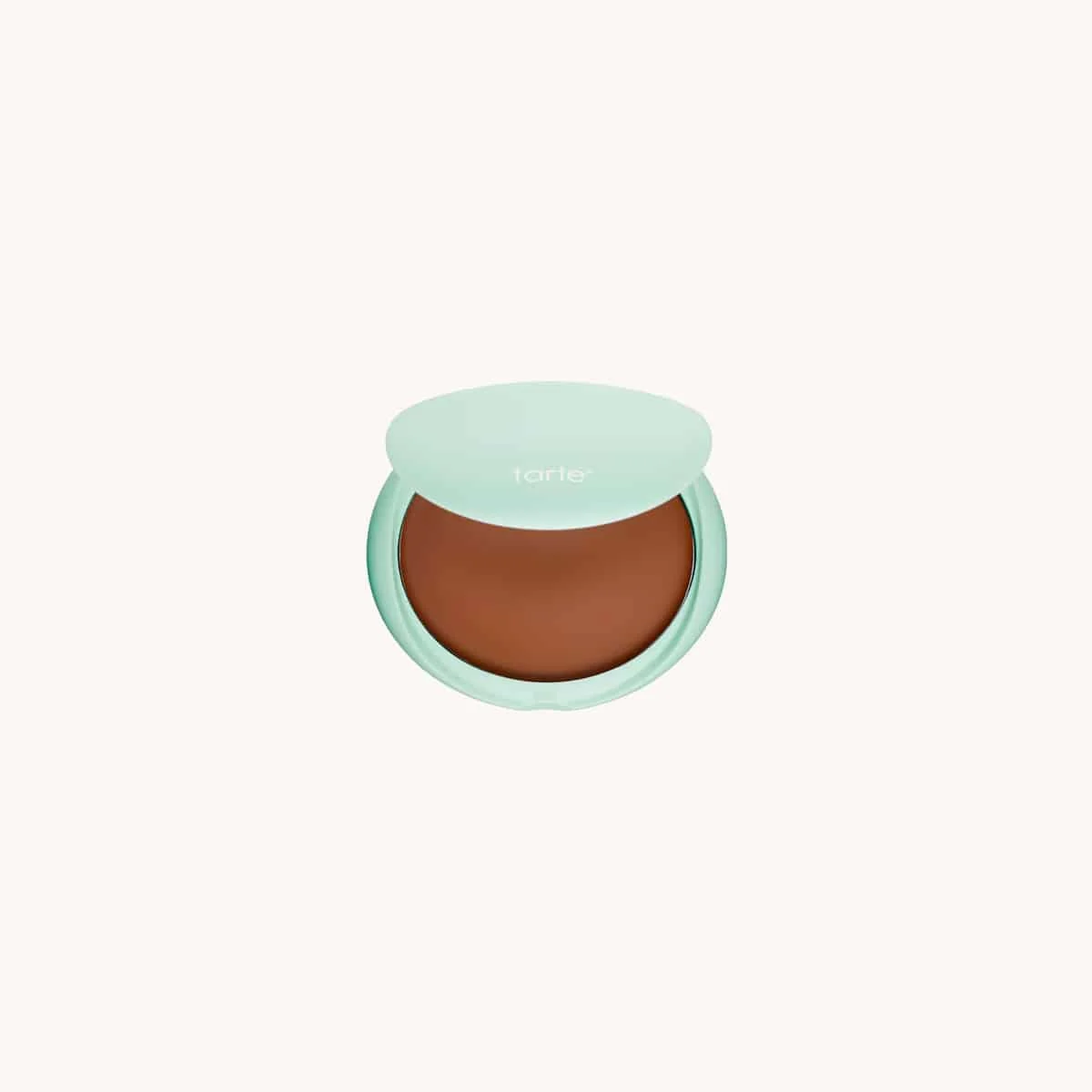 $29
Get the sun-kissed glow without much effort with Tarte's Breezy Cream Bronzer. Its waterproof and velvety formula dries quick to deliver a natural-looking bronzed look. With marine plant extracts, this bronzer also reduces the appearance of fine lines to make the face look super smooth. While the finish is more natural, apply more product and pair with a powder to create a deeper look.
Product Overview
| | |
| --- | --- |
| Best For | Best Overall |
| Finish | All-over healthy tan look |
| Shade Range | 2 |
Westman Atelier
Face Trace
$48
Dreaming of achieving that model-material cheekbones? The Face Trace bronzer from Westman Atelier can sculpt and define yours with its blendable formula that you can easily sweep on. It's more of a splurge but this bronzer also works great on the eyelids and jawlines. The bronzer also contains soothing ingredients like organic jojoba seed oil for hydration and kaolin clay to help the product stay in place.
Product Overview
| | |
| --- | --- |
| Best For | To-die-for cheekbones |
| Finish | Natural, Satin |
| Shade Range | 2 |
A highlighter and a bronzer all in one? Yes, please! Tower 28's Bronzino Illuminating Cream Bronzer has a multi-dimensional sheen that can also be built up for a brighter and sharper look. Pretend that you've just come back from a tropical island getaway, thanks to the shimmer that is subtle enough to use on the eyes and wherever the sun touches your face.
Product Overview
| | |
| --- | --- |
| Best For | Glowy sheen |
| Finish | Shimmery |
| Shade Range | 6 |
Inside Rituel de Fille's Inner Glow Crème Pigment pot is super-pigmented cream that can be applied anywhere on the face. While it's more red and pink hues make for a great blush, their more natural shades like Eros and Intuition works well for contouring. This multi-purpose product will create an effective shadow, rather than shine, to define your cheekbones. Make sure to build it up for a bolder look.
Product Overview
| | |
| --- | --- |
| Best For | Bold color |
| Finish | Dewy |
| Shade Range | 11 |
Milk Makeup
Matte Cream Bronzer
$28
The last thing you want in a bronzer is to dry out your skin. The Matte Cream Bronzer from Milk Makeup is full of hydrating ingredients, including mango butter and apricot oil. The formula provides a dewy finish without looking greasy and a little amount goes a long way for good blending power. Due to its stick form, the bronzer can be swiped faintly across the skin for easy sculpting.
Product Overview
| | |
| --- | --- |
| Best For | Easy application |
| Finish | Matte |
| Shade Range | 2 |
elf
Cream Contour Palette
$8
With four different shades in one palette, it's a contouring dream. Highlight, sharpen, or sculpt your way with e.l.f.'s Cream Contour Palette. This drugstore favorite blends well to give the face good dimension, while still looking natural, especially when applied under foundation. The formula is also not overly pigmented, which means it can be built up without looking muddy.
Product Overview
| | |
| --- | --- |
| Best For | Contour beginners |
| Finish | Matte |
| Shade Range | 1 |
The petite Bio Bronzer Cream Stick from W3LL PEOPLE makes for the perfect travelling companion to apply bronzer on the go. Apart from contouring the face, it's also effective in correcting redness. The bronzer contains hydrating botanicals, such as green tea, aloe, and olive oil to hydrate and protect the skin. The use of all-natural ingredients also works well to not irritate, making it suitable for those with sensitive or dry skin.
Product Overview
| | |
| --- | --- |
| Best For | Bronzing on the go |
| Finish | Natural |
| Shade Range | 1 |
RMS Beauty
Buriti Bronzer
$28
For a hydrating cream bronzer, go with RMS Beauty's Buriti Bronzer, which contains all the nourishing ingredients. Buriti oil, shea butter, and organic cocoa butter are just a few in its long list of natural ingredients that help with the appearance of healthy glowing skin. Their universal shade works on different skin tones and works best as a highlighter for darker skin tones. It's makeup and skincare in one!
Product Overview
| | |
| --- | --- |
| Best For | Hydrating |
| Finish | Natural |
| Shade Range | 1 |
Final Verdict
For the best overall cream bronzer, we like Danessa Myricks Beauty's Power Bronzer ($26) because of how buildable it is and its long-lasting color. Westman Atelier's Face Trace ($73) is a great splurge that is worth the money, due to its nourishing natural ingredients and blendable formula. Meanwhile, e.l.f.'s Contour Cream Palette ($8) is very budget-friendly and is suitable for both a full-on contoured look and a natural one.
Which Brands Are Cruelty-Free?
Download our list of 600+ verified cruelty-free brands straight to your device. Bring it with you everywhere you go, and never worry about supporting animal testing again. Click here to download