Cruelty-Free Sunscreen Picks: Mineral Sunscreen For Face And Body
The following sunscreens are all cruelty-free, and I've chosen options for both face or body. They're also all mineral sunscreens, meaning they contain zinc oxide, which blocks both UVB and UVA rays. It's also a safe ingredient and should cause no adverse reactions or breakouts, if you're acne-prone.
Mineral sunscreens are also reef-safe as long as they don't use nano-particles. Some brands will make the claim on the bottle if they are reef-safe, while others don't. You can always contact the brand directly if it's not obvious, like I have for some of the options below.
1. Paula's Choice Essential Glow Moisturizer SPF 30 (Face)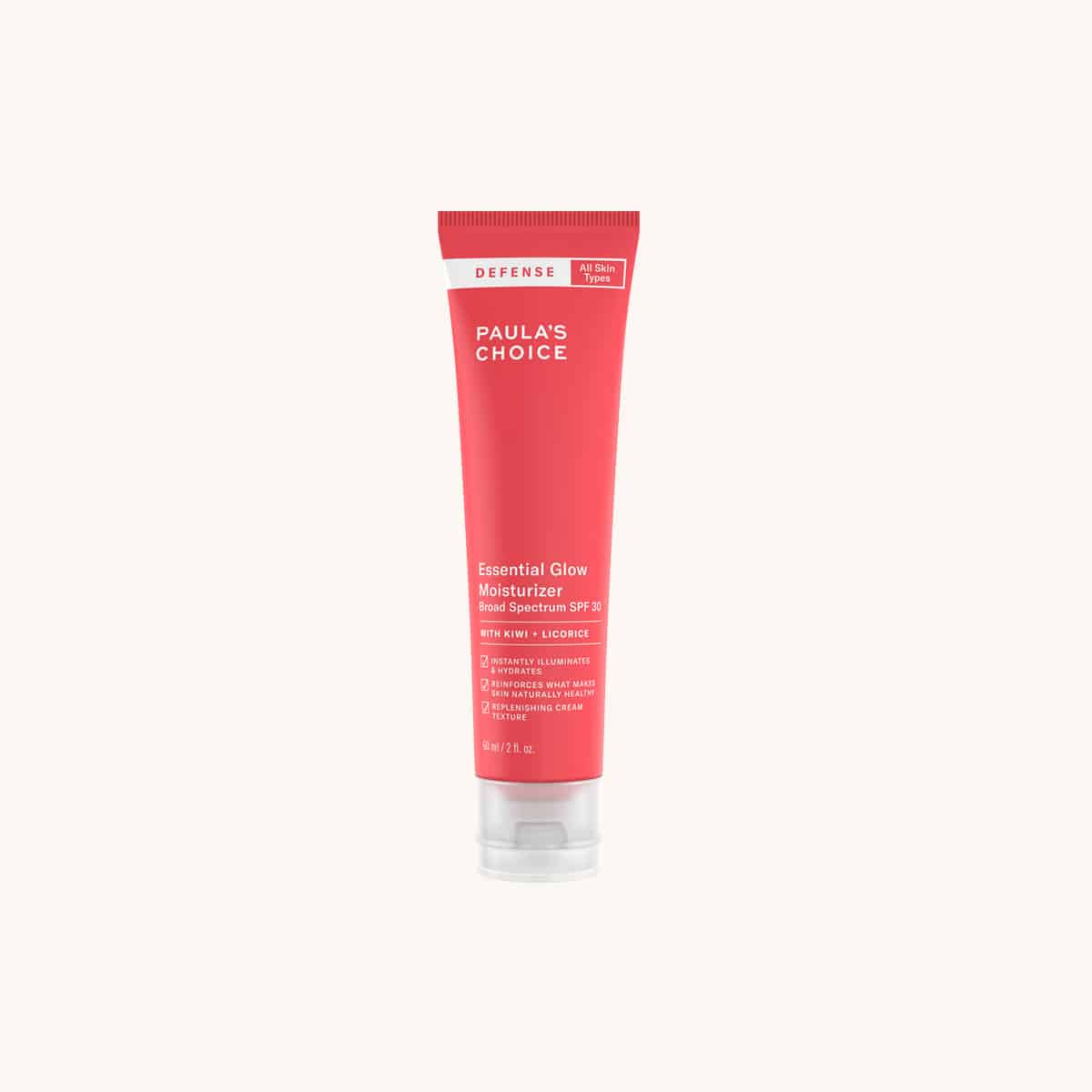 Buy from: Paula's Choice
One of my favorite facial sunscreens is this Essential Glow Moisturizer by Paula's Choice. Even though it's a "moisturizer", I still use my regular moisturizer underneath. It is however very hydrating and has a natural, glowy finish. It doesn't leave a white cast and it's slightly tinted a light beige color. I've also confirmed with the brand that it's reef-safe, which means it contains no nanoparticles.
If you're looking for a great mineral sunscreen that isn't matte, I recommend this one. It can be worn under makeup, but it's also great on its own, and you don't necessarily need to moisturize underneath. This makes it a quick 1-step morning routine.
2. Drunk Elephant Umbra Sheer Physical Daily Defense SPF 30 (Face)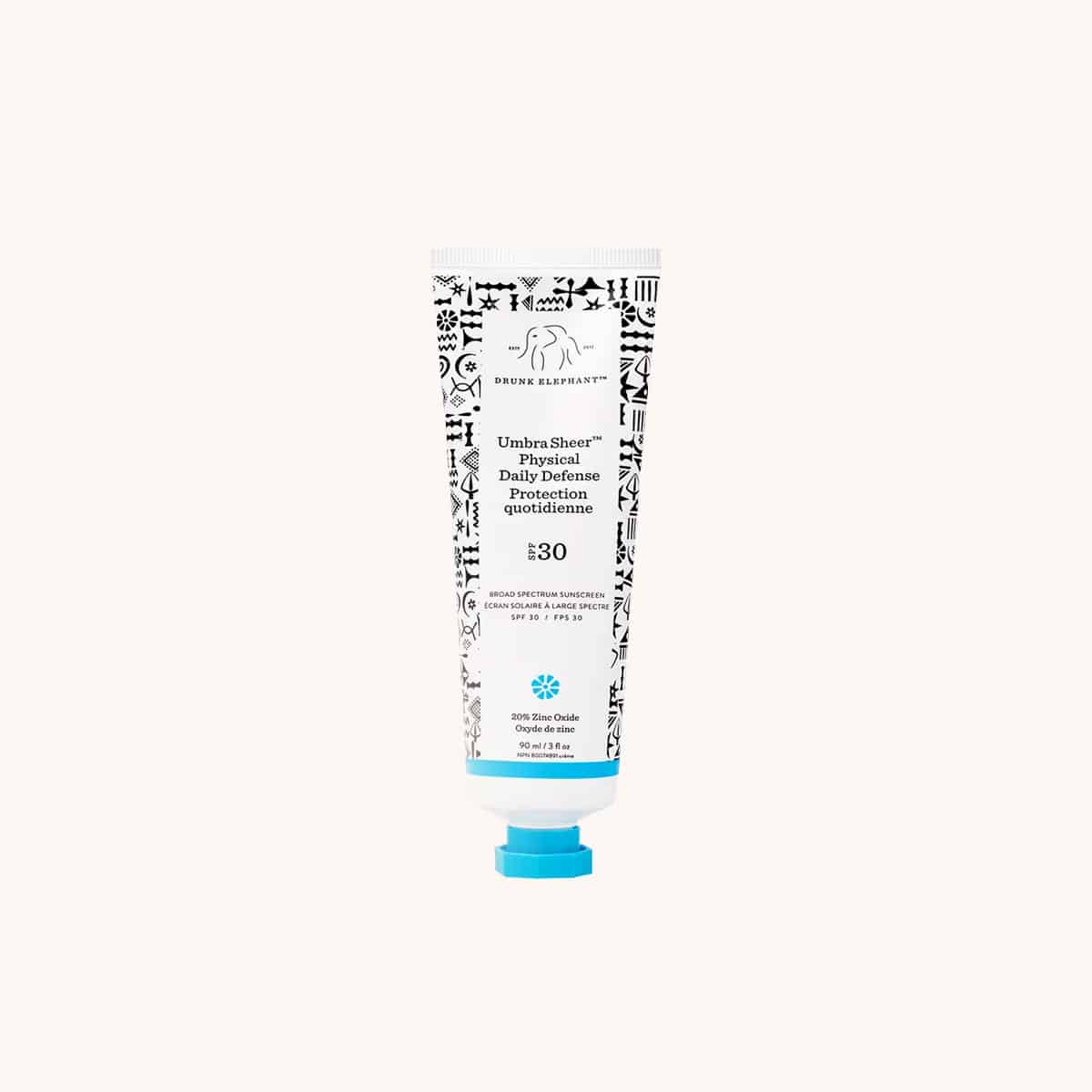 Buy from: Sephora
This is another great mineral sunscreen and it's from Drunk Elephant. It's similar to the one above since it's on the glowy side and it's equally hydrating. Personally, this is the kind of formula I go for, but there more options below if you're looking for a matte formula.
This one is not tinted and it's pure white, but the white cast almost completely goes away once it's rubbed into the skin. Many mineral sunscreens have a white cast that doesn't go away, so I love that this one disappears. I did not confirm if this one is reef-safe, so if you don't want to risk it, go with the one from Paula's Choice above.
3. Josie Maran Argan Daily Moisturizer Mineral SPF 47 (Face)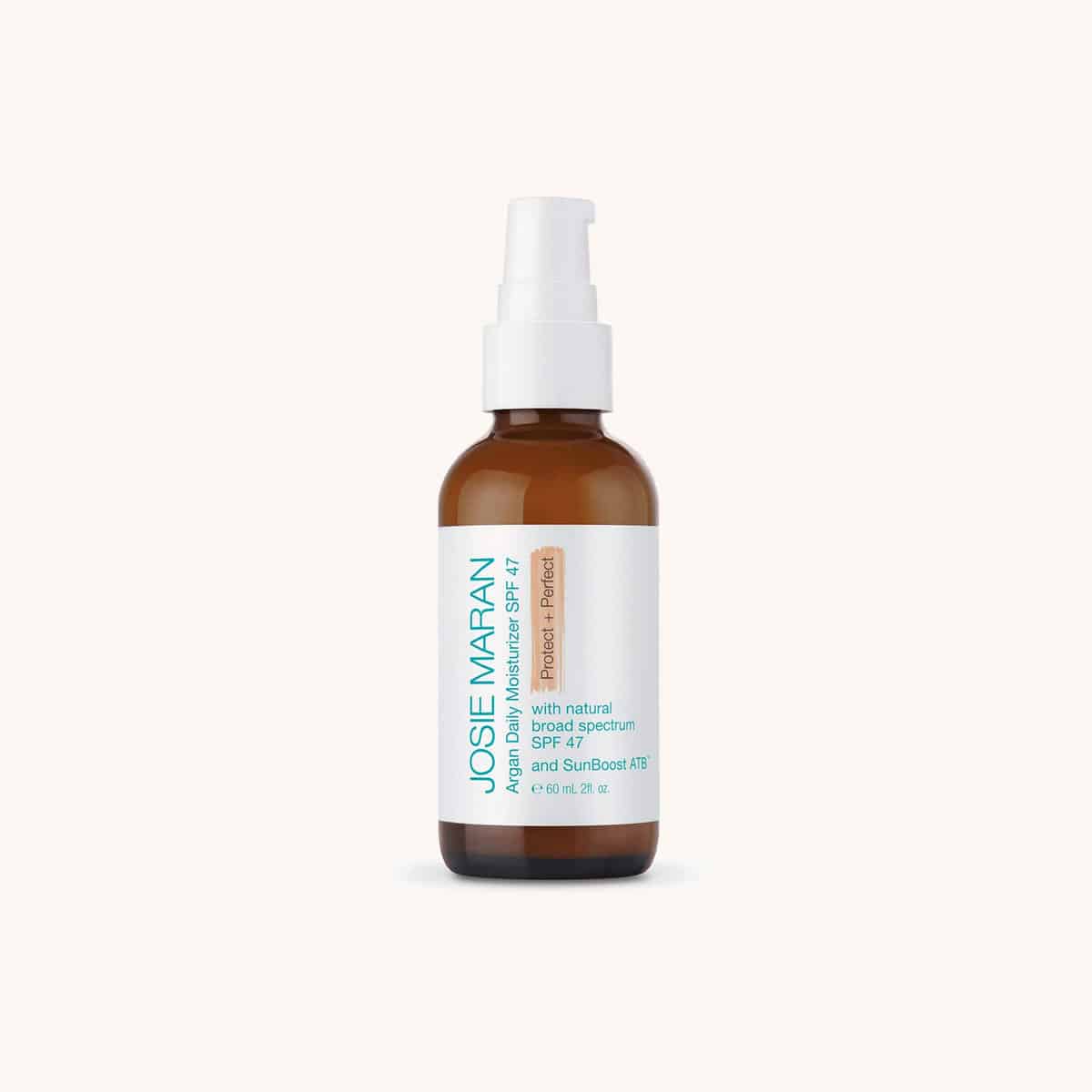 Buy from: Amazon
For a higher SPF, Josie Maran makes a mineral sunscreen with an SPF of 47. It's also moisturizing and glowy, and it works well under makeup or on its own. It comes in a tinted and non-tinted version, and the white cast is also on the lighter side.
This one is also a great options if you're looking for a sunscreen that is free from ingredients such as parabens or phtalates (synthetic fragrance).
4. Paula's Choice Hydralight Shine-Free Mineral Complex SPF 30 (Face)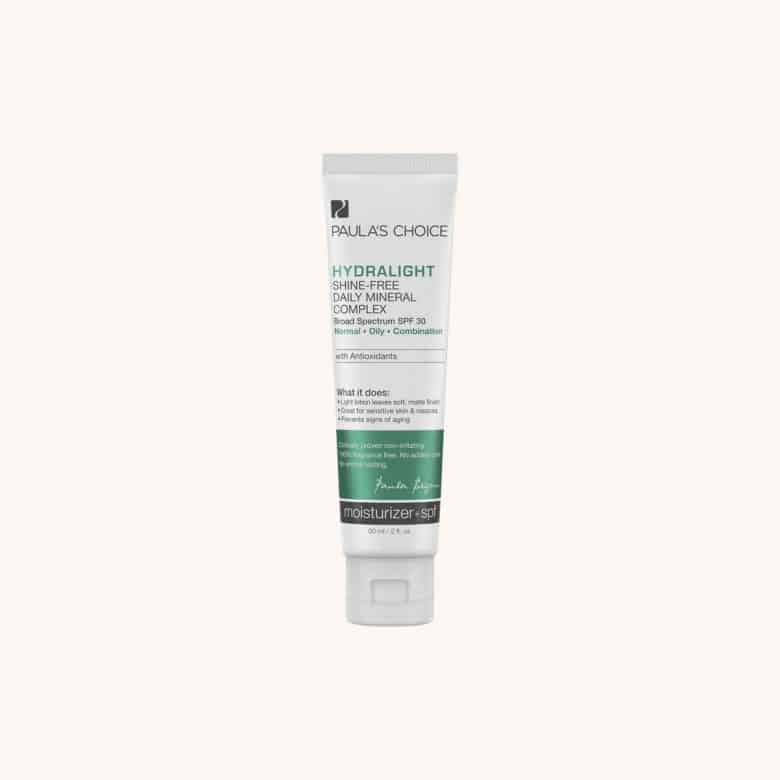 Buy from: Paula's Choice
If you're looking for a matte finish, this is a great option from Paula's Choice as well. It also doubles as a moisturizer, so you can skip your regular moisturizer and only use one product. It feels lightweight and the finish is matte, making it perfect for those with oily skin. It's also a good option for hot and humid summer days.
5. Alba Botanica Sensitive Mineral Sunscreen SPF 30 (Body)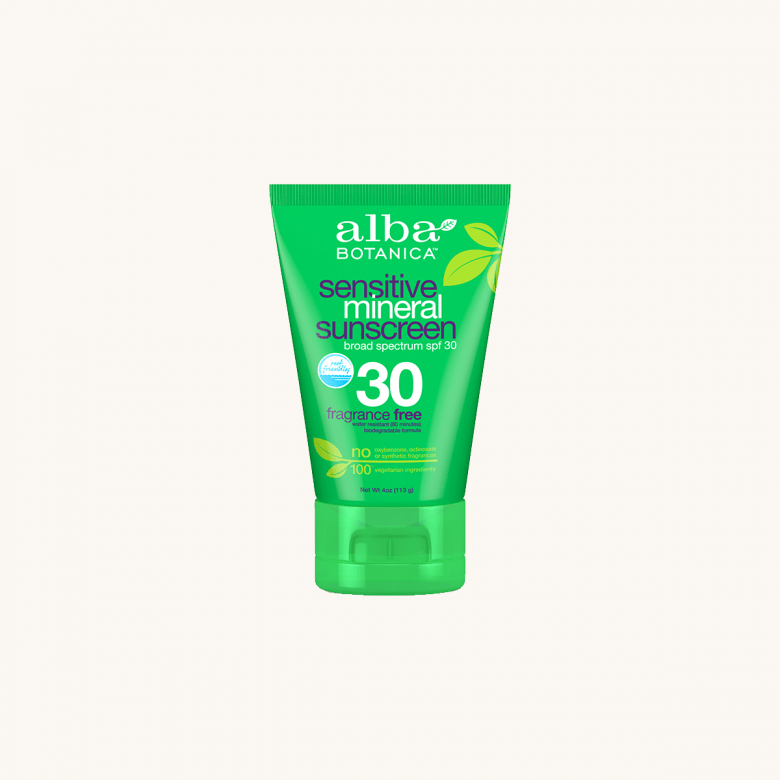 Buy from: iHerb
If you're looking for a drugstore mineral sunscreen at a more affordable price, Alba Botanica makes a great one for close to $10. It's also fragrance-free, paraben-free, and they confirm on their website that this sunscreen is reef-safe and made without nanoparticles. It has a medium consistency and has a tiny white cast.
6. Pacifica Mineral Face Shade Coconut Probiotic SPF 30 (Face)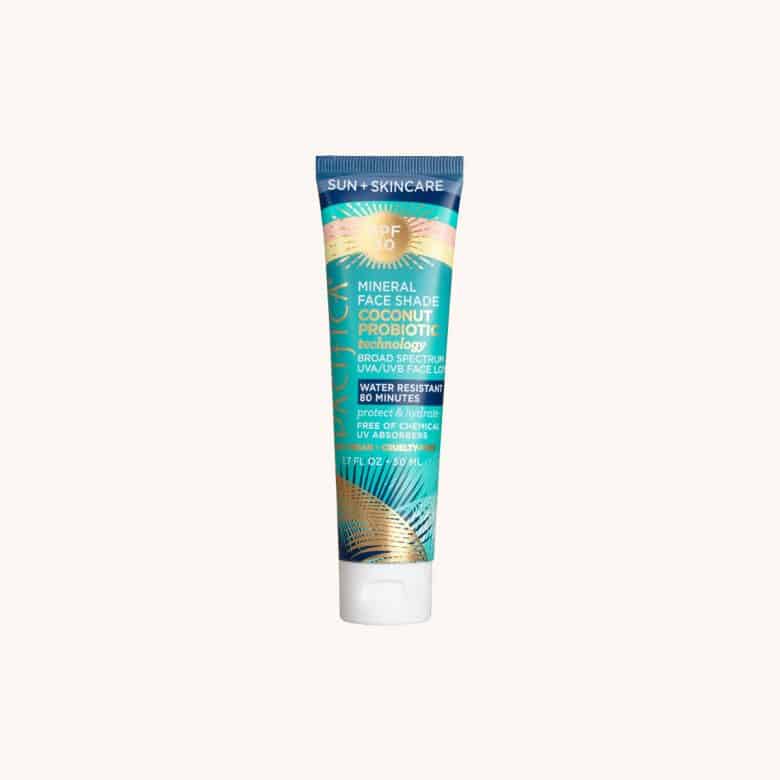 Buy from: Ulta
Pacifica offers a ton of SPF products, but most of them contain a chemical sunscreen. This is their mineral sunscreen for face which contains both Zinc Oxide and Titanium Dioxide. It leaves a bit of a white cast, though it's less considerable than most other mineral sunscreens. Pacifica is 100% vegan.
7. Acure Radically Rejuvenating SPF Day Cream (Face)
Buy from: Amazon
Another great drugstore option which can be found at most drugstores across the USA & Canada is Acure. Their SPF 30 sunscreen is reef-safe and non-nano as stated on their website. It also contains tumeric, ferulic acid, and Vitamin C for antioxidants. It's also paraben-free and contains niacinamide. It does contain coconut oil, so it might not be suitable for those who have acne-prone skin. Acure is Leaping Bunny certified.
8. Biossance Squalane + Zinc Sheer Mineral Sunscreen SPF 30 PA +++ (Face)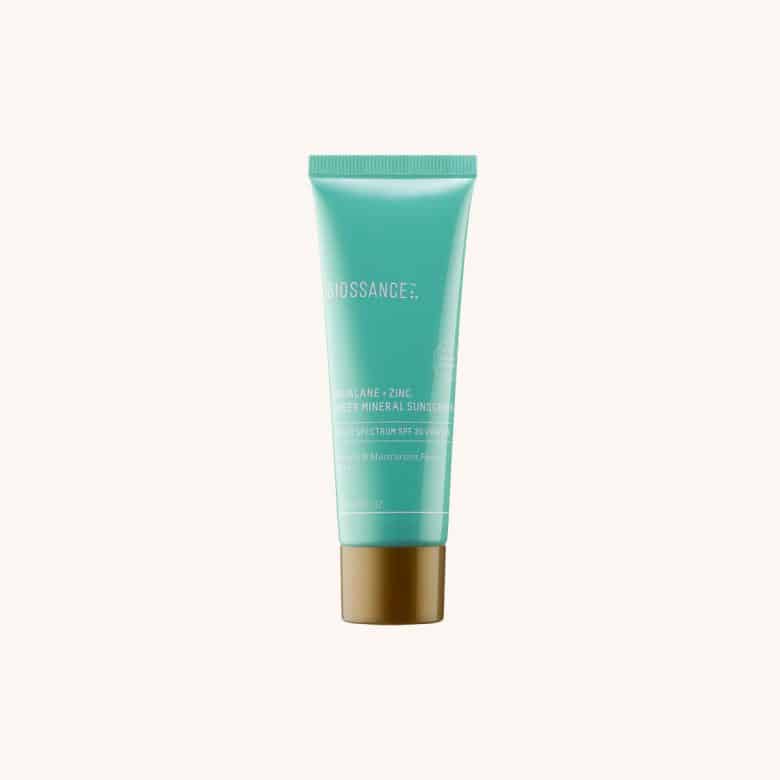 Buy from: Sephora
Another reef-safe option that's also vegan, this time available at Sephora. This one from Biossance won't leave a big white cast and it also contains squalane to keep it moisturizing. It's sheer and light, paraben-free, and phtalate-free, plus it's suitable for sensitive skin.
9. Juice Beauty SPF 30 Sport Sunscreen (Body)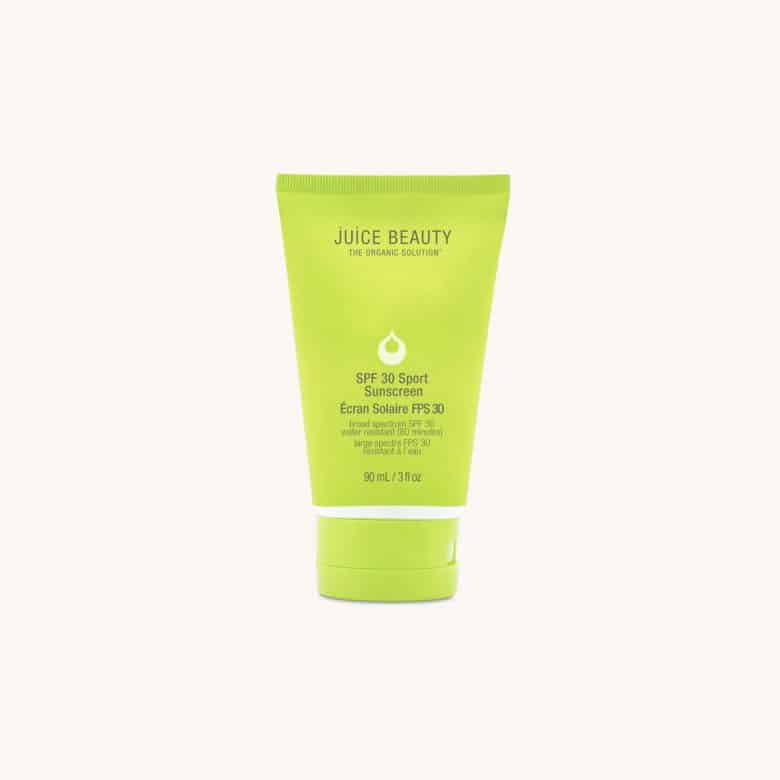 Buy from: Sephora
This sunscreen by Juice Beauty is specifiaclly made for those who have active lifestyles and love the outdoors, hence "Sport" in the name. As such, it's water-resistant for up to 80 minutes, the application is easy, and it absorbs quickly.
Another great thing is that it's non-nano and reef-safe as stated on their website. It's also vegan, paraben-free, and phtalate-free. A great option for a body sunscreen.
10. Josie Maran Whipped Argan Oil SPF 45 Body Butter (Body)
Buy from: Sephora
Josie Maran's body butter is a great option. It gives you the moisture and protection you need with its high broad-spectrum SPF formula. It's lightweight, quick-absorbing, and leaves no white cast on your skin.
This sunscreen is also mineral and non-nano, making it reef-safe. It is also fragrance-free, paraben-free, and phthalate-free.
11. Pacifica Mineral SPF 50 Pineapple Flower Body Butter (Body)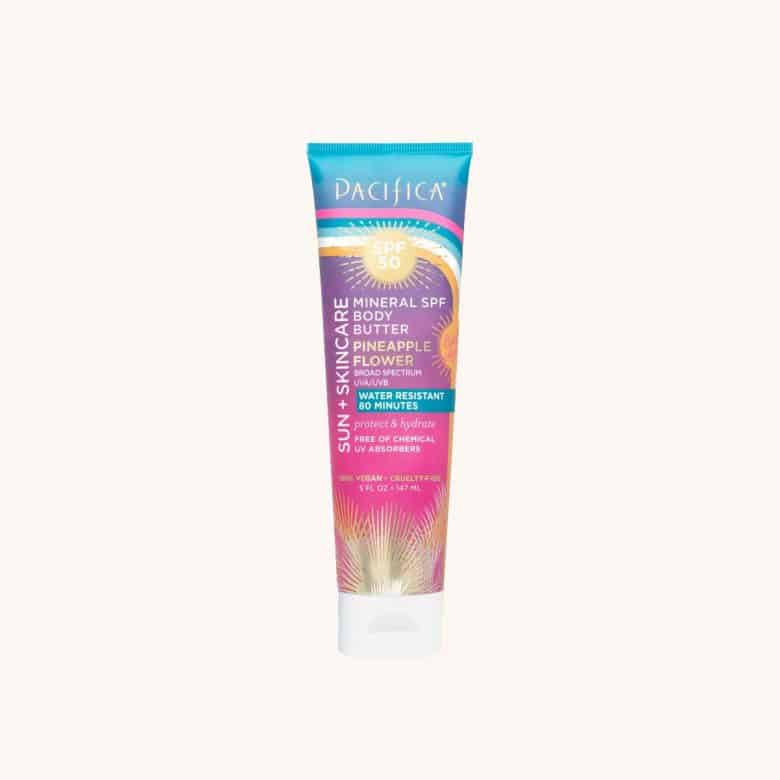 Buy from: Ulta
This Body Butter Sunscreen from Pacifica gives your skin the nourishment it needs while protecting you from the harmful UV rays of the sun. It has a water-resistant formula that makes it effective for up to 80 minutes. It's also a huge plus that this sunscreen is 100% vegan and cruelty-free.
12. Attitude Hypoallergenic Mineral Sunscreen SPF 30 (Body)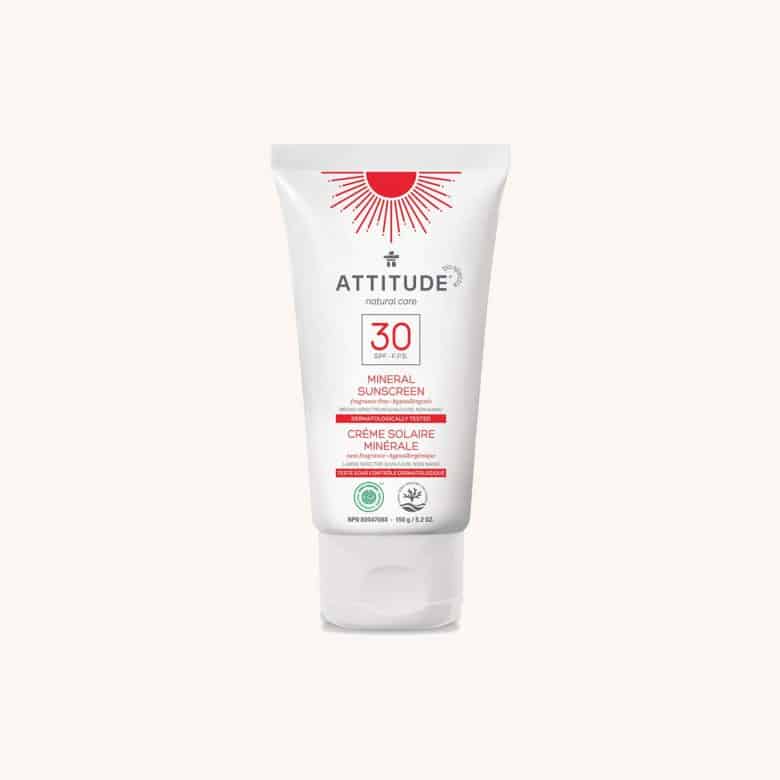 Buy from: Amazon
Attitude's Hypoallergenic Mineral Sunscreen gives you ideal protection from the sun while also protecting you with its use of all-natural ingredients. It is fragrance-free and hypoallergenic, fast-absorbing, vegan, and cruelty-free.
This sunscreen also happens to be free of harmful chemicals like oxybenzone and octinoxate that are known to affect coral reefs and contains no PEGs like Stearate PEG-100 that has been found to be contaminated with chemicals that cause cancer. It's a worry-free sunscreen that can be used daily.
13. MyChelle Replenishing Solar Defense Body Lotion SPF 50 (Body)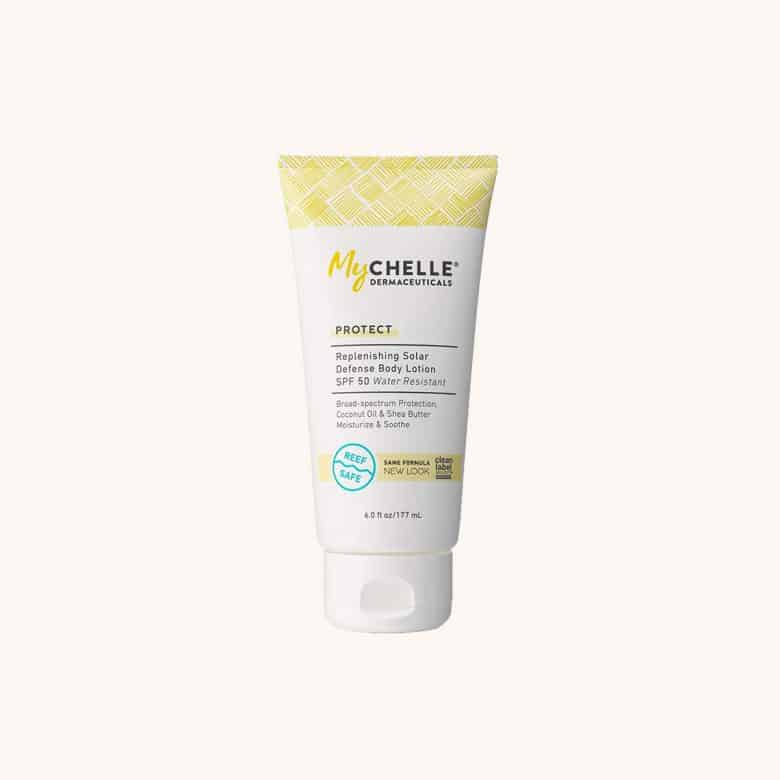 Buy from: Amazon
MyChelle's Replenishing Solar Defense Body Lotion is a hydrating and protective sunscreen that prevents premature aging. It provides ample protection from the sun while helping your skin re-establish its moisture balance.
This sunscreen does not make use of parabens, petroleum, phthalates, silicones, sulfates, and other ingredients that might have long-term harmful effects on you and the environment. This product is also vegan.
14. Suntegrity Natural Mineral Sunscreen (Body)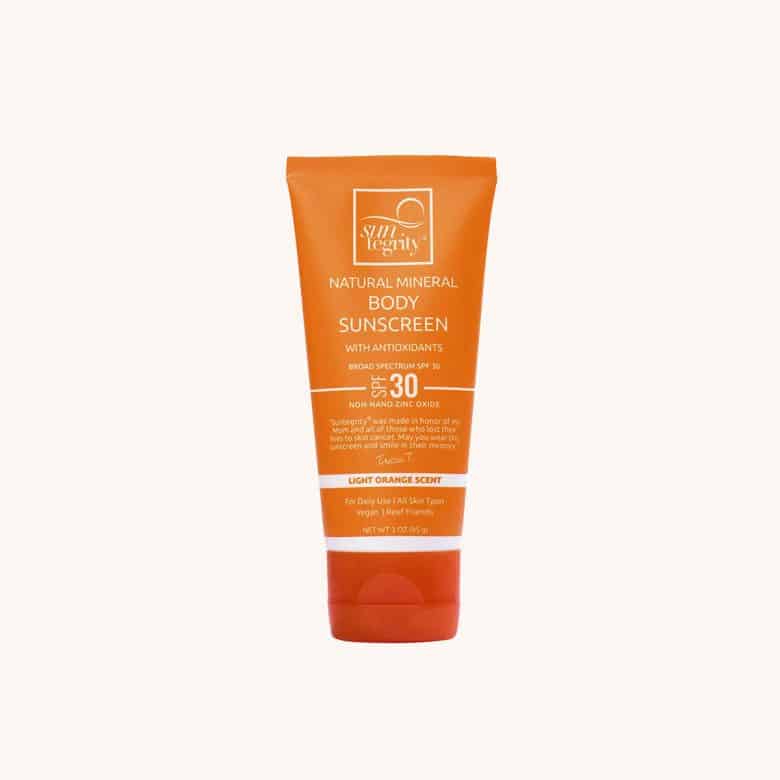 Buy from: Amazon
Suntegrity's Mineral Sunscreen offers broad spectrum protection that is effective for daily use, and even for long exposure to the sun at the beach. It contains rich antioxidants and several organic ingredients that leave the skin healthy and smooth.
The sunscreen also happens to be in an eco-friendly sugarcane tube, and its contents are guaranteed cruelty-free, reef-safe, and vegan.
15. Versed Guard Up Daily Mineral Sunscreen (Face)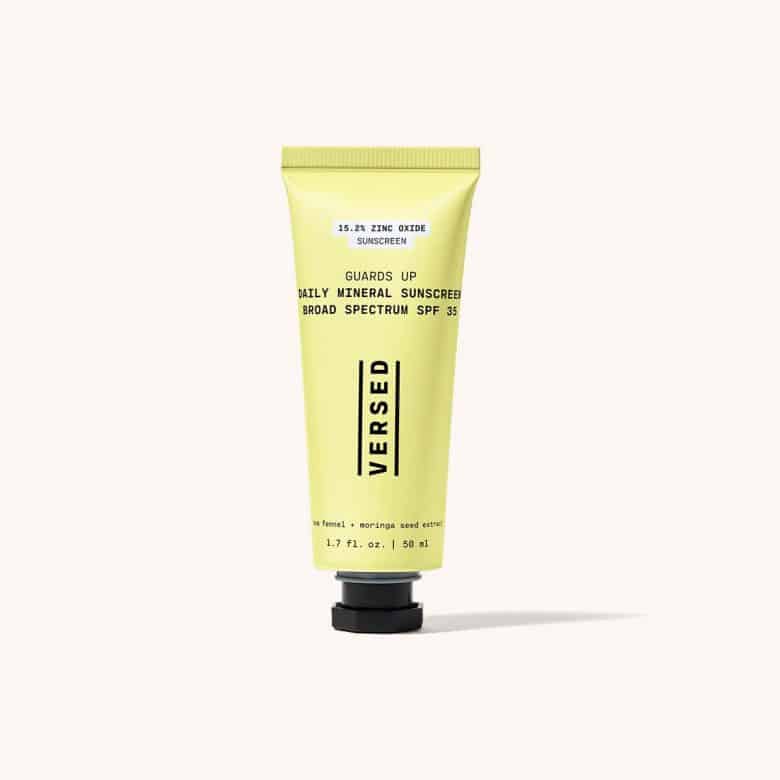 Buy from: Versed
This mineral sunscreen from Versed is lightweight, fast-absorbing, and provides protection from three elements that damage skin: environmental pollution, electronic pollution from screen time, and the sun. It has a creamy texture that leaves a natural finish on any skin tone. Its formula blocks UVA and UVB rays, as well as HEV (high energy visible) light, making this product useful whether you're outdoors or indoors.
16. Supergoop! Zincscreen Mineral Lotion SPF 40 (Face)
Buy from: Sephora
The Zinc Sunscreen of Supergoop! has a pink-hued formula that blends well on most skin tones. It works best on sensitive, acne-prone, and oily skin as it provides a hydrating finish and daily protection from the sun. It also has clean ingredients like the extracts of coconut and blueberry that nourish and shield one's skin from harmful elements making this safe to use everyday.
Why wear sunscreen?
Simply put, the sun's rays act as a carcinogen and cause skin damage. UVA rays penetrate deep into the skin and heavily contribute to premature aging. Up to 90 percent of the visible skin changes commonly attributed to aging are caused by sun exposure. (Source: www.epa.gov)
If you're still not convinced, this picture will probably change your mind! This 69-year-old man was a trucker for 28 years, with half of his face exposed to the sun from the driver's side window.
Should I pick a mineral sunscreen?
The short answer is yes, because it's safer and also generally reef-safe. There are two types of sunscreen: physical (or mineral) sunblock, which acts as a barrier and blocks the sun's rays, and chemical sunscreen, which is absorbed by the skin and protects it from the sun by forming a chemical reaction. To determine your sunscreen's type, just look at the ingredients. The active ingredients in physical sunscreens are titanium dioxide and/or zinc oxide, while chemical sunscreens contain other active ingredients like Octylcrylene, Oxybenzone, Avobenzone, Helioplex and Mexoryl. There are many, and some of them are patented.
Using a mineral sunscreen is generally recommended for various reasons: it's immediately effective, more photostable, and there's less risk of allergic reaction or other health issues. The main reason why I personally favor physical sunscreens is because they use ingredients whose safety is proven, and therefore don't require any more animal testing. On the other hand, companies who make chemical sunscreens have a much higher chance of testing their products on animals, as they must come up with new ingredients and formulations.
Is higher SPF better?
Most doctors recommend using a sunscreen with an SPF of 30 of higher. In fact, the higher the SPF, the less big of an impact it has on sun protection, as you can see in the graphic below. An SPF of 30 will protect against 97% of UV rays, and an SPF of 50 will protect against 98% of UV rays. That being said, those that are sensitive to the sun or have pale skin should go with a higher SPF.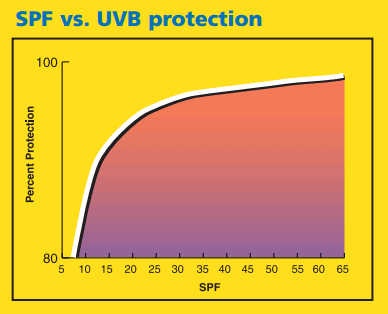 Note that zinc oxide is essential when choosing a phyiscal sunscreen, as it blocks both UVB and UVA rays (which is referred to as a borad-spectrum sunscreen), unlike titanium dioxide.
Extra tips
The SPF 15 in your foundation or moisturizer is pretty much useless, as you're most likely not applying enough product to provide said SPF. Because you need to apply a good amount of sunscreen for it to be effective, it's recommended to wear an actual sunscreen product under your foundation.
Wear sunscreen on cloudy days and all year long, as you're still being exposed to UV rays even when the sun isn't bright.
Because skin cancer can happen on the lips, it's recommended to wear a lip balm that has an SPF of 15 or higher.
Wearing sunglasses is just as important, as it protects both of your eyes and eye lids from harmful rays.
If you're out in the sun, always re-apply sunscreen every 2 hours or after sweating.
Which Brands Are Cruelty-Free?
Download our list of 600+ verified cruelty-free brands straight to your device. Bring it with you everywhere you go, and never worry about supporting animal testing again. Click here to download