I also know it isn't always easy navigating the neverending sea of skincare products and marketing campaigns promising to give you the best skin you've ever had in your life. To make things a little simpler, here are a few shopping tips for sensitive skincare, with a list of my favorite gentle products below.
Shopping Tips If You Have Sensitive Skin
Keep it simple. When you're having trouble with your skin (like eczema and acne simultaneously), it can be very tempting to treat it aggressively with multiple targeted products at once. With sensitive skin, this is a recipe for disaster. When your skin is irritated and sensitive, it's best to allow your skin to reset itself with as few products as possible, gradually introducing one product at a time to see how your skin reacts. This helps to figure out which products are working well for you too!
Avoid irritating ingredients. The most common skin irritants are alcohol, fragrance, and mineral oil. For the most sensitive skin types, I would recommend avoiding products that list these irritants in the first 10 ingredients whenever possible. The exception to this rule is "fatty alcohols", which are not irritating and can be beneficial to the skin. Safe "fatty alcohols" include cetyl, stearyl, and cetearyl. Overall, pay attention to the ingredients in the products that do and don't work for your skin, as you might start to notice a pattern in what they have in common.
Hydration is key. Almost all skin issues including acne, eczema, rosacea, dryness, and sensitive skin are connected to a damaged skin barrier. The best way to protect your skin barrier? Keep it hydrated. That means not just drinking enough water throughout the day, but also using products that are formulated to lock in hydration, and prevent "transepidermal water loss" in which water is evaporated through the skin's surface.
What about CeraVe and Cetaphil?
Two of the most popular skincare brands that are often recommended for sensitive skin are CeraVe and Cetaphil. But neither of these brands are cruelty-free, and many of their products contain animal-derived ingredients. What both brands do well is offering products with minimal yet effective ingredients, particularly ceramides. Ceramides are known to help to bolster the skin barrier and prevent permeability.
The closest cruelty-free and vegan skincare brand I've found to CeraVe and Cetaphil is Ceramedx from Earth Science. They too specialize in ceramide-based skincare and all of their products are fragrance-free. Ceramedx is a little bit hard to find but it's sold in a number of health stores and is now available on iHerb.
That being said, all of the products mentioned below are great alternatives to CeraVe and Cetaphil, in that they contain effective yet gentle ingredients intended to protect and heal the skin barrier.
Cruelty-Free Skincare for Sensitive Skin
It is completely possible to find great products for sensitive skin without causing any harm to our animal friends. Below are 10 gentle vegan skincare products (in order from least expensive to most expensive) from 10 cruelty-free brands. These are my most trusted brands when I need to find something gentle that works for my skin.
Booda Organics
Derma E
Earth Science
elf
Everyone
Krave
Milk Makeup
One Love Organics
Osea
Pacifica
1. Everyone 3-in-1 Lotion Unscented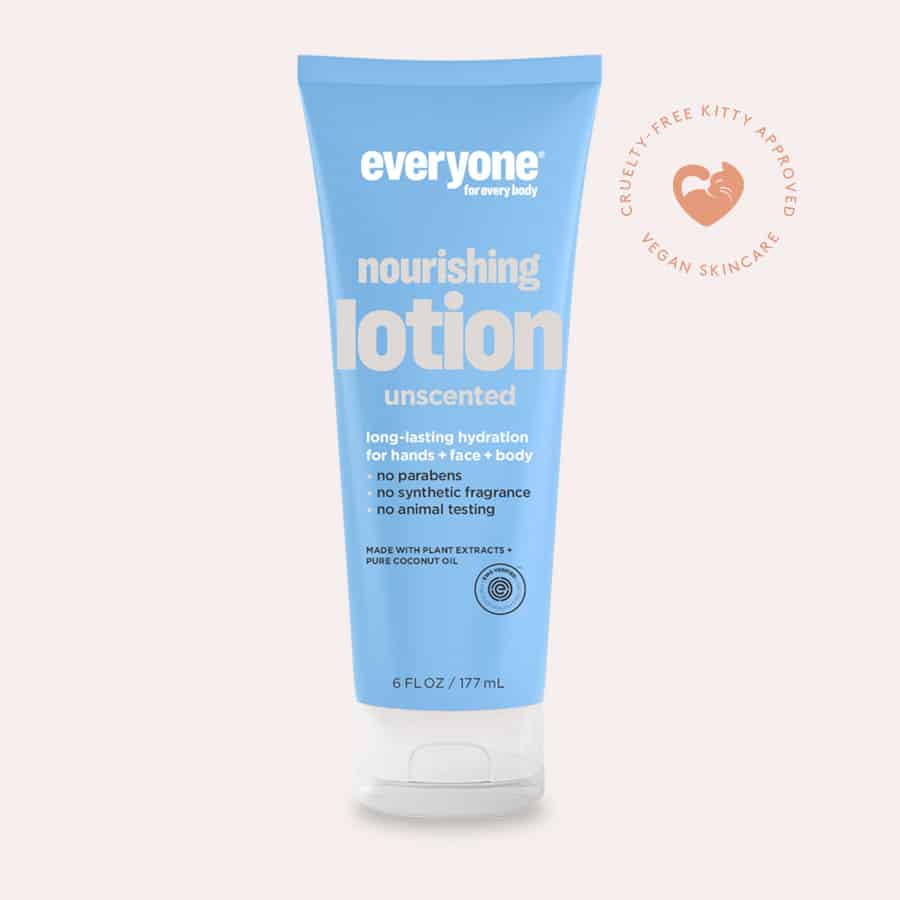 "This mild, unscented lotion is gentle enough for faces and moisturizing enough for everywhere else. An ideal choice for everyone with scent sensitivities or who prefer to blend in their own pure essential oils."
Buy from: Amazon
I know "3-in-1" products don't always have the best reputation, but this one is different. It's a perfect non-greasy lightweight lotion for face, hands and body, and it's very soothing and gentle. At such a reasonable price, it's a great way to dip your toes into the vast array of sensitive skincare without making a huge investment.
If I don't put lotion on immediately after a shower or bath, my skin starts to feel dry and uncomfortable pretty quickly. This is my everyday lotion for hydrating my skin from head-to-toe to prevent the dreaded transepidermal water loss.
Everyone combines skin-loving ingredients such as vegetable glycerin, coconut and sesame seed oils with their organic herbal blend of aloe vera, calendula, chamomile, and white tea extracts. Vitamin E adds an extra touch of moisture. It comes in a variety of nice scents derived from essential oils, but the unscented one is the best option for sensitive skin.
Aside from the Everyone (EO) website, you can find it at Whole Foods, Target, Walmart and Amazon. You can get the smaller 6 oz bottle for $6, but if you love it as much as I do the 32 oz bottle for $12 is a much better deal, especially since I use it for my entire body every day.
Brand
Everyone
Price
6$
Quantity
6 oz.
Buy
Amazon
Ingredients
Purified Water, Vegetable Glycerin, Organic Cocos Nucifera (Coconut) Oil, Glyceryl Stearate, Caprylic/Capric Triglyceride, Cetearyl Glucoside, Sorbitan Olivate, Stearyl Alcohol, Organic Sesamum Indicum (Sesame) Seed Oil, Tocopherol, Lecithin, Cetyl Alcohol, Cetyl Esters, Hydrolyzed Rice Protein, EO® Organic Herbal Blend [Organic Aloe Barbadensis Leaf, Organic Chamomilla Recutita (Matricaria) Flower Extract, Organic Calendula Officinalis Flower Extract, and Organic Camellia Sinensis Leaf Extract], Xanthan Gum, Sodium Phytate, Dimethicone, Citric Acid, Phenoxyethanol, Ethyhexylglycerin
2. Earth Science Ceramedx Extra Gentle Cleanser
"This creamy, daily cleanser for face and body is specifically designed to cleanse dry and sensitive skin...gently releasing dirt and impurities without the use of traditional soaps or surfactants that can dry or irritate skin."
Buy from: iHerb
As I mentioned earlier, Ceramedx from Earth Science is a gentler cruelty-free and vegan cousin to CeraVe and Cetaphil, with even better ingredients. It contains a similar ceramide complex to support skin renewal, as well as rich, soothing emollients and hyaluronic acid.
Ceramedx makes three fragrance-free products: the "Extra Gentle Cleanser" pictured above, a "Restoring Body Lotion" and an "Ultra Moisturizing Cream". All three are formulated very well for sensitive and eczema-prone skin, but I think the cleanser is the most unique product so I wanted to include it in this list.
It's a unique cleanser in that it feels a lot like a lotion but still does a solid job removing dirt and makeup. If cleansers always make your skin burn or feel too stripped after a good face wash, I highly recommend giving this one a try.
In addition to the Ceramedx website, you can find it on iHerb and Pharmaca, as well as in a number of health food stores.
Brand
Earth Science
Price
10$
Quantity
6 oz.
Buy
iHerb
Ingredients
Aqua, Cetearyl Alcohol, Glycerin, Glyceryl Stearate SE, Behentrimonium Chloride, Dimethicone, Cetyl Alcohol, Ceramide NP, Lecithin, Phospholipids, Glycine Soja (Soybean) Sterols, Helianthus Annuus (Sunflower) Seed Oil, Sodium Hyaluronate, Panthenol, Aloe Barbadensis Leaf Juice, Sodium Lauroyl Glycinate, Citric Acid, Ethylhexylglycerin, Phenoxyethanol
3.elf Illuminating Eye Cream
"Hydrate the eye area and minimize dark circles with this rich formula that nourishes and deeply hydrates the skin with jojoba, vitamin E, and cucumber."
Buy from: ELF
For easy-to-find gentle skincare on a drugstore budget, you really can't beat elf. This is the best eye cream I've found for my sensitive skin, and I still can't believe it's only $10. Eye creams are sooo expensive!
I will say it's not the most hydrating eye cream I've ever tried (that award would go to the One Love Organics "Botanical E Eye Balm", $49), but it is very soothing and brightening. I like to store mine in the fridge to add to its calming powers. Its star ingredients include Vitamin E, cucumber, shea butter, jojoba oil and green tea extract.
While elf seems to be expanding on their fragrance-free selection, not all of their skincare products are great for sensitive skin, as some do contain fragrance. I noticed they currently offer a "Fragrance-Free Skin Care Set" for $34, which comes with the eye cream as well as the "Holy Hydration! Face Cream" and the "Nourishing Night Cream".
In addition to the elf website, they are sold at Ulta, Target, Walmart, Kroger and Amazon, just to name a few.
Brand
elf
Price
10$
Quantity
0.49 oz.
Buy
elf
Ingredients
Water (Aqua), Butylene Glycol, Dimethicone, Cucumis Sativus (Cucumber) Fruit Extract, Ethylhexyl Palmitate, Glycerin, Hydrogenated Polyisobutene, Cetearyl Alcohol, Glyceryl Stearate, PEG-100 Stearate, Butyrospermum Parkii (Shea) Butter, Simmondsia Chinensis (Jojoba) Seed Oil, Carbomer, Trehalose, Triethanolamine, Bisabolol, Tocopheryl Acetate (Ve), Disodium EDTA, Green Tea Extract, Sodium Hyaluronate, Phenoxyethanol, Ethylhexylglycerin
4. Booda Organics Booda Butter ❤ Daily Moisturizer
"Booda Butter's smooth, creamy texture melts on contact and absorbs deeply - for blissfully long-lasting moisture to calm, soothe and nourish your skin."
Buy from: Booda Organics
Booda Organics is a brand I rarely hear anyone talking about online, but it's been a staple on my skincare shelf for years. All of their products are organic, vegan, cruelty-free, hypoallergenic, gluten-free, soy-free and fragrance-free.
The "Booda Butter ❤ Daily Moisturizer" is a bit too rich for me to use as a daily moisturizer on my face, but hear me out. If I ever have a dry patch of skin anywhere on my face or body (especially my stubborn elbows), this stuff instantly hydrates my skin and brings it back to life. A little bit goes a very long way as it really does melt into the skin. And it doesn't hurt that it smells exactly like white chocolate.
The ingredients are extremely clean. Just organic unrefined shea butter, cocoa butter, coconut oil, olive oil and jojoba oil. Because of this, I recommend keeping it someplace cool because it can get melty just like any other natural butter.
It's a super multipurpose product. I love it for removing waterproof eye makeup, followed by a gentle cleanser with warm water. It can also be used as a hair mask, lip balm, cuticle oil and shaving cream. For lip balm, I prefer their "Original Lip Balm" or "Eco Balm". I keep one in my bedside table, car and purse at all times.
The smaller gold tin comes with 2.3 oz of product for $14, and the large "Tub of Love" comes with a whopping 8.4 oz of product for $36. You can find Booda Butter along with their gentle lip balm, bar soap, deodorant and laundry soap on the Booda Organics website and in some health food stores.
Brand
Booda Organics
Price
14$
Quantity
2.3 oz.
Buy
Booda Organics
Ingredients
Fair Trade Shea Butter*, Fair Trade Cocoa Butter*, Coconut Oil*, Olive Oil* and Jojoba Oil*. (*Certified Organic & Unrefined)
5. Derma E Sensitive Skin Cleanser
"This fragrance-free, sulfate-free, pH balanced liquid cleanser gently lifts away makeup and impurities while reducing redness and irritation."
Buy from: Amazon
Derma E has a number of products that are great for sensitive skin, particularly their "Sensitive Skin" collection, which is fragrance-free and specially formulated to treat easily irritated skin with extra care.
Their "Sensitive Skin Cleanser" is perhaps the gentlest cleanser I've ever tried, perfect for those with eczema and rosacea. It's very creamy and never causes any irritation. Because it's so gentle, it doesn't do the best job of removing eyeliner and mascara. I recommend using this one in conjunction with something like the "Booda Butter" to break down and remove tough eye makeup.
Some of the cleanser's key ingredients include pycnogenol and green tea (antioxidants), chamomile and aloe vera. The complimentary "Sensitive Skin Moisturizing Cream", $29, has similar ingredients, in addition to nourishing jojoba oil (one of my favorites) and vitamins A, C and E.
I've found this cleanser at Whole Foods, Ulta, Target, Amazon, iHerb and Derma E.
Brand
Derma E
Price
15.50$
Quantity
6 oz.
Buy
Amazon
Ingredients
Purified Water, Glycerin, Decyl Glucoside, Stearyl Alcohol, Panthenol, Phenoxyethanol, Glyceryl Stearate Citrate, Xanthan Gum, Potassium Sorbate, Ethylhexylglycerin, Camellia Sinensis (Green Tea) CO Leaf Extract, Chamomilla Recutita (Matricaria) Flower Extract, Cymbopogon Schoenanthus Extract, Allantoin, Aloe Barbadensis Leaf Juice, Pinus Pinaster Bark Extract)
6. Pacifica Dreamy Youth Day & Night Face Cream
"Refuse to obey time with this potent formula supported by concentrated peptides, floral stem cells, antioxidants, and advanced extracts that join forces to deeply moisturize and improve skin's youthful glow."
Buy from: Amazon
This is one of my favorite affordable face creams. It's very easy to find in stores and online, and it's super gentle and layers nicely under makeup. It's a non-greasy formula and doesn't have any stickiness or tackiness that I sometimes find with other face creams.
I'm not sure about the benefits of the anti-aging claims, but it contains some nice ingredients like floral stem cells, peptides, oats (gluten-free), cocoa butter, shea and grapeseed oil. While it smells like roses and geranium from the floral stem cells, it does not contain any added fragrance.
I really like the protective matte opaque packaging for longevity, and the pump works great and keeps the inside sanitary. The only downside of the packaging is that it's hard to tell when it's getting close to empty.
As I mentioned previously, it's usually pretty easy to find at stores like Pacifica, Ulta, Whole Foods, and Target. This makes it really easy to replace when I run out!
Brand
Pacifica
Price
16$
Quantity
1.7 oz.
Buy
Amazon
Ingredients
Aqua, Helianthus Annuus (Sunflower) Seed Oil, Glycerin (Vegetable) Ethylhexyl Palmitate, Acetyl Hexapeptide-3, Glyceryl Stearate, Cetyl Alcohol, Palmitoyl Tripeptide-3, Butyrospermum Parkii (Shea) Nut Oil, Vitis Vinifera (Grape) Seed Oil, Aloe Barbadensis Leaf Juice, Laminaria Hyperborea (Kelp) Extract, Tocopherol Acetate (Vitamin E), Magnesium Ascorbyl Phosphate, Prunus Amygdalus Dulcis (Sweet Almond) Oil, Hyaluronic Acid, Theobroma Cacao (Cocoa) Seed Butter, Panthenol (Vitamin B5), Allantoin, Xanthan Gum, Sodium Alginate, Avena Sativa (Oat) Beta Glucan, Cocos Nucifera (Coconut) Water, Iris Pallida (Sweet Iris) Leaf Cell Extract, Rosa Damascena (Damascus Rose) Leaf Cell Extract, Cichorium Intybus (Chicory) Root Oligosaccharides, Caesalpinia Spinosa Gum, Cucumis Sativus (Cucumber) Fruit Extract, Phenoxyethanol, Ethylhexylglycerin, Pelargonium (Geranium) Oil
7. Krave Great Barrier Relief
"Great Barrier Relief is a skin-soothing serum that restores your damaged skin barrier while evening out your complexion. This nourishing formula offers irritated skin a reset button by using tamanu oil and other ingredient that mimic a healthy barrier to replenish what your skin lacks."
Buy from: Amazon
In my humble opinion, Krave has got to be the most exciting new skincare brand on the market. Their philosophy is to keep skincare as simple as possible, with a small but mighty selection of carefully formulated micro-batch products.
Their "Great Barrier Relief" is part of their "supplement series", and is an awesome addition to a skincare routine when you feel the need to take a step back and give your skin some extra love. It feels incredibly hydrating and sinks into the skin immediately, with a slightly tacky finish. I use it as a protective layer underneath my moisturizer or face cream, but it also works great on its own. While this might seem superfluous, I have noticed an amazing improvement in the texture and clarity of my stressed-out skin from adding this step to my standard skincare routine.
Key nutrients include tamanu oil, safflower & rosehip seed oil, ceramides, phytosterol (plant cholesterol), squalane and niacinamide (B3). The tamanu oil gives it a slight earthy smell, almost like clay.
Also, if you are looking for a great sunscreen for sensitive skin, I can't recommend their "Beet Shield" highly enough. It's super lightweight and gentle but protects my skin for literally hours of direct sun. It's the best.
As far as I know, Krave is only available on their own website, but I hope they expand to sell their products in more stores soon. A portion of all sales goes to the Great Barrier Reef Foundation.
Brand
Krave
Price
28$
Quantity
1.35 oz.
Buy
Amazon
Ingredients
Water, Propanediol, Calophyllum Inophyllum Seed Oil(10%), Dipropylene Glycol, Niacinamide, Carthamus Tinctorius (Safflower) Seed Oil, Cetearyl Olivate, Polysorbate 60, Rosa Canina Fruit Oil, Glyceryl Oleate, Sorbitan Olivate, Sorbitan Oleate, Octyldodecanol, Glycerin, Butylene glycol, Sodium Hyaluronate, Squalane, Serine, Acetyl Glutamine, Glycine, Ceramide NP, Oleic acid, Sodium PCA, Glycosyl trehalose, Caprylic/Capric Triglyceride, Glycine Soja (Soybean) Sterols, Saccharide Isomerate, Avena Sativa (Oat) Kernel Flour, Disodium Phosphate, Sodium Phosphate, Tocopheryl acetate, Coco-caprylate/Caprate, Lactic acid, Xanthan gum, Urea, Hydroxyethyl Acrylate/Sodium Acryloyldimethyl Taurate Copolymer, Hydrogenated Olive Oil Unsaponifiables, Magnesium Chloride, 1,2-Hexanediol, Hydroxyacetophenone, Glyceryl Caprylate, Pentylene glycol, Caprylyl Glycol, Disodium EDTA
8. Milk Makeup Vegan Milk Moisturizer
"Clean, fragrance-free formula with vegan milks and other good-for-you ingredients. [It] provides deep yet lightweight hydration and help your face stay moisturized."
Buy from: Sephora
At first, I thought Milk's new "Vegan Milk Moisturizer" might be a bit gimmicky from the name, but I'm so glad I gave it a try anyway because it's one of my all-time favorite moisturizers now! Whenever I put this on before bed, my skin looks super plump and hydrated in the morning. I find it to be a little too heavy under makeup.
I also really like it as a hand cream, and I keep one of the minis in my purse to apply while I'm out and about. It's especially necessary to take better care of my hands now that I'm using hand sanitizer so often!
It has some really cool hydrating and nourishing ingredients like kalahari melon, baobab, jojoba, aloe vera, fig milk, argan milk, grapeseed oil, olive-derived squalane, shea butter and oat milk.
The "Vegan Milk Moisturizer" is available on the Milk Makeup website and at Sephora. The standard 1.7 oz size is $38, and the mini .53 oz size is $19. Milk Makeup also offers a "deluxe sample" of the moisturizer with most orders, so that could be a good way to try it out before you buy it (if you're already planning on ordering something from them).
Brand
Milk Makeup
Price
38$
Quantity
1.7 oz.
Buy
Sephora
Ingredients
Water/Aqua/Eau, Cetyl Alcohol, Squalane, Caprylic/Capric Triglyceride, Stearic Acid, Butylene Glycol, Stearyl Alcohol, Polyglyceryl-2 Diisostearate, Vitis Vinifera (Grape) Seed Oil, Butyrospermum Parkii (Shea) Butter, Glyceryl Stearate, Glycerin, Isocetyl Stearate, Myristyl Myristate, Pentylene Glycol, Simmondsia Chinensis (Jojoba) Seed Oil, Helianthus Annuus (Sunflower) Seed Oil, Argania Spinosa Kernel Oil, Adansonia Digitata Seed Oil, Citrullus Lanatus (Watermelon) Seed Oil , Aloe Barbadensis Leaf Juice, Avena Sativa (Oat) Kernel Extract, Ficus Carica (Fig) Fruit Extract, Adansonia Digitata Fruit Extract, Rosmarinus Officinalis (Rosemary) Leaf Extract, Sodium Hyaluronate, Phospholipids, PEG-60 Hydrogenated Castor Oil, Polyglyceryl-10 Dioleate, Polyglyceryl-10 Oleate, Ceteth-20, Capryloyl Glycerin/Sebacic Acid Copolymer, Diheptyl Succinate, Ethylhexylglycerin, Potassium Stearate, Tocopheryl Acetate, Glyceryl Caprylate, Glyceryl Undecylenate, Polysorbate 60, Propylene Glycol Dicaprylate/Dicaprate, Sorbitan Isostearate, Xanthan Gum, Trisodium Dicarboxymethyl Alaninate, Hydroxyethyl Acrylate/Sodium Acryloyldimethyl Taurate Copolymer, Carbomer, Propanediol, Sodium Chloride, Sodium Glycolate, Citric Acid, Sodium Hydroxide, Sodium Benzoate, Potassium Sorbate, Phenoxyethanol
9. Osea Atomsphere Protection Cream
"Lightweight formula provides barrier protection against extreme climates, wind and air pollution. Antioxidant rich oils and organic seaweed firm skin, leaving a silky finish. Ideal primer for makeup."
Buy from: OSEA
The "Atmosphere Protection Cream" is a lightweight hydrating cream, somewhat similar to the Krave "Great Barrier Relief", but its texture is a little closer to a face oil than a cream. It sinks into the skin nicely with a slightly tacky finish, which works very well as a primer under makeup as it claims. It also layers nicely under a thicker moisturizer or face cream.
Another nice benefit I've noticed since using this product is it seems to help expedite the healing process for any enlarged pores or acne scars, particularly when I wear it overnight. It also noticeably helps to reduce redness.
Some of its key ingredients include algae extract, avocado oil, lavender oil, macadamia oil and shea butter. While there is no fragrance added, it does have a nice botanical smell like many of Osea's products.
Find it on the Osea website as well as Blue Mercury and Neiman Marcus. I prefer to order it from the Osea website because they send free samples of their other products to try with every purchase.
Brand
Osea
Price
48$
Quantity
2 oz.
Buy
Osea
Ingredients
Aqua, Algae Extract*, Coco-Caprylate/Caprate (Vegetable Glycerides), Macadamia Ternifolia (Macadamia) Seed Oil*, Sorbitan Olivate (Emulsifier from Olive Oil), Cetearyl Glucoside (Sugar & Coconut Glycolipid), Butyrospermum Parkii* (Shea Butter), Simmondsia Chinensis Seed (Jojoba) Oil*, Persea Gratissima (Avocado) Oil*, Tocopherol (Vitamin E), Calendula Officinalis Flower Extract*, L-Lysine Lauroyl Methionate (Amino Acid from Plants), Xanthan Gum, Laminaria Algae Extract, Gingko Biloba Leaf Extract, Chamomilla Recutita Flower Extract*, Lavandula Angustifolia (Lavender) Oil*, Pelargonium Graveolens (Geranium) Oil*, Magnesium Aluminum Silicate (Natural Smectite Clay), Citrus Grandis (Grapefruit) Peel Oil*, Potassium Sorbate, Glycine (*Certified Organic)
10. One Love Organics Skin Dew
"An intensely hydrating yet lightweight face cream with a pleasantly faint coconut water aroma, Skin Dew Coconut Water Cream benefits all skin types and is especially good for dull, dehydrated and combination skin."
Buy from: The Detox Market
The One Love Organics "Skin Dew" is a really unique hydrating cream unlike anything else I've tried. As opposed to something like the Booda Butter, it's whipped texture is especially light and airy to the touch. But somehow it is incredibly hydrating, and you only need the tiniest amount to coat your whole face in dewy goodness. It feels gentle and soothing, absorbs super quickly, and doesn't have any stickiness or tackiness to it like some of the other hydrating products mentioned in this list.
The ingredients include coconut water, cupuacu butter, aquaxyl (ceramides), kalpariane (fatty acids, omega 3s and antioxidants), phytic acid, aloe vera, coconut fruit juice and pulp, sunflower seed oil, jojoba oil, watermelon and acacia wax. If you are sensitive to coconut, this might not be the best product for you. I am sensitive to pretty much everything and I haven't noticed any adverse reactions in my skin.
While the price of this face cream is obviously very high, I have to say that my skin always looks the best when I put this on as the last step in my skincare before bed. And it's the only product in this list that seems to have any impact on the fine lines on my forehead. That being said, just like everything else mentioned in this list, what works for me might not work for you. Whenever possible, I recommend requesting a trial or mini size of a luxury product before purchasing to make sure you absolutely love it.
One Love Organics is the only brand on this list that isn't 100% vegan, as some of their products contain cera alba (beeswax). I still wanted to include them because they have some really wonderfully formulated products with unique ingredients. You can find them on their website as well as Dermstore, The Detox Market, Blue Mercury and Grove Collaborative.
Brand
One Love Organics
Price
58$
Quantity
2.1 oz.
Buy
The Detox Market
Ingredients
Aloe Barbadensis (Aloe Vera) Leaf Juice*, Water/Eau, Caprylic/Capric Triglyceride**, Helianthus Annuus (Sunflower) Seed Oil*, Cetearyl Alcohol, Jojoba Esters, Theobroma Grandiflorum (Cupuacu) Seed Butter*, Helianthus Annuus (Sunflower) Seed Wax, Xylitylglucoside, Cetearyl Glucoside, Citrullus Vulgaris (Watermelon) Seed Oil, Cocos Nucifera (Coconut) Fruit Juice*, Cocos Nucifera (Coconut) Pulp Extract*, Laminaria Ochroleuca Extract, Acacia Decurrens Flower Wax, Tocopherol, Glycerin, Sclerotium Gum, Xylitol, Polyglycerin-3, Glyceryl Caprylate, Levulinic Acid, Sodium Levulinate, Anhydroxylitol, Sodium Phytate, Silicon Dioxide, Sodium Anisate, Maltodextrin**
Sensitive Skincare Summary
Again, I encourage you to keep your routine as simple as possible and be gentle with your skin. If you're wearing a mask all the time it's very likely to develop contact dermatitis, and this is completely normal. Make sure you treat your skin with kindness and love at the end of the day.
Pay attention to the things your skin likes and doesn't like. I've noticed I consistently love products with jojoba oil, rosehip oil, or aloe vera in them, and I usually don't love products that contain salicylic acid or tea tree oil.
If you are struggling to figure out the root cause of your skin issues, it's always a good idea to consult a professional. A dermatologist can help you assess whether you have a skin condition or something linked to diet or other health concerns.
Do you have any holy grail sensitive skin products that I missed? If you couldn't already tell, I am a total skincare junkie and would love to hear about your favorites.
Which Brands Are Cruelty-Free?
Download our list of 600+ verified cruelty-free brands straight to your device. Bring it with you everywhere you go, and never worry about supporting animal testing again. Click here to download