Why do we get under-eye circles?
Dark circles occur when the thin skin underneath the eyes has a reduction in blood flow and drainage. This causes the blood to pool, leading to a darker hue and often puffiness too. The level of pigmentation in the skin and general skin firmness can also affect the overall appearance of the under-eye area.
While we know that dark circles can come from being tired or stressed, they can also be down to genetics. Age plays a part, too. The aging process comes with a loss of fatty tissue and a thinning of the skin. This makes the under-eye tear trough more noticeable in older adults.
Having a darker skin tone can also contribute to under-eye circles, due to increased levels of melanin. Other factors such as allergies, alcohol, or iron deficiency can impact dark circles too.
How do eye creams help under-eye circles?
No eye cream will ever truly rid you of your dark circles. But there are formulas that can drastically increase the circulation to this sensitive area and improve their appearance.

Eye creams often contain light-reflecting pigments, vasoconstrictors (such as caffeine), or brightening ingredients (such as Vitamin C). All of which help to minimize the appearance of under-eye circles in both the short and long term.
How to include an eye cream in your routine
Not all eye creams are created equal, and it's important to choose the right product for your individual needs.
If you're looking for a quick fix to morning under-eye puffiness, look for caffeine or other circulation-boosting ingredients. Caffeine works to constrict the tiny blood vessels under your eyes, reducing blood flow to the area and making dark circles less pronounced.

Caffeine also helps to de-puff those tell-tale eye bags, helping to banish under-eye shadows (especially those caused by lack of sleep!).
Vitamin C is an ingredient found in many eye creams. This is because it helps to protect your fragile under-eyes from free radicals and environmental stressors throughout the day. It can also help control melanin production, limiting the dark circles that come from hyperpigmentation.

Vitamin C is also effective against fine lines, as it helps to maintain the general firmness of your under-eye area.
If you're looking for long-lasting nourishment, however, choose a rich, hydrating eye cream. When applied in the evening, this can help your delicate under-eyes retain moisture, and over time you will wake up with noticeably reduced dark circles.
Finding the balance between brightening and hydrating ingredients can take time, but understanding how each product works can fast-track this process.
About the products
We've chosen eye creams that can deliver more than what your regular moisturizer can, from de-puffing to brightening. And, of course, each formula must work its magic against dark circles.
As always, we've only included eye products that are Cruelty-Free Kitty approved, and many that are either vegan or organic (or both!).
We hope to empower you to make conscious, ethical choices with your purchases - and look fresh while doing so.
Our top picks for under-eye creams
| | |
| --- | --- |
| Ethics | Cruelty-free |
| Notable Ingredients | Retinol |
Retinol is great at treating fine lines but is often too harsh to use on the delicate skin under our eyes.
This formula is designed to be gentle enough for under-eye use, helping to firm and brighten the under-eyes over time and make dark circles less noticeable. Use the gold applicator tip to gently massage and de-puff the area (but make sure to wipe off any excess product to avoid rust!).
Retinol comes with an adjustment period. Start by using this formula only a few times a week. To decrease sensitivity, try layering it over a simple moisturizer. As your under-eyes adjust, you can start to use it more regularly and enjoy the brightening effects.
Best For Mature Skin:
| | |
| --- | --- |
| Ethics | Cruelty-free, vegan |
| Notable Ingredients | Niacinamide |
Niacinamide is a great ingredient for stressed-out skin, helping it retain moisture and tone, which can reduce the appearance of dark circles.
While it is hypoallergenic and suitable for sensitive skin, it does have quite a distinctive smell. Grab yourself a sample or try it in-store if you're sensitive to scents.
| | |
| --- | --- |
| Ethics | Cruelty-free, clean beauty, vegan |
| Notable Ingredients | Vitamin C, niacinamide, caffeine |
Dull skin can exacerbate dark under-eyes, which is exactly what this lightweight gel aims to tackle. The cooling gel formula contains brightening vitamin C, soothing niacinamide, and circulation-boosting caffeine to banish those dark circles.

Tap the gel along the orbital bone from your nose to your eyebrow to help facilitate drainage. Over time, you will see a lasting reduction in your under-eye circles. Due to the lightweight formula, this is a great option for under makeup or for oily eyelids.
Best Budget:
elf
Illuminating Eye Cream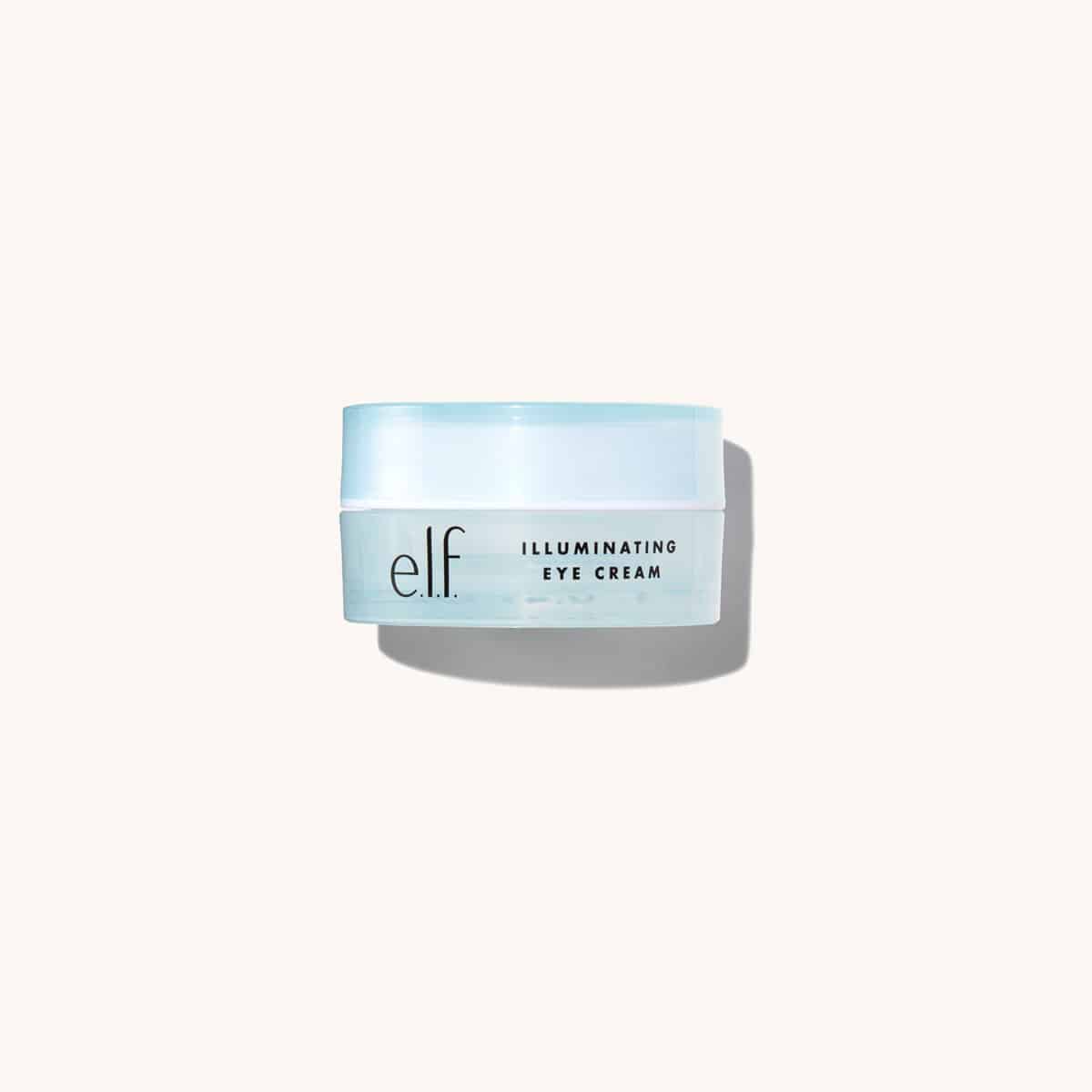 $10
| | |
| --- | --- |
| Ethics | Cruelty-free, vegan |
| Notable Ingredients | Hyaluronic acid |
Dehydration is a major culprit behind under-eye circles, but this eye cream works to keep that delicate area plump and hydrated.

This budget-friendly formula contains hyaluronic acid, which helps to attract moisture molecules into the skin, and shea butter, which helps to keep them there. This is a great basic option that can deliver targeted hydration to the sensitive skin under the eyes, helping to improve the look of dark circles over time.
Best Brightening:
| | |
| --- | --- |
| Ethics | Cruelty-free, clean beauty |
| Notable Ingredients | Vitamin C |
The name of this under-eye cream comes from its yellow tint, and it's the perfect shade to cancel out the blue-ish tones of dark circles.

A crowd-favorite, the formula, which works on its own or under makeup, relies on the long-term brightening power of vitamin C. The light citrusy scent doesn't last long, and it is light enough to use on all skin types.
| | |
| --- | --- |
| Ethics | Cruelty-free, vegan |
| Notable Ingredients | Vitamin C |
This antioxidant-rich cream works to brighten, firm, and protect the delicate under-eye skin from environmental stressors. A good option for a morning eye cream, this lightweight formula will help boost radiance over time.

This is one of our pricier under-eye cream options, but many people will find it worth it as an effective skincare staple.
| | |
| --- | --- |
| Ethics | Cruelty-free, clean beauty |
| Notable Ingredients | Caffeine |
Another great budget option, this formula from the INKEY List is a fave of many. Caffeine helps the skin wake up by increasing circulation to stagnant under-eyes.

Formulated specifically to reduce puffiness and dark circles, this lightweight gel will be like a morning cup of java for your face.
| | |
| --- | --- |
| Ethics | Cruelty-free, organic, vegan |
| Notable Ingredients | Caffeine |
This super clean eye cream combines the refreshing power of caffeine with the nourishment of avocado, argan oil, and shea butter. Those ingredients sound heavy, but considering its powerhouse-packed formula, the cream is surprisingly lightweight.

Antioxidants help fight the aging effect of free radicals while helping to plump up sallow under-eyes. With such a reasonable price point and ingredient list, this is definitely a product worth trying.
Best for the PM:
| | |
| --- | --- |
| Ethics | Cruelty-free, clean beauty, vegan |
| Notable Ingredients | Marine algae peptide complex |
If you're prone to dark circles, a dehydrated under-eye area won't help. This ultra-hydrating formula contains a marine algae complex, which helps to hydrate the skin, support the moisture barrier, and fight dark circles (and fine lines while it's at it).

Suitable for sensitive skin and eyes, this is an excellent option to use either morning or night.
Best For Under Makeup:
| | |
| --- | --- |
| Ethics | Cruelty-free, vegan |
| Notable Ingredients | Caffeine |
If you want to feel your under-eyes getting tighter, this is the serum for you. Formulated with caffeine, this serum gets to work quickly, minimizing eye bags, brightening dark circles, and reducing the look of fine lines.

This is a great option for the morning or under makeup. For a truly well-rounded approach to dark circles, try using this in the AM. You can follow it up with a richer, more hydrating formula in the PM.
To wrap it up
Dark circles can sometimes be an inevitability. However, with the right combination of active ingredients and hydration, you can keep them at bay. (But don't forget to get some sleep!)
To summarize some highlights, if you're looking for an eye cream to fight dark circles, our cruelty-free recommendations are:
Budget: elf Holy Hydration! Illuminating Eye Cream
For Mature Skin: Dr. Dennis Gross Stress SOS Eye Cream with Niacinamide
Brightening: Ole Henrikson Banana Bright Eye Creme
For the PM: Biossance Squalane + Marine Algae Eye Cream
For Under Makeup: Charlotte Tilbury Cryo-Recovery Depuffing Eye Serum
Which Brands Are Cruelty-Free?
Download our list of 600+ verified cruelty-free brands straight to your device. Bring it with you everywhere you go, and never worry about supporting animal testing again. Click here to download