While you can find some cruelty-free products in stores, you can also shop for them online for a wider range of brands and products.
1. Dr. Bronner's
Dr. Bronner's Pure-Castile Soap is the most versatile household product you can get. There's always a bottle of Peppermint Dr. Bronner's in my shower; it's gentle enough to use as a body wash, but cleans thoroughly. And it cleans everything: countertops, bathroom tile, floors -- it's effective AND natural. The best thing about this multi-purpose cleaner, apart from being cruelty-free and vegan, is that it's 100% natural and doesn't contain any Sodium Laureth Sulfate. Instead, it uses coconut oil to lather, and it LATHERS. If there's one cleaning product from this list you should get, it's a bottle of Dr. Bronner's. It can be found in health stores as well as Target, or online on Amazon.
2. Attitude
Attitude is one of my favorite cruelty-free cleaning product brands, and it's available at Target, Walgreens, and HEB. What's good about this brand is the range: they have all the cleaning essentials you need to clean every room, but also laundry detergents and fabric softners, baby care, and personal care items. I recommend the Window & Mirror Cleaner, Daily Shower Cleaner, and Fragrance-Free Laundry Detergent if you have sensitive skin. Take advantage of their discounts by stocking up online.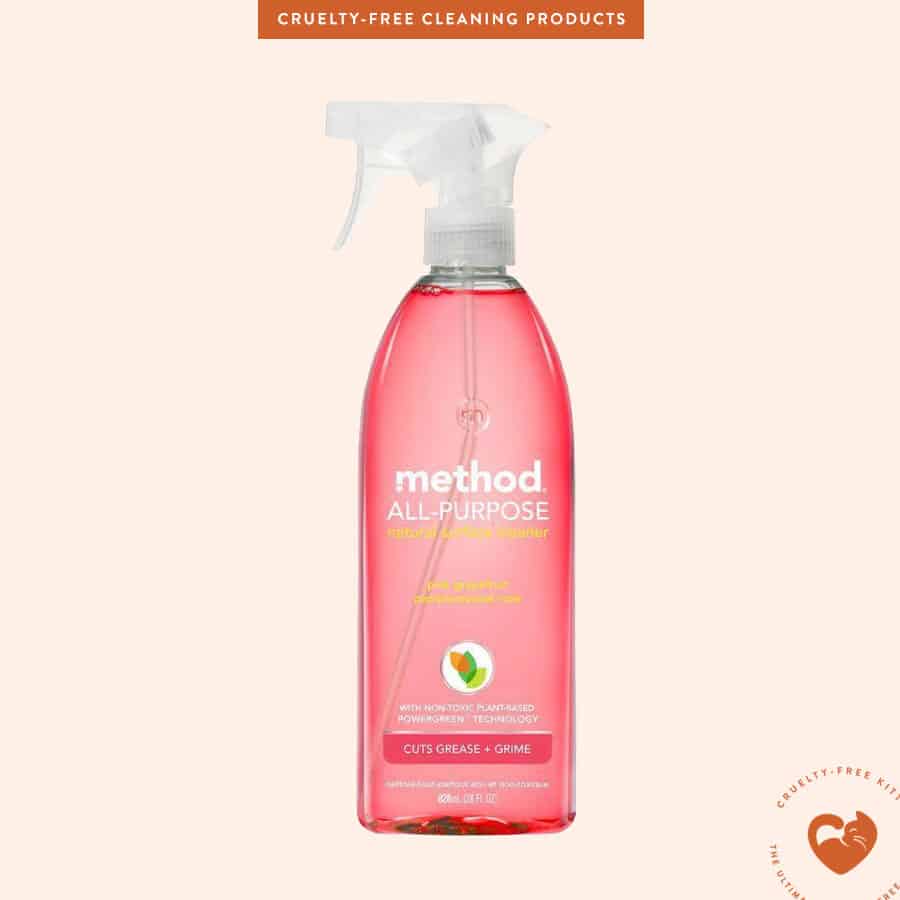 3. Method
Method is another brand of household cleaning products that's widely available in stores -- and it's cruelty-free! Their all-purpose surface cleaners, dish soaps, bathroom cleaners, hard floor cleaners, and more, can be found at Target, Safeway, and Kroger. The neat thing about their cleaners is how unique the scents are. I'm a grapefruit junkie myself, so I use their Pink Grapefruit all-purpose cleaner (amazing scent for grapefruit lovers), but you can choose from Ginger Yuzu, Ylang Ylang, Clementine, Honeycrisp Apple, and many more.
4. Mrs Meyers
Mrs Meyer's, a Leaping Bunny-certified brand, provides dish soap and surface cleaners made with essential oils and mostly naturally-derived ingredients. Scents include Geranium, Basil, Honeysuckle, Sunflower, and even Radish. Their multi-purpose surface concentrate is the best bang for your buck. It's available at Whole Foods, CVS, and Target, but also on amazon where a huge bottle (7$) will last you a whole year. Although Mrs Meyers is fully cruelty-free, they've owned by S.C. Johnson, a company that tests on animals.
5. CleanWell
CleanWell is another great option. This brand offers household cleaning products that are plant-based as well as hand soaps. Their disinfectant wipes are their best-sellers, and really practical to have around the house or in your purse. Killing 99.9% of germs and bacteria, they're just as efficient as a toxic cleaner, yet safe enough to use on any surface, including yourself. I use them whenever I want to quickly disinfect something without much effort, and I'm a big fan.
---
Other Cruelty-Free Alternatives
Another way to ensure that your cleaning products are cruelty-free is the DIY way! I've used some home-made cleaning products in the past, and they do work just as well. Granted, you'll need a (preferably natural) soapy liquid if you want to cover every base, such as Dr. Bronner, but the other ingredients you'll need are simple. Here's what you need in order to make your own cleaning products:
Dish soap, Dr. Bronner, or any gentle pH-neutral cleaner
Vinegar (disinfects, deodorizes, descales, degreases)
Rubbing alcohol (be sure to get at least 65%)
Hydrogen Peroxide (removes dirt, brightens)
Baking Soda (deodorizes, good for abrasion)
Essential oil (for example lavender is anti-mildew)
For window and mirror cleaner, mix 50% water and 50% vinegar.
For counter disinfectant, mix 50% water and 50% rubbing alcohol.
For bathroom tile cleaner, mix 50% dish soap and 50% vinegar.
For all-purpose cleaner, add a little bit of dish soap to water.
For a stain remover, mix 2 parts hydrogen peroxide and 1 part dish soap.
There you have it! Non-toxic, eco-friendly, and cruelty-free cleaning products that are commonly available, or easy to make yourself at home. I'm hoping these suggestions will help you make the switch to a cruelty-free household! If not, some other cruelty-free brands include: Earth Friendly Products, Ecover, Martha Stewart Clean, Seventh Generation, Nature Clean, Astonish, Bio D, and many more if you take a look at the Leaping Bunny. Don't forget to share your favorites in the comments!
Which Brands Are Cruelty-Free?
Download our list of 600+ verified cruelty-free brands straight to your device. Bring it with you everywhere you go, and never worry about supporting animal testing again. Click here to download