A note on ingredients
Before we get to the list of products, let's define the terms clearly. Vegan refers to a product that excludes all animal-derived ingredients, from beeswax to carmine. Vegan does not equal plant-based, natural, or sustainable, although some companies try to greenwash using this term. Also, none of these terms are regulated. This means that companies won't get into legal trouble for using them on their labels.
All products included in this guide are:
Cruelty-free: Not tested on animals according to our Cruelty-Free Kitty criteria.
Vegan: No animal-derived ingredients in addition to being cruelty-free.
Products are not necessarily sustainable, natural, or organic, unless otherwise noted.
Types of hair dyes
(1) Semi-permanent (AKA demi-permanent) dyes are usually most appropriate if you're growing out your hair. They last up to 30 washes (much less if using a vivid/fashion color) and deposit color on the outside of the hair shaft. The advantage is that they don't fade as quickly as permanent colors; however, they tend to be less pigmented than permanent dyes, so if your hair is very gray or you're looking for a bold color, they may not be the best choice.
An important note on semi-permanent dyes: I've learned this the hard way, but even if a hair dye isn't labeled "permanent", it doesn't mean it won't stain your hair. If you use any semi-permanent in a dark color, it's basically permanent and you won't be able to lighten your hair as easily in the future.
(2) Permanent dyes usually provide better gray coverage than demi-permanent ones, and because they penetrate your hair cuticle rather than just sitting on its surface, the color typically lasts longer. The downside is that they can sometimes cause more damage than demi-permanent colors, which deposit color on the surface of your hair.
List of vegan hair dyes for colorful hair
If you like colorful hair, choose the options below to find the best vegan pinks, purples, teals, or any color of the rainbow.
List of vegan hair dyes for natural colors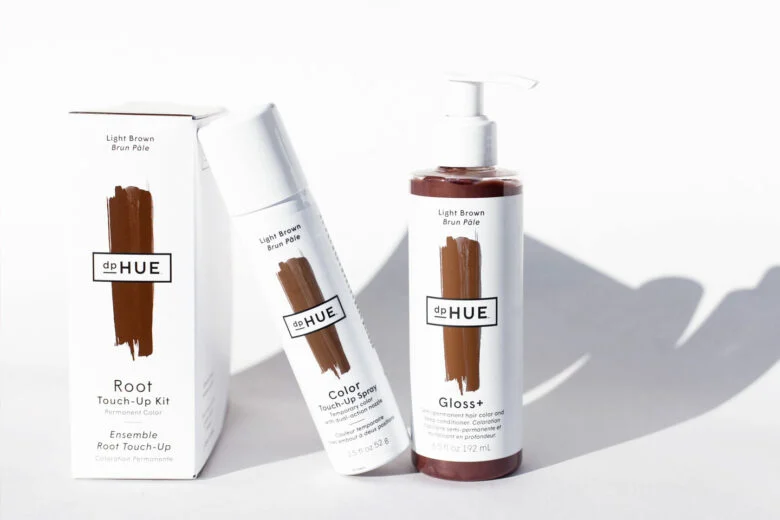 Although most brands you see in drugstores are tested on animals and not vegan, I was able to find the following vegan options that offer high-quality products.
Lush (henna*)
Overtone (limited natural shades)
Maria Nila (limited shades)
Kenra (owned by a parent company that isn't cruelty-free)
*Note on henna: you will not be able to bleach/lighten your hair after using henna.
List of salon hair dyes that are vegan
If you prefer getting your hair colored at the salon, look for one that offers the following options. You might also be able to find some of these in specialty stores.
Aveda
Joico
Pravana (owned by a parent company that isn't cruelty-free)
Paul Mitchell
Arctic Fox
If you are looking for a bright and bold semi-permanent color, look no further than Arctic Fox. This is by far one of the best vegan and cruelty-free brands out there. The formula has non-GMO, plant-based proteins, and the best thing about this formula is that it is ultra conditioning. So you won't have to worry about permanently damaging your hair or making it dry. One of our favorite colors from this brand is the color FROSÉ, a baby pink DIY hair color.
Product Overview
| | |
| --- | --- |
| Price | $10.99 for 8 Oz. |
| Shades | A rainbow of different colors |
| Ethics | Cruelty-free, vegan |
Manic Panic
Manic Panic is a brand that's been around for decades, and it's also the first ever hair dye I've ever used. You can still find them at the drugstore, with little hair samples that make it easy to determine what color you're going to get. Their "Amplified" hair dye lasts longer than others.
Product Overview
| | |
| --- | --- |
| Price | $17.99 ($13.99 for their regular dye) |
| Shades | Many different vivid colors |
| Ethics | Cruelty-free, vegan |
Good Dye Young
This brand is more well-known in the UK, but they're available internationally. You can even find them at Sephora. They have many different colors and types of hair dyes, like their "I'm Bored" collection which allows blondes to add some color to their hair with the ability to wash it off in 2 to 6 washes. They're known for their rich formulas that provide vibrant colors. In the formula, there is coconut oil which will help condition your hair, and the use of soy protein to protect your hair in the future.
Product Overview
| | |
| --- | --- |
| Price | $18 |
| Shades | Trendy colors, neon colors, metals |
| Ethics | Cruelty-free, vegan |
Lime Crime
Lime Crime mainly makes makeup but they also offer a large collection of colorful hair dyes. I've used their pink shade Sushi and loved it. They mentioned that their dyes have a "sugary scent" however I don't recall this. The process is user-friendly and my hair felt conditioned afterward.
Lime Crime
Unicorn Hair
$17
Product Overview
| | |
| --- | --- |
| Price | $17 |
| Shades | A rainbow of different colors |
| Ethics | Cruelty-free, vegan |
Overtone
Overtone gives you the color you want while also keeping your hair conditioned. You can also apply the product straight to wet hair, in the shower, and keep it on for 15 minutes before rinsing it out. Super simple, and the formula is free from parabens and ammonia.
oVertone
Coloring Conditioner
$32
Product Overview
| | |
| --- | --- |
| Price | $32 |
| Shades | PInks, reds, yellow, green, blues, purple, and a few natural colors |
| Ethics | Cruelty-free, vegan |
Maria Nila
Maria Nila is a hair care brand that also offers conditioning hair colors in a few different shades, most natural and some more colorful. This product is a hair mask that adds a boost of color while also nourishing and protecting the hair. They also make a white mixer so you can create your own pastel shades.
Product Overview
| | |
| --- | --- |
| Price | $40.65 |
| Shades | Pink, violet, peach, blonde, brown, black, red, white |
| Ethics | Cruelty-free, vegan |
Kristin Ess
Kristin Ess is an affordable, but super high-quality brand available at Target. They make various hair dyes like their glosses, which come in natural colors, and their color depositing conditioners, which come in more colorful shades.
Product Overview
| | |
| --- | --- |
| Price | $14 |
| Shades | Natural shades, lavender, green, pink, blue, silver |
| Ethics | Cruelty-free, vegan |
dpHUE
If you're looking for beautiful natural shades, dpHUE is a wonderful option. They offer a full hair care range on top of their color products. Their Gloss+ will add color while also moisturizing your hair.
Product Overview
| | |
| --- | --- |
| Price | $35 |
| Shades | A selection of natural shades |
| Ethics | Cruelty-free, vegan |
Madison Reed
Their hair coloring kits come in a plethora of beautiful natural shades, so if you're looking for a ton of choice as you're shopping for hair dye at the drugstore, look no further than Madison Reed. Their products are also affordable and available at Ulta.
Product Overview
| | |
| --- | --- |
| Price | $26.50 |
| Shades | A wide selection of natural shades |
| Ethics | Cruelty-free, vegan |
Lush
You may not know this, but Lush provides hair henna to help color and hide natural hair color. It is formulated without the harsh chemicals in regular hair dye, and this formula will work to condition your hair rather than damage it. Even as one of the most expensive options on the list, this is still cheaper than going to a salon and spending $150-$300 on harsh chemicals. This product works by staining the outer layer of your hair, it will never wash out, but it will fade over time. However, one thing you should be aware of is that this product won't work for going lighter or blonde. You can use it for black, brown, and even red hair color.
Product Overview
| | |
| --- | --- |
| Price | $28 |
| Shades | Red, Brown, Black Shades |
| Ethics | Cruelty-free, vegan, eco-friendly |
Aveda
Aveda is a well-known brand in the hair industry. Their products are available to purchase in Aveda salons. It has finally confirmed their hair dye and products are vegan and 100% cruelty-free. This is a phenomenal brand if you are looking for semi-permanent natural-looking hair color. Picking a color within a few shades of your natural hair color will give you the best results.
Pravana
Pravana is well-known in the industry for offering rich formulas in colorful shades, and you're also able to find their products in some specialty stores. Their ChromaSilk Vivids are bright and bold, while their ChromaSilks are moisturizing and effective.
Paul Mitchell
Paul Mitchell products can be found in salons as well as drugstores, and Paul Mitchell has been committed to ending animal testing for decades. All of their products are vegan as well.
Joico
Joico recently became cruelty-free, and you can find their products in salons but also in some retail stores. They offer a full range of hair care products in addition to hair dye.
Summing It Up
There are a number of vegan hair dye options on the market, so you can find the perfect one to suit your needs. Whether you're looking for a natural shade or something more vibrant, there's a dye out there that doesn't contain any animal-derived ingredients. We've compiled a list of some of our favorite vegan hair dyes, as well as salon-quality dyes that offer vegan options. If you're looking for a cruelty-free and environmentally friendly option, consider using henna to color your hair.
Which Brands Are Cruelty-Free?
Download our list of 600+ verified cruelty-free brands straight to your device. Bring it with you everywhere you go, and never worry about supporting animal testing again. Click here to download