What They Do
The shampoo has an opaque purple color, and the treatment is even deeper and very pigmented. This blueish purple pigment counteracts brassy orange tones in blonde hair. I've noticed the brassiness in my bleached hair getting more golden.
I've used both of these products every time I've washed my hair. Some may prefer using them every other wash, but my hair isn't as light as I want yet. You don't need a ton of this shampoo for your whole head, and it smells absolutely amazing. I would describe the scent as a sophisticated bubblegum in marzipan heaven. With a little bit of lime or bergamot thrown in. It's a really pleasant gourmand type of scent that isn't overly sweet.
The treatment has the same rad scent. The instructions will tell you to leave it in for a minute, but Kevin Murphy recommends leaving it in for 3-5 minutes for better results.
These products also give me plenty of moisture on their own, and this is considering that I have dry (read: fried) hair from bleaching it a few times. Typically my hair would get gummy and be impossible to brush after a shower, but this duo is detangling and very hydrating. Both products are paraben-free and sulphate-free.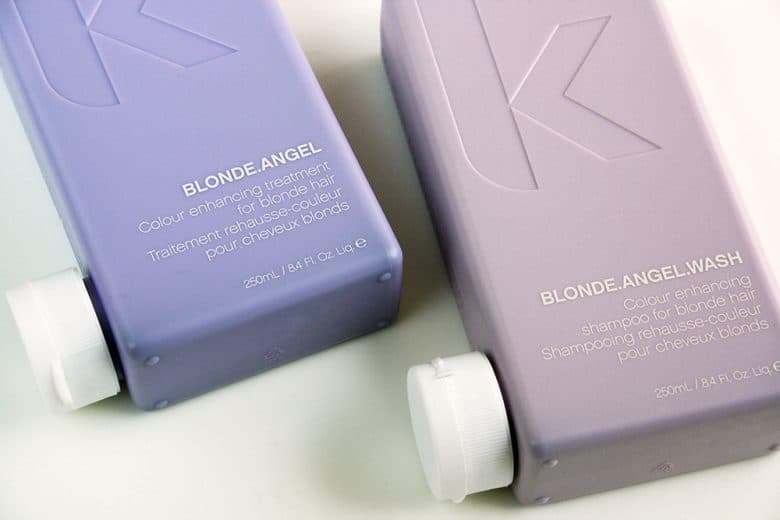 Who It's For
These are definitely made for girls with bleached hair. They're also recommended for those with grey or blonde hair. If you have bleached hair and you struggle with brassy tones and dryness, definitely look into these two as a combo. For all of the reasons above, you'll love the Blonde Angel line if you have bleached hair.
If you're looking for something silicone-free, these do contain some silicone (in conjunction with a load of more natural ingredients higher up on the list, to be fair).
These products are also vegan.
Pros
Neutralizes brassy or yellow tones.
Super moisturizing.
Perfect for bleached hair.
Amazing scent.
Gotta love the packaging!
Vegan.
Cons
I wish these came in a bigger bottle than 250mL/8oz!
Verdict
If you have bleached, damaged, dry, brassy, or yellow blonde hair, give this dynamic duo a try. If you do want to try them out, the best way to purchase Kevin Murphy is at a salon. You can find a list for your area by clicking here.
Which Brands Are Cruelty-Free?
Download our list of 600+ verified cruelty-free brands straight to your device. Bring it with you everywhere you go, and never worry about supporting animal testing again. Click here to download