To take advantage of the sale, click here and use the coupon code SUMMER20 for 20% off site-wide! The sale is only available for a limited time.
IGK Hair has been cruelty-free since inception, and most of their products are vegan.
IGK is committed to being 100% vegan and cruelty-free and we do not tolerate animal testing on IGK products. We know that you don't need animal derived ingredients to create innovative, efficacious hair products and we're constantly pushing to develop new ingredients and technology to ensure we're always at the forefront of innovation in hair care.
Fun fact: IGK's four founders all live in different parts of the world, and come from different backgrounds. Each product's packaging is unique, because each product is inspired by the stylist who created it and their environment.
The IGK Hair stylists create products that provide easy solutions to real needs -- no fluff. The products help achieve a specific look, be it beachy waves, an effortless style, sleek straight, or anything you dream of. My hair is personally long, fine and wavy, with a tendency to get oily while also being damaged from bleach. The products I've tried worked really with my hair type and goals, such as volumizing, protecting, and hydrating the ends.
Many of their products cater to a busy lifestyle and offer fast solutions. Personally I don't like spending time on my hair, so I'm all for it! Dry shampoo, of course, is a given. I've also tried an overnight hair-repairing spray which doesn't require rinsing out. If this appeals to you, keep reading!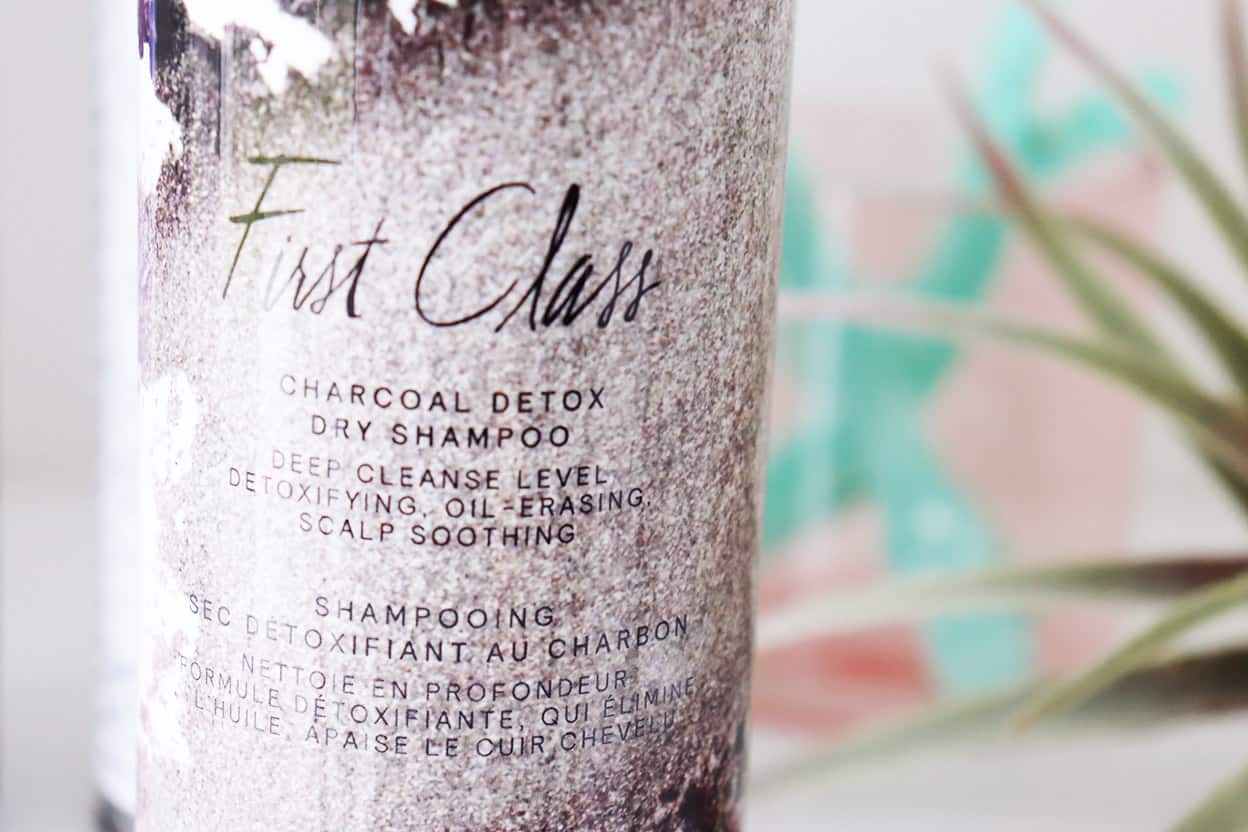 First Class Charcoal Detox Dry Shampoo (Vegan)
"This heavy-duty dry shampoo allows you to go even longer between washes; even after workouts. Detoxifying charcoal powder lifts dirt and build up while absorbing oil and sweat. Cooling, calming white tea powder calms scalp and strengthens hair follicles."
Best for: oily scalps, all hair types
The First Class Dry Shampoo ($27) is fantastic mainly for two reasons. For one, unlike most dry shampoos, it's not white. The white powder most dry shampoos deposit in my hair drives me nuts, so it's refreshing to find a darker dry shampoo that works. With this one, your spray it at the roots in sections, as usual, and you wait 30 seconds seconds before rubbing it in. My roots are brown, and I think this dry shampoo is suitable for everyone, except those with light blonde hair.
The second reason why I love this dry shampoo is the volume it gives. I have flat, fine hair, and this product is a 2-in-1 if you're like me. It gets rid of oiliness while also volumizing.
It's also a heavy-duty dry shampoo, meaning it absorbs more oil than your average product. If you're looking for lighter cleansing levels, see IGK Jet Lag Invisible Dry Shampoo or IGK Direct Flight Multi-tasking Dry Shampoo.
Beach Club Texture Spray (Vegan)
"A salt-free texturizing spray that gives you beachy waves and volume without drying out your hair. "
Best for: all hair types
I love the look of beachy waves, but salt can be drying for your hair. The Beach Club Texture Spray ($29) gives all the grit and texture, and makes it easy to achieve that wavy-yet-effortless style.
I spray it in my hair from a distance to make sure it's coating my hair evenly, and scrunch my hair to gives it some volume and texture. If your hair is naturally wavy, you won't need to use any hot tools. You can also spray it at the root to create lots of volume.
The spray has a subtle and pleasant fragrance. The scent isn't overly powerful like with other products.
Good Behaviour Spirulina Protein Smoothing Spray (Vegan)
"A heat-protective blowout spray that mimics the smooth, frizz-free results of a keratin treatment. 100% agreed their hair looked like they got a keratin treatment at a salon. "
Best for: all hair types, especially frizzy hair
The Good Behavior Spirulina Protein Smoothing Spray ($32) is described as a "keratin treatment in a can". A keratin treatment is a chemical process that smooths and shines frizzy hair. It's especially helpful for those with very frizzy hair, as it relaxes the hair and makes it more manageable. Some keratin treatments are known to release formaldehyde, which is a harmful chemical to stay away from. Good Behavior aims to give you the salon-like results of a keratin treatment, minus the formaldehyde or the hefty price tag.
It's also a heat protectant, as it works when activated by heat. IGK Hair recommends misting over damp hair in section, and blow-drying your hair to activate the product. It provides 24-hour frizz control, and heat protection up to 450F.
Antisocial Overnight Bond-Building Dry Hair Mask (Vegan)
"Time-release dry treatment mask uses first of its kind leave-in bond-building technology and vegan silk extract to repair and soften hair without mess or residue. No need to wash or re-style. "
Best for: all hair types, especially dry or damaged hair
The Antisocial Dry Hair Mask ($34) is a leave-in treatment for dry or damaged hair. Typically to get hydrated hair in an overnight treatment, you would have to use a hair mask. Unlike a mask, this spray treatment is quick and easy, and doesn't leave a mess. It also has a pleasant coconut scent, which is said to help you sleep. This product does contain silicones.
This product contains absolutely no real silk and is indeed vegan. The vegan silk extract uses plant-derived silk proteins, and has no connection to silkworms.
Mixed Feelings Leave-In Blonde Toning Drops (Vegan)
"Turn your favorite hair product into a custom-mixed toner to banish brassiness and keep blonde, silver, or violet shades true. The concentrated purple leave-in pigment tones and cools, while prickly pear extract softens and boosts shine."
Best for: blonde, platinum, or silver hair
The Mixed Feelings Leave-In Blonde Toning Drops ($29) come in a concentrated formula. Instead of using a separate purple shampoo or treatment, IGK came up with the idea of a product you can simply add to your existing routine. I'm currently using both a regular shampoo and a purple shampoo, which is mildly annoying. Using an add-on instead and mixing it in when needed sounds good to me.
The product is very pigmented, so you need to be careful not to stain anything. Luckily it comes in a dropper, which makes it easy to use exactly where you want it. You can add the drops to anything: shampoo, conditioner, leave-in styling product. The longer you let it sit in your hair, the more toning. If you want more dramatic results, the brand recommends using it in your leave-in treatment and not as part of your shower routine.
Overall, it's a nifty product to have for those with blonde or silver hair. It's versatile and customizable, since you can choose the intensity of the results based on the mix and number of drops used.
Summer Sale
IGK Hair is having their summer sale right now! Shop here and use the code SUMMER20 for 20% off site-side. Sale ends June 23, 2019.
I loved the IGK products I've tried, and would recommend them to those who want quick salon results at home! It's great to find a professional hair care brand that's 100% cruelty-free and offers so many vegan products. Thank you to IGK for sponsoring this post, and don't forget to check them out!
Which Brands Are Cruelty-Free?
Download our list of 600+ verified cruelty-free brands straight to your device. Bring it with you everywhere you go, and never worry about supporting animal testing again. Click here to download