It allowed me to unleash my creativity, connect with awesome like-minded people, and make money in the process.
In this post, I'll show you exactly how to build your blog from the ground up without spending a ton of money (my readers also get a discount through this link).
So... can you really make money blogging?
Yep. I've been making over $10,000 every month for a few months now. Check out my latest income report here.
If you've ever wondered whether you should have a blog of your own, please do it. I know there's something you're passionate about, whether it's makeup, fashion, fitness, or whatever else you're in love with. Follow your creative dreams. You never know where they could take you!
Here's what I'm going to cover:
The Basics
Getting your own domain and hosting is the way to go. This means you'll have your own site, like www.crueltyfreekitty.com.
I also strongly recommend WordPress to build your blog. It's easy and free. WordPress trumps Blogger/Blogspot, and it's more affordable than Squarespace. If you don't know how to install WordPress, I'll show you exactly how to set it up in this post.
If you already have a blog hosted on Blogspot or Tumblr, making the switch is totally worth it. You get to keep all your existing posts and transfer them.
Myths And Facts
There are a few myths about having your own domain and hosting, so let me set them straight right now.
Myth #1: Running your own blog is expensive.
You can have your own, self-hosted blog for under 4$ a month. Don't go with anything more expensive than that, because it's unnecessary. BlueHost offers the best prices, and you get a free domain.
Myth #2: It's hard and confusing to set up!
I'm not particularly computer-savvy, and I still managed to do it! I'll show you how simple it is and guide you through the whole process.
Myth #3: It's impossible to make any money with a small blog.
Odds are you're going to be making more than what you're paying to run your blog. One of the advantages of having your own, self-hosted blog is having the freedom to monetize it.
Myth #4: It's really hard to make a blog look good with WordPress.
There's a ton of pretty themes you can choose from, including free ones. Installing a theme is quick and easy. You don't even need to know any kind of coding or have experience with web design. Using WordPress will make your blog look better since it's more customizable than Blogspot.
Boom! Myths debunked. No excuses. Creating your own blog is simple, cheap, and awesome.
---
What Should I Blog About?
It's important to know specifically what your focus will be. A focused blog makes blogging easier. Here are some examples.
Reviews. If you're a product junkie, you can write helpful reviews.
>Makeup artistry. If you've got skills, you can show off your looks.
Swatches. Good swatches can be hard to find. Everybody loves dupes.
Budget beauty. You could focus on drugstore and affordable brands.
Nails. If you love nail polish and have a talent for nail art, you could make it your main focus.
Jane-of-all-trades.> If you love ALL things beauty, you can figure out your focus as you blog.
---
What Equipment Do I Need?
You don't absolutely need any tools to start blogging, but this is what I recommend for a beginner:
A basic camera. You can use any digital camera, a DSLR, or your iPhone. Some bloggers even use their phone's camera.
Photoshop or a free alternative. Editing your photos will make them look professional no matter what camera you use.
Natural light. You don't need photography equipment when starting out. Natural light is the best light to shoot in. You can always buy studio lighting along the way.
---
The Fun Part: Your Domain Name
Once you figure out the topic of your future blog, you're ready for one of my favorite parts: picking a domain name!
Start thinking of a potential domain name by brainstorming and expanding on your subject. Your domain name should be memorable and brandable above all.
Enter your ideas below to check if they're available.
In addition to a free domain, Bluehost is now offering my readers a 25% discount on hosting, which means that you can get a site up and running for only $2.95 a month. Use the domain checker below to sign up and get the discount.
A good tip is using your first name as part of your domain. Think of blogs like "karlascloset.com", "viviannadoesmakeup.com" or "deliciouslyella.com". Try it with your blog!
---
1. Sign Up With BlueHost
The first thing you need to do is find a webhost. The most popular one is BlueHost, which I recommend going with. They offer cheap hosting and a free domain name.
Bluehost is now offering my readers a 25% discount on hosting, which means that you can get a site up and running for only $2.95 a month.
Go to BlueHost and click "Get Started Now".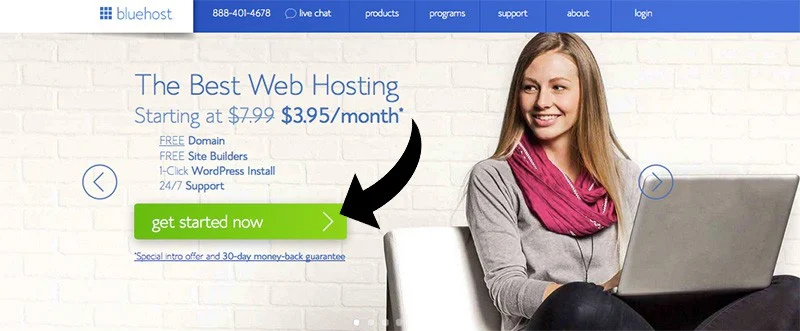 Select the basic plan.
You need to find a good domain name that isn't taken. I recommend going with a .com, but whatever floats your boat. Click next.
Now create your account by filling out your contact info.
Pick your plan, and pick whatever additional features you want. The only extra I recommend is getting domain privacy if you want your information to be hidden. Click "Next".
Next, choose your package. Bluehost offers plans for 12 months, 24 months, and 36 months. I recommend going with the 36-month plan to get the best price, but keep in mind that you'll pay for the full package up front. For example, if you select the 36-month package at $2.95/month, your total will be $106.20.
Enter your payment information.
The final step is choosing a password for your account. Make this password extra hard to crack by using uppercase letters, lowercase letters, numbers, and symbols.
Once your account is created, log into your dashboard at Bluehost.com.
2. Install WordPress
Next, you want to install WordPress. This step is super quick and easy!
In your BlueHost account, click on cPanel. Click "Install Wordpress".
Click "Start".
Select your domain and click "check domain".
Enter your blog info and click "Install Now".
Once it's done installing, you'll receive your WordPress login information by e-mail.
Go to www.yoursite.com/wp-admin/ and sign in!
---
Last Step: Make It Pretty
Install a theme to make your blog look nice.
On the left side, select "Appearance" and click "Themes". Click "Add new". You can now browse thousands of themes. Try selecting features such as "right sidebar" or colors. If you're stumped, try searching for "themify" or "fashionista". There's a lot of free themes. Have fun with it!
---
You're Ready For Your First Post
In the left menu, select "Posts" and click "Add new". Write your first post and click "publish"!
---
That's it!
If you followed this step-by-step guide and signed up with BlueHost, you just realized how easy it really is to start your own blog.
I hope this tutorial has been helpful. Good luck on your journey!
Which Brands Are Cruelty-Free?
Download our list of 600+ verified cruelty-free brands straight to your device. Bring it with you everywhere you go, and never worry about supporting animal testing again. Click here to download