Eyelash serums are formulated to enhance your natural lashes, encouraging them to grow longer (and stronger) than ever before.
But if the promise of naturally long, fluttery lashes seems too good to be true, worry not: we've done some research. Here's our deep dive into the world of lash serums to find those worth your time and your dollars.
What is a lash serum?
The goal of a lash serum is to support your eyelash follicles to grow longer, stronger lashes.
You may have heard of Latisse, for example (not cruelty-free, FYI).
The FDA-approved serum is proven to help lashes grow, and is an example of a medicated serum. Medicated serums use pharmaceutical active ingredients to keep your lashes in the growth phase longer. But they can come with side effects, like skin darkening, eye irritation, dry eyes, and redness of the eyelids.
But there are also unmedicated options. Unmedicated serums range from simple moisturizing conditioners to formulas infused with growth-supporting actives. Generally, the ingredients used are more gentle and work to naturally support the structure and growth of each individual eyelash.
How do lash serums work?
Just like human hair, eyelashes are made up of the protein keratin. So it stands to reason that they can also benefit from strengthening and conditioning treatments. (That's also why lash serums can benefit your brows, too!)
Unmedicated lash serums generally contain ingredients such as amino acids and peptides (short chains of amino acids), which are the "building blocks" of keratin. They can rebuild the lash cuticle to restore and nourish brittle or fragile lashes. The result is lashes that grow longer and stronger.
Lash serums also stimulate the follicle so lashes grow faster, and some medicated formulas can even prevent them from falling out as quickly.
Some common lash serum ingredients
Ingredients used in unmedicated lash serums include hyaluronic acid, amino acids, peptides, collagen, biotin (vitamin b7), and castor oil. But here's a breakdown of some of the most common:
Amino acids: These combine to create protein, such as keratin. When used on the lashes and brows, they can help rebuild the hair structure to restore strength and integrity.
Peptides: These are naturally occurring strings of amino acids. When combined, they build larger strings of amino acids.
Cannabis seed extract: Often derived from hemp, this cold-pressed oil helps to nourish and condition lashes.
Vitamin B5: Also known as pantothenic acid, vitamin B5 produces the byproduct panthenol. The potent humectant helps strengthen lashes, retains moisture, and softens.
Zinc chloride: This salt compound is able to stimulate the lash or brow follicle to support fuller, denser growth.
Larix Europaea wood extract: This natural extract is an effective humectant and conditioning ingredient. It draws moisture into the hair fiber, keeping it hydrated.
Camelia Sinensis leaf extract: Also known as green tea leaf extract, this oil has powerful antioxidant, anti-inflammatory, and antimicrobial properties. It can stimulate and soothe the hair follicles, encouraging new growth. It also acts as a humectant to keep lashes and brows moisturized.
How to apply lash serum
Applying lash serum is quick and easy. Most will either come with a brush applicator or spoolie (like a mascara wand).
If using a brush or Q-tip, simply apply a thin line at the root of your top lashes. If using a spoolie, apply the serum from the base to the tip of your lashes as you would mascara. Generally, you only need to apply the serum to your top lashes. (It will transfer to the bottom on its own.)
It's best to apply serums at night, to clean lashes, after your skincare routine.
While a lash serum is easy to apply, the trick (and perhaps the hardest part) is applying it consistently. It can take weeks or months to see results, so don't be discouraged if you don't see progress immediately.
Are lash serums safe?
If used according to the directions, lash serums are safe. Of course, if you notice irritation, unwanted hair growth, or darkening of the iris (more of a risk with medicated serums), stop using the treatment and, if necessary, consult a doctor. Also: make sure to take your contacts out before applying lash serum.
Best lash serums
To help you find a lash serum that works for you, we've compiled the best options on the market. We've only included over-the-counter serums (unmedicated) to support and encourage lash growth.
All of these products are certified cruelty-free to help you make an informed, conscious consumer choice. (You may want long, flirty lashes, but animals surely don't!)
| | |
| --- | --- |
| Ethics | Cruelty-free, vegan |
| Notable ingredients | Peptides, cannabis seed extract (from hemp), pantothenic acid (B5), aloe |
| Applicator | Brush |
| Parent company tests on animals | No |
With peptides derived from hemp seed, this serum will help to hydrate and condition your lashes.
Vitamin B5 and aloe both help eyelashes retain water, which is necessary for growth, softness, and resilience. The fine brush applicator makes it easy to apply morning and night. Just use it like eyeliner on your lashes, or all over the roots of your brows.
With consistency, your lashes and brows will be fuller, healthier, and longer. Like with any new product (especially one that is applied so close to the eyes), go slow at first and monitor for any sensitivity. Oh, and try not to get it in your eyes!
Best Overall:
| | |
| --- | --- |
| Ethics | Cruelty-free, vegan |
| Notable ingredients | Mung bean, red clover, amino acid peptide |
| Applicator | Brush |
| Parent company tests on animals | No |
This cult fave lash serum makes it easy to ditch the over-the-counter formulas for a more natural route to fuller lashes.
Formulated without hormones or any harsh ingredients (you know, the ones that can change the color of your eyes?!), this vegan serum could have your lashes looking thicker and longer within a month.
Red clover and mung bean help to prevent your lashes from falling out too soon, and amino acid peptides help to fortify the lash follicle for new growth.
While you can't expect miracles, this serum will help give your lashes a boost. For best results, apply this lash serum twice a day. The oil-free formula is even safe for eyelash extensions too.
Velour
Long & Strong Lash Serum
$42
| | |
| --- | --- |
| Ethics | Cruelty-free, vegan |
| Notable ingredients | Peptides, chamomile flower extract, ginseng root extract |
| Applicator | Brush |
| Parent company tests on animals | No |
One of the secrets to full, flirty lashes is preventing breakage. This serum will help condition and nourish your lashes to keep them healthy.

After 6 weeks of use, your lashes will feel more resilient. A great option for those with sensitive eyes, this serum combines strengthening peptides and ginseng root with soothing chamomile flower extract.
To apply, use one dip on both eyes nightly. Apply it on at the root of the lashes, and let it work while you sleep.
Best Budget:
| | |
| --- | --- |
| Ethics | Cruelty-free, vegan |
| Notable ingredients | Peptides, panthenol, Camellia Sinensis leaf extract, Larix Europaea wood extract, zinc chloride |
| Applicator | Brush |
| Parent company tests on animals | Yes - Estée Lauder |
If you are new to lash serums, this formula is a great affordable start to see how they work in your routine.
This serum is packed with peptides to help fill out thinning lashes and brows and works to protect your lashes and brows to keep them growing.
This style of rigid brush applicator is perfect for the lash line but can be difficult to get full coverage on the brows. Use this serum morning and night on clean lashes and brows for best results. In as little as four weeks you will notice new growth.
| | |
| --- | --- |
| Ethics | Cruelty-free, vegan |
| Notable ingredients | Peptides, cannabis sativa seed extract |
| Applicator | Brush |
| Parent company tests on animals | No |
This affordable serum conditions and promotes growth. Within a few weeks, you will notice softer lashes that make it easier to apply mascara. Cannabis sativa seed extract is soothing to the hair follicles and helps your lashes and brows retain that ever-important hydration.
Apply this serum to a cleansed face once a day, in the evening. After you've applied it to your upper lash line and brows, wait a minute or two to let it dry before applying any other product or going to bed. A tip for sensitive skin or eyes: wash your lash serum off first thing in the morning to avoid it migrating as you go about your morning.
elf
Enhancing Lash & Brow Serum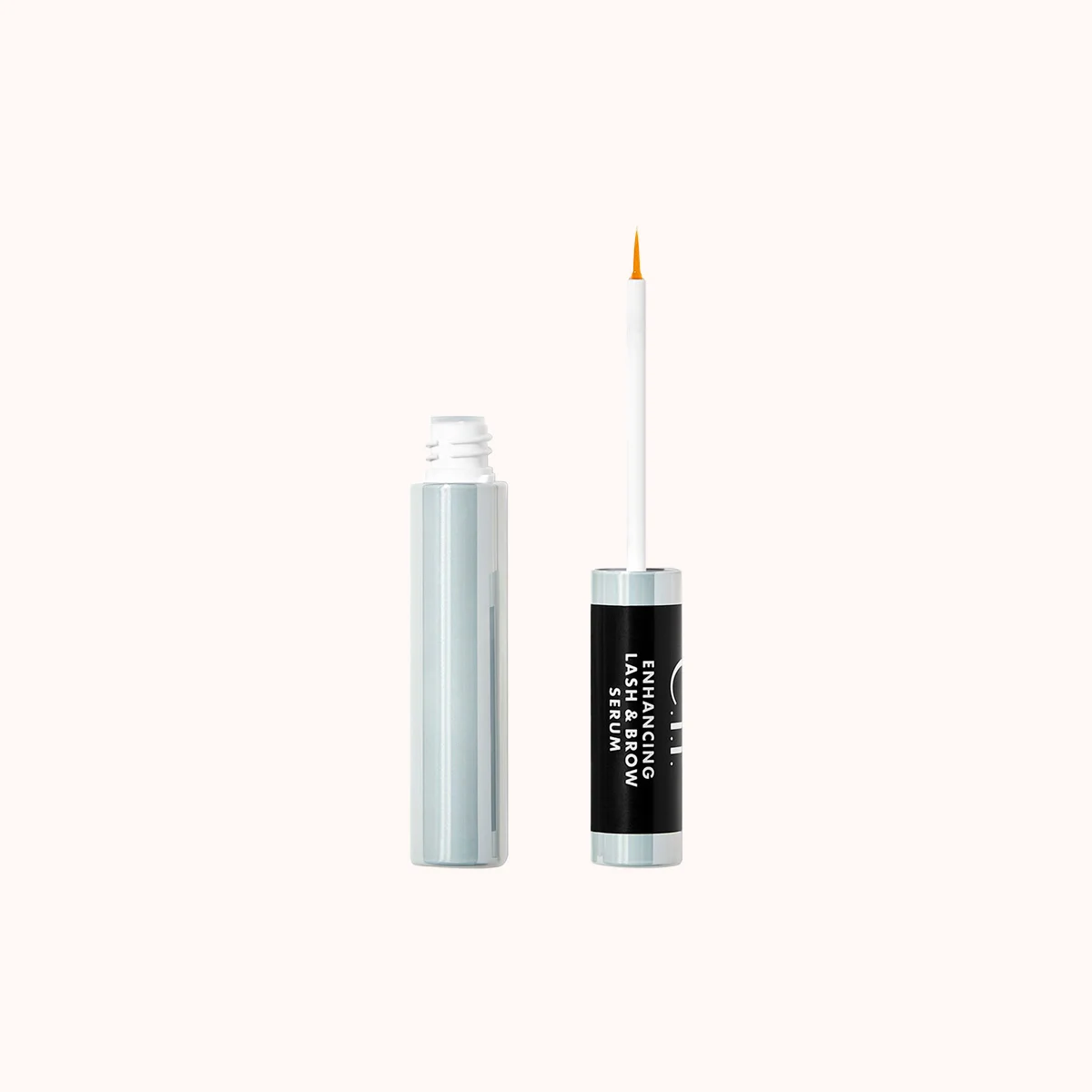 $8
| | |
| --- | --- |
| Ethics | Cruelty-free, vegan |
| Notable ingredients | Amino acids, Larix europaea wood extract, Camellia sinensis leaf extract, castor oil, zinc chloride |
| Applicator | Brush |
| Parent company tests on animals | No |
This inexpensive serum is loaded with lash-boosting ingredients to help you get the fluttery lashes of your dreams.
Zinc chloride and Camellia sinensis leaf extract stimulate growth at the follicle, amino acids help to build the hair fibers, and Larix Europaea wood extract and castor oil work to keep the hair fibers moisturized and sealed.
Suitable for sensitive eyes, this serum can be used once or twice a day on your lashes and brows. With consistent use, both will be noticeably fuller, longer, and in better condition.
The verdict
There is no miracle route to naturally long, fluttery lashes. But there are many serums out there that can support lash growth and condition. These non-medicated options are a great stepping stone on the way to the lashes of your dreams, and may even allow you to ditch the mascara or falsies.
The reality is that many of these serums have similar ingredients, so the best results will be down to how consistently you apply your chosen formula. Make a lash serum a part of your morning or evening routine, and within a month or two, your patience will be rewarded.
Which Brands Are Cruelty-Free?
Download our list of 600+ verified cruelty-free brands straight to your device. Bring it with you everywhere you go, and never worry about supporting animal testing again. Click here to download