Micellar Water: The Basics
What feels and looks just like regular water, micellar water has become a staple in many bathroom cabinets for its ability to remove makeup, as well as cleanse and tone your face. Originally a French skincare staple, micellar water is mainly made up of purified water and hydrating ingredients, such as glycerin, and low doses of mild surfactants.
Micellar water got its name from the word micelles – microscopic spheres that are formed when molecules of surfactants group up. A quick swipe of this powerful concoction along your face will pick up dirt, sebum, oil, and other unpleasantries like a magnet. With no rinsing required, micellar water can remain on your skin for the goodness to be absorbed.
How We Chose The Products
Product Performance
Choosing the right micellar water for you can be a tricky process. With an abundance of options out there, it can be hard to narrow down the ones that fit your needs. Apart from choosing products that were tested by us or products with reliable third-party reviews, we chose products that work well based on their cleansing and moisturizing abilities.
Micellar water also tends to sting the eyes and contain unnatural fragrance, which can be irritating to the skin. To narrow down our list, we've avoided products that have exactly that and included ones that are suitable for different skin types.
Cruelty-Free Companies Only
Given our mission to promote purchasing from cruelty-free brands, we have only included products that have not been tested on animals. Here at Cruelty-Free Kitty, we believe animal testing has no place in the 21st century.
Price Breakdown
Skincare should be accessible for all, so we have listed products to suit varying budgets. Below is a breakdown from the most expensive to the least expensive, based on the price per ounce for each product:
Ere Perez ($3.84/oz)
Drunk Elephant ($3.50/oz)
Tarte ($2.80/oz)
Derma E ($2.16/oz)
Pacifica ($1.50/oz)
Glossier ($1.50/oz)
Acure ($1.25/oz)
Yes To ($0.96/oz)
NYX ($0.50/oz)
Garnier ($0.50/oz)
The Best Micellar Water
Strong fragrances aren't usually welcome when it comes to micellar water, but would you mind if it smells like kale and green juice? Similar to the benefits of a power smoothie, Pacifica's Kale Water Micellar Cleansing Tonic is a superfood for your face. The combination of kale, calendula, and grapefruit water is what you need to give your face a quick freshening up before bed, which doesn't leave your skin feeling dried out.
| | |
| --- | --- |
| Best For | Best overall |
| Key Ingredients | Kale extract, glycolic acid, calendula |
| Skin Type | Oily and blemish-prone |
| Price per ounce | $1.50 |
Combine micellar water with a bit of oil and you'll get Glossier's Milky Oil – a balanced mixture that sits nicely between that fresh-feel and dewiness. Despite the added oil, this micellar water still feels weightless on the skin, making it gentle enough to use daily. It's also conditioning and soothing, due to the inclusion of comfrey root extract and pro-vitamin B5. With its squeezable bottle, you can apply the product in the palm of your hand and massage it into your face and eye area without the use of a cotton pad.
| | |
| --- | --- |
| Best For | Mild dewy feel |
| Key Ingredients | Comfrey root extract and pro-vitamin B5 |
| Skin Type | All |
| Price per ounce | $1.50 |
Garnier's cleansing products have been a longtime favorite for many and will become a go-to for even more people, due to its recent shift in becoming cruelty-free. Their SkinActive All-in-1 cleanser is suitable for the most sensitive of skin thanks to its gentle formula. Apart from removing makeup, the multipurpose product truly lives up to its name, as its also able to clean makeup brushes, remove hair color stains, and even get rid of excess self-tanner!
| | |
| --- | --- |
| Best For | Versatility |
| Key Ingredients | Hexylene glycol and glycerin |
| Skin Type | Sensitive |
| Price per ounce | $0.50 |
Beyond its beautiful packaging, the micellar water from Tarte is full of rejuvenating qualities that will also remove waterproof makeup, dirt, and excess oil. Its formula includes babassu oil, which is extracted from a tree native to the rain forests of South America. The unique nourishing ingredient to keep your skin's natural moisture intact.
| | |
| --- | --- |
| Best For | Revitalizing feel |
| Key Ingredients | Babassu oil |
| Skin Type | Oily |
| Price per ounce | $2.80 |
NYX
Stripped Off Micellar Water
$7
Sometimes, a no-fuss bottle of micellar water is what you need. You can rely on the Stripped Off Micellar Water from NYX to effortlessly take your makeup off at the end of the day. When applied, all you'll get is a refreshing scent and feel without the added synthetic fragrances. It comes in a generously-sized bottle, so you won't find yourself short of supply anytime soon.
| | |
| --- | --- |
| Best For | Good value |
| Key Ingredients | Hexylene glycol and glycerin |
| Skin Type | All |
| Price per ounce | $0.50 |
Yes To – Coconut Micellar Water
Yes To
Coconut Micellar Water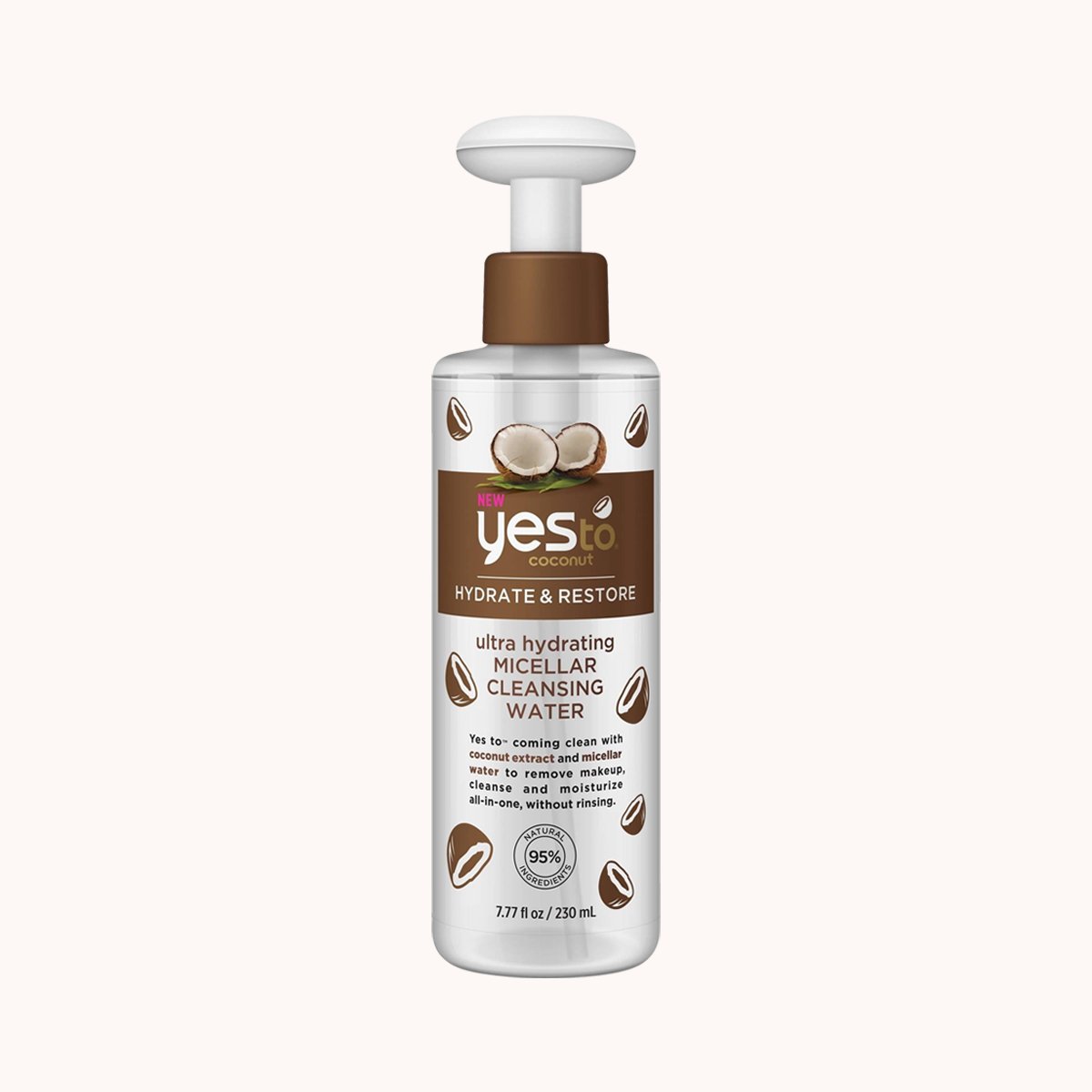 $7.50
For those that use makeup on the regular, a face cleanser with a convenient packagine makes all the difference. Yes To's micellar water series is designed with a handy pump that can also be locked while traveling, but its contents are also just as good. Made with 95% natural ingredients, their Coconut Micellar Water has a no-rinse formula for waterless cleansing and moisturizing. It's a perfect match for dry skin, as it doesn't leave stinging sensations nor does it leave the skin feeling tight or dry.
| | |
| --- | --- |
| Best For | Easy-to-use dispenser |
| Key Ingredients | Coconut and aloe vera |
| Skin Type | Dry |
| Price per ounce | $0.96 |
In a single bottle, you can get a one-stop solution for lifting away makeup, toner, and a quick skin refreshment. Drunk Elephant's E-Rase Milki Micellar Water contains 3-Ceramide blend: plant-based, wax-like moisturizing fatty acids that help maintain moisture in the skin, while protecting against water loss. The creamy white micellar water also includes a combination of antioxidant-rich, nonfragrant plant oils, which are great for soothing and barrier-supportive benefits.
| | |
| --- | --- |
| Best For | Skin protection |
| Key Ingredients | 3-Ceramide blend, vitamin E, wild melon seed oil |
| Skin Type | All |
| Price per ounce | $3.50 |
Ere Perez
Ginkgo Micellar Water
$28
Not only is it cruelty-free, but Ere Perez's micellar water is made up of completely natural ingredients. Its star ingredient, gingko biloba leaf extract, is full of antioxidants that reduces signs of ageing, and it provides you with anti-inflammatory, cleansing, and sunscreen properties. Aloe vera is also in the list of delectable ingredients to give your skin a boost of vitamins and other essential minerals.
| | |
| --- | --- |
| Best For | All-natural solution |
| Key Ingredients | Ginkgo biloba and aloe vera |
| Skin Type | All |
| Price per ounce | $3.84 |
A trusty bottle of micellar water should act as a cleanser, makeup remover, and moisturizer. But if you find one that can do even more, keep it close your heart. This one from Acure does it all, as well as providing a little glow from the added argan oil. The cleansing and replenishing qualities in addition to its brightening features make this a great overall, nourishing product.
| | |
| --- | --- |
| Best For | Brightening |
| Key Ingredients | Probiotics, argan oil, coconut, resveratrol |
| Skin Type | All |
| Price per ounce | $1.25 |
Does your skin tend to dry out after a thorough face wash? Consider replacing your cleansing routine with a gently massage of the Vitamin C Micellar Cleansing Water from Derma E. With ingredients like antioxidant-rich rooibos and anti-aging probiotics, your skin will feel hydrated. You can skip the rinsing and let the vitamin C dissolve into your skin for a healthier texture. Bonus: it's vegan, too.
Product Overview
| | |
| --- | --- |
| Best For | Anti-aging properties |
| Key Ingredients | Vitamin C, probiotics, rooibos |
| Skin Type | Acne-prone skin |
| Price per ounce | $2.16 |
Final Verdict
Our top recommendation for micellar water is Pacifica's Kale Water Micellar Cleansing Tonic ($12), which is made from nourishing ingredients, including kale extract, calendula, and grapefruit water. It also leaves you feeling super clean, moisturized, and with a refreshing scent.
For budget-friendly options, we recommend Garnier's SkinActive Micellar Cleansing Water ($6.99) and NYX's Stripped Off Micellar Water ($7). If you feel like a little splurge and a more natural product, go for Ere Perez's Ginkgo Micellar Water ($26).
Which Brands Are Cruelty-Free?
Download our list of 600+ verified cruelty-free brands straight to your device. Bring it with you everywhere you go, and never worry about supporting animal testing again. Click here to download