Heat Protectants: The Basics
When putting your hair through thermal styling, heat protectants should be used. Heat protectants can come in various forms, including sprays, creams, or mousses. Depending on the product, it can be applied on dry or wet hair to leave in, or even before you style. This small, but important step in your hair care routine is key to maintaining luscious locks.
How We Chose The Products
Product Performance
All hair is different and they all have undeniably different needs. With this in mind, we ensured to include products suitable for varying hair types and concerns based on our own tests and third-party reviews. Additionally, all the heat protectants listed also include nourishing properties in addition to its main purpose of effectively protecting the hair from thermal exposure.
Cruelty-Free Companies Only
As a platform that highlights cruelty-free brands, the products on this list have not been tested on animals. Here at Cruelty-Free Kitty, we believe animal testing has no place in the 21st century.
Price Breakdown
When you find a product that works wonders for you, price is often the least of your worries. However, a breakdown of the price per ounce of each product may still be useful to know. Here it is from the most expensive to the least expensive:
Olaplex ($28/oz)
Aveda ($9.17/oz)
Briogeo ($8.01/oz)
Living Proof ($5.27/oz)
AG Hair ($5.20/oz)
Moroccanoil ($4.67/oz)
Innersense ($4.18/oz)
Pureology ($4.18/oz)
Pacifica ($3.50/oz)
It's A 10 ($3.33/oz)
The Best Heat Protectants
Innersense
Hair Love Prep Spray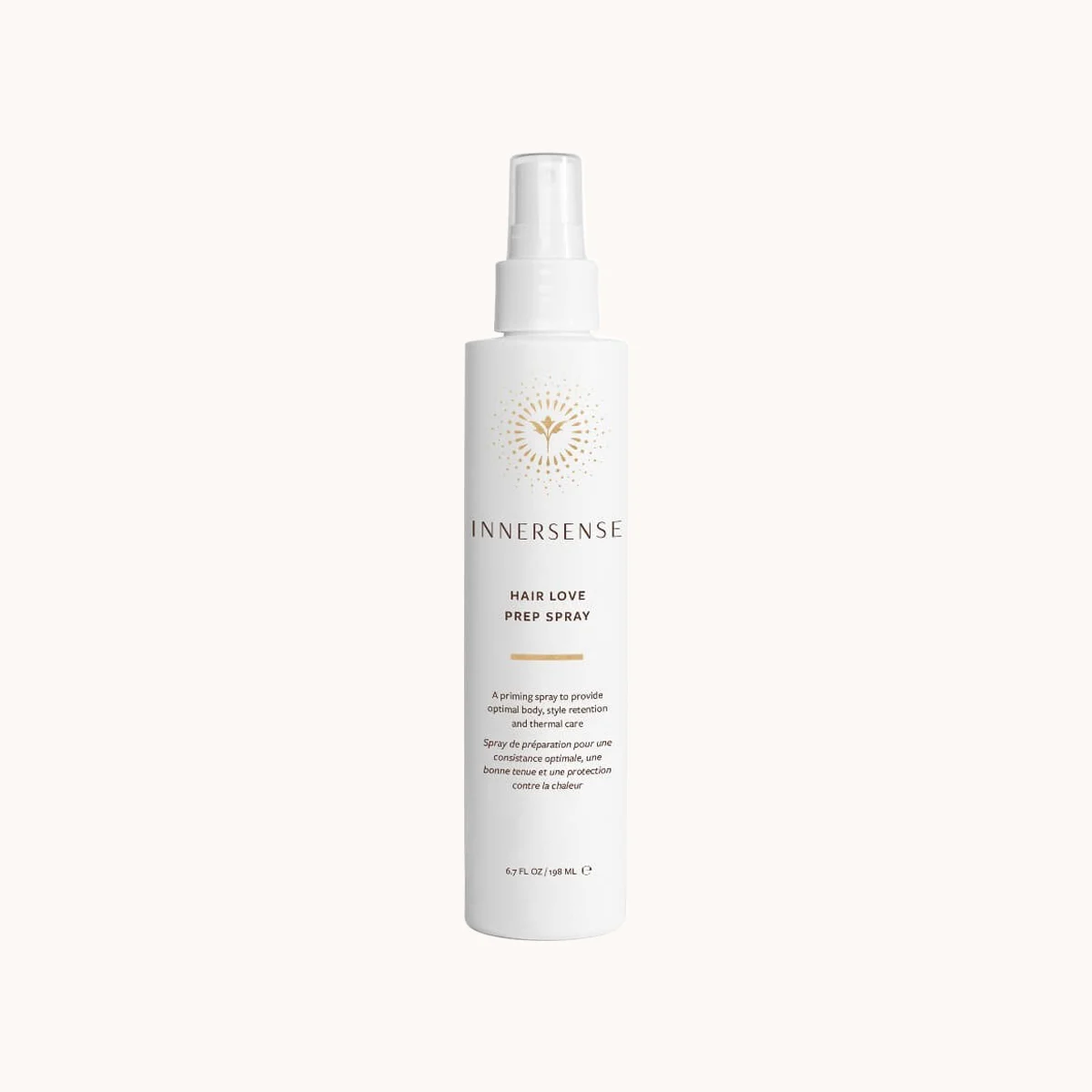 $28
Are you constantly outdoors? Sun-loving ladies may want to pick up a bottle of Innersense's Hair Love Prep Spray. The foamy protectant not only protects you from the heat of your styling products, but will also repair and care from UV exposure. Thank its key ingredient, baobab, for this feature, as well as angelica root, rice protein, and vitamin B for a boost of circulation to the scalp, natural shine, and strength.
| | |
| --- | --- |
| Best For | Overall |
| Contains Silicones | No |
| Price per ounce | $4.18 |
Colored hair often undergoes a lot of maintenance, so it shouldn't have to go through the ringer during a thermal styling session. The Color Fanatic Multi-Tasking Leave In Spray from Pureology provides up to 450 degrees of heat protection to ensure your colored tresses remain vibrant even after a good amount of time with rollers or irons. The combination of natural oils – camelina, coconut, and olive – as its key ingredients, makes for the perfect concoction to moisturize parched hair.
| | |
| --- | --- |
| Best For | Color-treated hair |
| Contains Silicones | Yes |
| Price per ounce | $4.18 |
If you can't go without straightening your hair, never be without AG Hair's Firewall Argan Shine & Flat Iron Spray. A spritz of this argan oil-infused mist will have your flyaways tamed and hair breakage prevented, while providing a smooth base for your flat iron to glide through. When purchasing a bottle, you'll also be supporting Moroccan women of the Berber tribe, who farm the sustainably sourced fair-trade organic argan oil.
| | |
| --- | --- |
| Best For | Hair straightening |
| Contains Silicones | Yes |
| Price per ounce | $5.20 |
Sometimes, more is actually better, especially when it comes to volume. Apart from coating your locks with a shield against heat, It's A 10's Miracle Blowdry Volumizer can achieve full hair with bounce. When your hair needs some lift or if you have thinner tresses, a few sprays of this heat protectant on the roots can liven it up without leaving you with a sticky feeling.
| | |
| --- | --- |
| Best For | Volume |
| Contains Silicones | Yes |
| Price per ounce | $3.33 |
Looking for a light and hydrating heat protectant? High Heat Shield Vegan Collagen Protectant Spray is suitable for those with thin hair, as it doesn't weigh your locks down. Its blend of hemp, vegan collagen, and chia effectively provides a hydrating solution for dry hair. With other clean ingredients, such as orange and vanilla, this spray also presents some earthy notes for that natural-feel.
| | |
| --- | --- |
| Best For | Fine or dry hair |
| Contains Silicones | No |
| Price per ounce | $3.50 |
Keep your hair healthy with some preventative care from Aveda's Heat Relief™ Thermal Protector & Conditioning Mist. Made up of 97% natural ingredients, this spray is your hair's defense system against heat up of up to 450 degrees when using hot tools. For the environmentally conscious, this product is fully made from recycled plastic and is even manufactured using 100% wind power.
| | |
| --- | --- |
| Best For | All hair types |
| Contains Silicones | Yes |
| Price per ounce | $9.17 |
Using their patented Bond Builder, this heat protectant from Olaplex builds structure, strength, and stability. Unofficially dubbed as "liquid gold", the No. 7 Bonding Oil repairs hair using bis-aminopropyl diglycol. Their unique ingredient makes sure your strands are intact after going through a lot of heat from curling irons and the like. Pour a few drops into your hands and apply onto either wet or dry hair, or just before you style.
| | |
| --- | --- |
| Best For | Damaged hair |
| Contains Silicones | No |
| Price per ounce | $28 |
Try Living Proof's Restore Instant Protection Spray if your hair is feeling a little dull or unruly. Without adding buildup, this heat protectant adds shine and polish sans the greasy-feel. In addition, its formulated using their patented Healthy Hair Molecule to deliver 24-hour UV ray and humidity protection. The spray also has a delicate citrus fragrance that's light enough to use daily.
| | |
| --- | --- |
| Best For | Shine |
| Contains Silicones | No |
| Price per ounce | $5.27 |
Argan oil makes for an effective heat protectant, as it provides hydration and nourishing properties (such as vitamin E, fatty acids, and antioxidants) for the hair. But paired with vitamin B5, the weightless Perfect Defense Heat Protectant from Moroccanoil also adds a glossy finish to your tresses. Its application is straightforward, due to its dry-aerosol dispenser, making it great to use while traveling.
| | |
| --- | --- |
| Best For | Nourishing qualities |
| Contains Silicones | Yes |
| Price per ounce | $4.67 |
Briogeo – Farewell Frizz Blow Dry Perfection & Heat Protectant Crème
Spend some time nourishing your heat-styled hair by massaging in this cream protectant after a fresh wash. Briogeo's mix of rosehip, argan, and coconut oils prioritize the smoothing of your locks and taming frizz. Vegan and 94% naturally-derived, the Farewell Frizz Crème works great for many types of hair, including color, keratin, and chemically treated, and even relaxed hair.
| | |
| --- | --- |
| Best For | Frizzy hair |
| Contains Silicones | No |
| Price per ounce | $8.01 |
Final Verdict
Innersense's Hair Love Prep Spray ($28) tops our list for the best overall heat protectant, due to its inclusion of natural ingredients, UV protection, and repairing abilities. It also contains zero silicones, which is always a plus in our books.
For those that styles their hair daily, Olaplex's No. 7 Bonding Oil ($28) has raving reviews for being able to squeeze in immense repairing qualities into a tiny bottle. Alternatively, Pacifica's High Heat Shield Vegan Collagen Protectant Spray ($14) is a cheaper option that doesn't sacrifice any of its heat protection effectiveness.
Which Brands Are Cruelty-Free?
Download our list of 600+ verified cruelty-free brands straight to your device. Bring it with you everywhere you go, and never worry about supporting animal testing again. Click here to download