From mild to cold weather, we've got you covered with top-rated brands and the latest styles. So whether you're hitting the slopes or just braving the winter streets, we've got the perfect vegan winter boots for you.
Finding Affordable Options
We're committed to finding affordable vegan products that are high-quality and accessible to everyone. The options in this post are all priced under $200, with the majority of our options being under the $100 mark. For a pair or sturdy winter boots, that's a fantastic deal!
Brands To Look For When Shopping For Vegan Winter Boots
Most brands of winter boots we found are not 100% vegan. In fact, it's rare to find a good pair of winter boots if you're looking for purchase from exclusively vegan brands. However, several large brands that make quality winter boots offer a ton of vegan options.
Our two favorite brands to look for are Columbia and Kamik. Both offer many vegan winter boot options, but please read the product description carefully if you're choosing a product that isn't on our list, as some of their styles are made from leather, suede, or contain sheepskin.
Other brands we recommend include Journee Collection (several vegan styles of winter boots and more), Dream Pairs (a brand we found on Amazon offering many vegan shoe options), and Doc Martens (most models are not vegan but they have a few vegan styles).
Our Top Picks
Here's an overview of the best vegan boots for winter, at a glance. You can keep scrolling for more information about each boot.
Ready to see our top picks? Keep scrolling.
Buy from Zappos ($99.95)
I've searched far and wide for a boot that withstands the harsh, snowy Canadian winters, without breaking the bank. These boots from Kamik will keep your feet not only toasty but also dry, no matter how tall of a snow bank you have to walk across. They're also right under the $100 mark, which is a great deal for quality boots that are vegan and made in Canada. With a rubber outsole that provides great tracking, waterproof materials, moisture-wicking lining, and more, these boots are recommended for temperatures as low as -40F. There's even a string to provide a custom fit so that snow doesn't enter your boots from the top. Plus, up to 20% of the main materials used are recycled.
Buy from Zappos ($99.95 on sale)
These cute and versatile boots come in so many colors, and they'll keep your feet warn and cozy without relying on cruel materials. They come in a variety of sizes including wide lengths, with inclusive sizing from 5 to 12. Withstanding cold temperatures up to -25F (-32C), they're also waterproof and have excellent traction meaning you won't be prone to slipping on ice. Choose between tan, black, brown, white, and many more!
Buy from Zappos ($199.95)
If your winters are mild and you get very little to no snow, a pair of Doc Martens should keep you warm enough. Throw in some warm socks on particularly cold days and you're be comfortable for hours outdoors. The Jaden II Mono Vegan model comes with a side zip, making the boots easy to put on and take off. They also have a platform which gives you an extra 2" of height, and looks great as well. Available sizing from a size 5 up to a size 12, women's.
It wouldn't be a roundup of the best vegan winter boots without an option for a fur-free Ugg boot. Most dupes you'll find online are also made from sheepskin and suede, though they're more affordable. This dupe by Camel Crown is 100% vegan from the faux suede to the lining, plus it comes in several color options to choose from including a beautiful blush pink.
More To Picks: Columbia Minx Mid III (94.04)
Buy from Zappos ($94.04)
Another cute pair of winter boots for harsh winters is the Minx Mid III by Columbia. These are available in beige (pictured above) but also 5 other colors including a white with beige fur trim. The fur used is, of course, faux, with a waterproof textile upper. These boots will also keep you warm in temperatures as low as -25F (-32C) with 200 grams of insulation. The sole has an excellent grip even on snowy terrain.
Journee Collection Irrah Bootie ($129.99)
Buy from Zappos ($129.99)
For a more stylish and feminine option for mild winters, I love the Irrah Bootie by Journee. It's made from vegan leather with a fabric lining, and comes with Tru Comfort Foam footbed for extra comfort. The sizing is pretty inclusive with sizes 5.5 up to 12, and it comes in three color options: black (pictured above), brown, and tan.
Dream Pairs Faux Fur Booties ($64.99)
Buy from Amazon ($64.99)
This affordable pair of winter booties from Amazon is super cute and comfy. The faux fur trim and lining will keep your feet cozy and warm, and the overall shape of the boots makes them comfortable to walk in. These boots can withstand cold temperatures well, however they won't do as well if you live in a snowy area since they're not tall. You can choose from three different colors, including the whites ones (pictured above) which are my faves. SIzes 5 to 12.
Journee Cleeo Boot ($109.99)
Buy from Zappos ($109.99)
This cozy Ugg alternative is 100% vegan and will keep you warm all winter. It's available in two different colors, white (pictured above) as well as a classic tan color. The faux fur trim adds a touch of luxury and the durable rubber sole ensures that you can wear these boots in a variety of weather conditions. Whether you're running errands in the city or enjoying a snowy day in the mountains, these boots have got you covered. Sizes 5.5 to 12.
Columbia Minx Shorty III ($109.95)
Buy from Zappos ($109.95)
A shorter version of the Columbia Minx Mid boot featured above, this style also comes in many color options. It keeps you warm in temperatures as cold as -25F (-32C) and it's perfect for those who don't need a tall boot to venture in the snow with. Stylish, comfortable, and easy to walk in, these boots come in sizes 5 to 11.
Kamik Shellback ($109.95)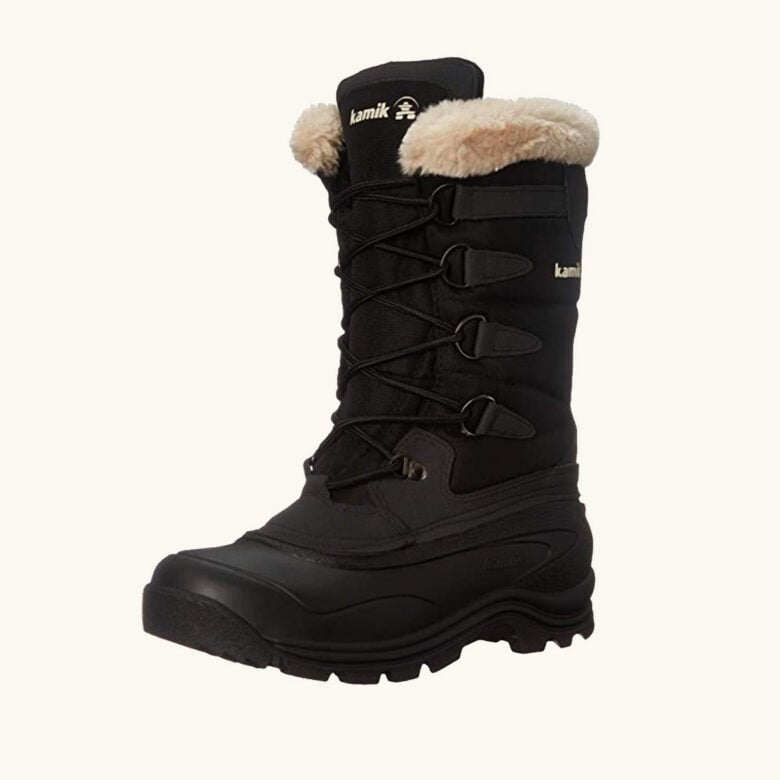 Another pair similar to our top pick for heavy snow above by the same brand. These boots come in black as well as black and white, and they'll keep you warm even in the harshest winters. The full-length, rustproof D-Ring lacing system ensures a secure fit, while the waterproof and lightweight synthetic shell protects your feet from the elements. The faux-fur trim adds a touch of style and the removable, moisture-wicking lining keeps your feet comfortable and dry all day.
Columbia Slopeside Peak ($110)
Buy from Zappos ($110)
This shorter boot provides everything you need to stay warm if you're not venturing out in the snow. Designed for hikers, the Slopeside Peak boots by Columbia are comfortable for long walks in addition to being vegan-friendly. They're easy to slip on and off, and they come in three beautiful colors: tan (pictured above), black, and grey.
Sketchers D'Lux Walker ($89.99)
Buy from Zappos ($44.99 on sale)
Stay stylish and toasty this winter with the water-repellent and warm Sketchers D'Lux Walker booties. These booties feature a soft faux fur collar and are made from vegan materials, so you can feel good about your fashion choices. The verified vegan construction means that these boots are completely animal-free, making them a great choice for those who follow a vegan lifestyle. They're available in two classic colors: black and beige, so you can choose the one that best fits your style.
Thank You For Choosing Vegan!
We hope you've enjoyed this blog post on vegan winter boots and that you've found the perfect pair for your needs. Remember, choosing vegan footwear is not only kind to animals, but it's also often more environmentally-friendly. So thank you for considering vegan options and for supporting cruelty-free fashion. We hope you have a warm and stylish winter, and don't hesitate to reach out if you have any questions or need further recommendations. Thank you for shopping vegan!
Which Brands Are Cruelty-Free?
Download our list of 600+ verified cruelty-free brands straight to your device. Bring it with you everywhere you go, and never worry about supporting animal testing again. Click here to download