Official Animal Testing Policy:
"Benefit does not test our products on animals.

Since 1989, the Perfumes & Cosmetics companies of LVMH group (including Benefit Cosmetics) have not performed any tests on animals for our products – this was implemented long before the 2013 official ban set by the European Union.

We are deeply committed to the elimination of animal testing. We're playing a leading role in developing alternative methods through our support of the "Fund for Alternatives to Animal Testing" in the United States. We also actively participate in validation studies of new alternative tests in the framework of the European cosmetics association, Cosmetics Europe. We are one of only a few companies to have invested in creating our own internal department to test raw materials and ingredients to further ensure the quality of our products and the satisfaction of our customers, which is our top priority.

As a result, all Benefit products undergo very strict tolerance tests using non-animal methods during the development of each product to ensure quality and safety prior to market.

Some customers expressed concern regarding the situation in China. Our products are made in Europe and for imported cosmetics, the Chinese health authorities order some test on animals: they require companies to make their products available to be tested in state-certified laboratories for registration purposes only, as it is currently their only recognized method to demonstrate product safety .

We are hopeful that alternative testing methods will be adopted worldwide and we will see an end to animal testing."
The Truth About Benefit's Animal Testing Policy
First of all, Benefit claims that they themselves do not test on animals. This claim alone does not make Benefit a cruelty-free company. Companies that are truly cruelty-free must also confirm that their suppliers and any third parties do not engage in animal testing, anywhere in the world, and that their products are not sold in mainland China.
Second, they claim to be "committed to the elimination of animal testing". This implies that Benefit might test on animals under certain conditions. Many brands who test on animals where required by law, also claim to be committed to the elimination of animal testing and the development of alternative methods. This is a way for brands to gain trust and sympathy from cruelty-free shoppers.
Third, Benefit finally addresses their involvement in animal testing in China. They clearly state that they paid for animal tests to be performed on their products in the country. This means that no matter how "committed" benefit claims to be when it comes to eliminating animal testing, they're showing their hypocrisy: Benefit does test on animals where required by law, and is therefore not a cruelty-free company.
From Their FAQ
Benefit's animal testing policy can be found on their website, in their FAQ: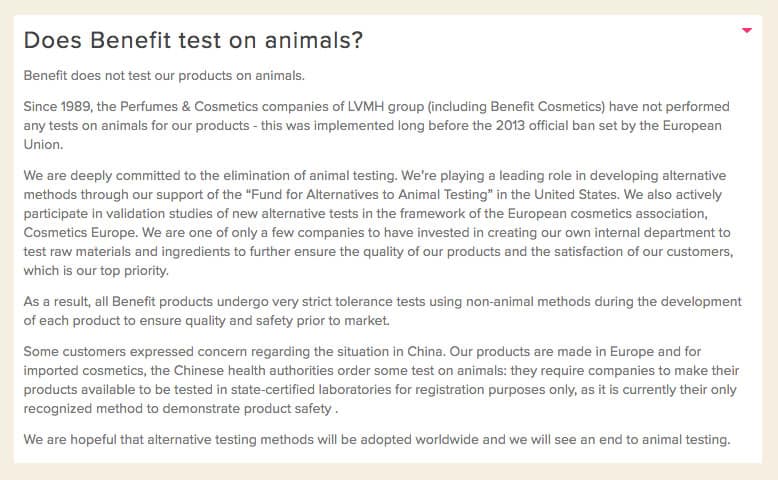 Presence In China
Benefit's presence in China was announced on Twitter on their official account. Here's a screenshot of the tweet, which dates from 2009: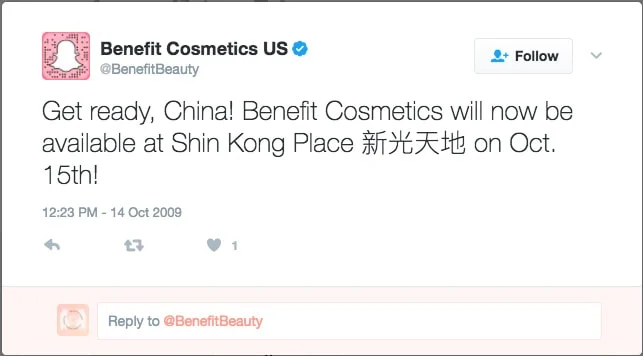 Shin Kong Place is a high-end department store in Beijing, mainland China. Benefit has been present in China for over a decade now. They can also be found at Chinese Sephora stores:

Benefit's Real Animal Testing Policy
Even though Benefit rarely admits to testing on animals "where required by law" or being available in mainland China, this tweet by them sums up their animal testing policy. Make no mistake: Benefit does test on animals where required by law, and they do sell products in stores in mainland China.
Is Benefit owned by a parent company that tests on animals?
Benefit is not owned by a parent company that tests on animals.
Is Benefit sold where animal testing is required by law?
Yes, Benefit is available for sale in countries with mandatory animal testing. This means that their products were likely tested on animals.
Is Benefit certified cruelty-free by any organizations?
No, Benefit is not certified by any organizations.
Is Benefit vegan?
Benefit might offer some vegan products, however because this company is not cruelty-free, we recommend avoiding any products they offer even if they are vegan.
How do you determine that brands like Benefit are not cruelty-free?
Most brands don't publicly display their full animal testing policies. We contact brands directly with our questions in order to get their complete policy. If any brand states that they, their suppliers, or any third party test on animals, the brand is listed as "not cruelty-free."