Official Animal Testing Policy:
"Philosophy is fully committed to using alternatives to animal testing to ensure the safety of our products. Please be assured that we do not perform, nor do we ever commission any third parties on our behalf to perform, animal testing on our products or ingredients except when required by law."
Spread the word.
16 Shared
The Truth About Philosophy's Animal Testing Policy
Although Philosophy as a company do not test their finished products or ingredients on animals, they nevertheless pay others to test their products on animals "where required by law". This means that Philosophy is not cruelty-free.
When companies claim that they test on animals "where required by law", it typically means that they sell their products in mainland China, where cosmetics are legally required to be tested on animals.
To learn more about animal testing laws in China, click here.
Philosophy also doesn't mention whether or not their suppliers test on animals, which is a red flag.
Watch out for the "safety as a priority" trick. When a brand emphasizes "product safety", like Philosophy does above, this generally means that they prioritize safety at any cost — even if this means testing on animals to prove safety.
From Their FAQ
Philosophy's animal testing policy can be found on their official website, in their FAQ: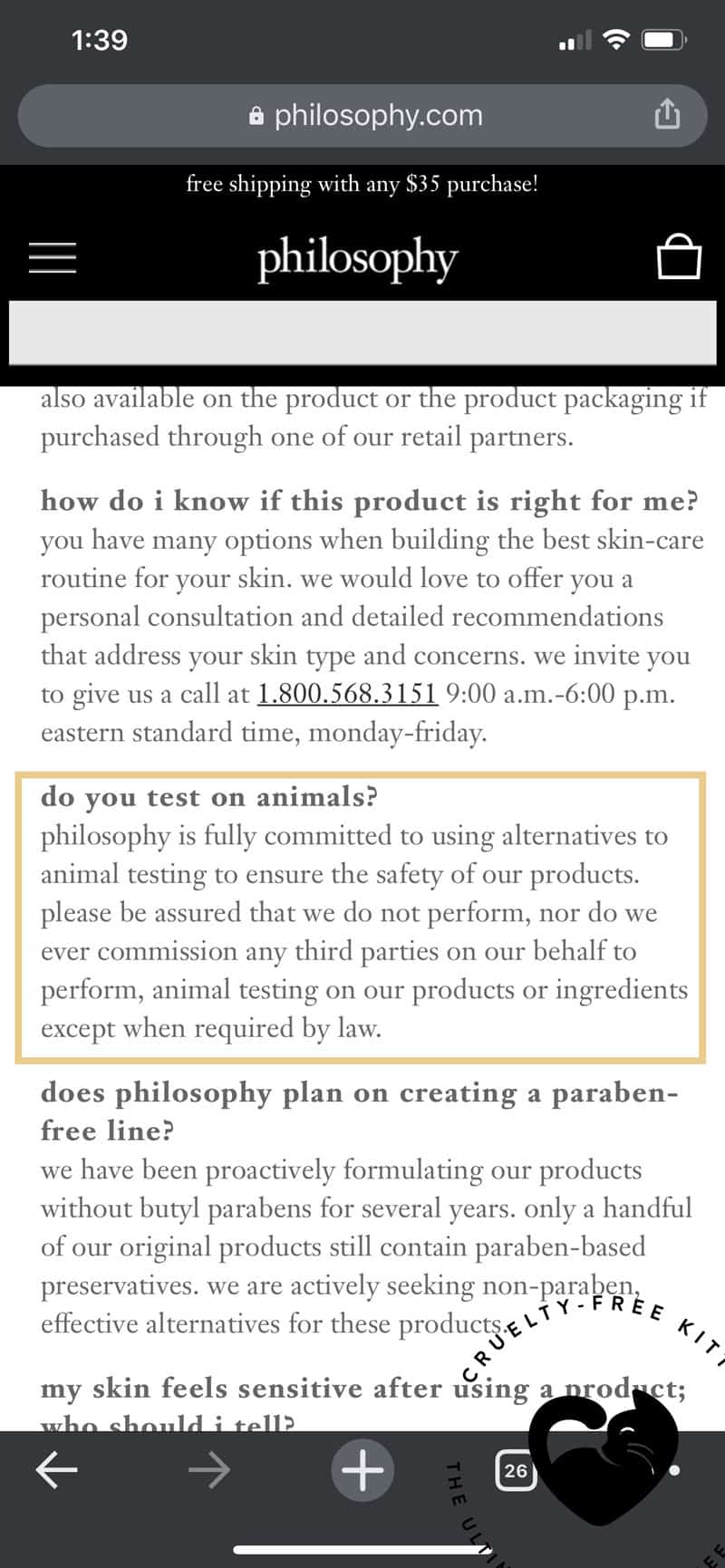 Is Philosophy owned by a parent company that tests on animals?
Philosophy is owned by Coty, a company that tests on animals. Not only is Philosophy not cruelty-free but neither is their parent company.
Is Philosophy sold where animal testing is required by law?
Yes, Philosophy is available for sale in countries with mandatory animal testing. This means that their products were likely tested on animals.
Is Philosophy certified cruelty-free by any organizations?
No, Philosophy is not certified by any organizations.
Is Philosophy vegan?
Philosophy might offer some vegan products, however because this company is not cruelty-free, we recommend avoiding any products they offer even if they are vegan.
How do you determine that brands like Philosophy are not cruelty-free?
Most brands don't publicly display their full animal testing policies. We contact brands directly with our questions in order to get their complete policy. If any brand states that they, their suppliers, or any third party test on animals, the brand is listed as "not cruelty-free."