Official Animal Testing Policy:
"Vogue International does not itself conduct or request others to perform animal testing in order to substantiate the safety or efficacy of any of our products or raw ingredients. Given that there are countries that require animal testing by law, we do our best to respect governing law and regulations set by that governing body while encouraging alternative methods and helping to bring about change from within. We understand that you may not agree with our decision and we respect your right to choose the best products for you."
The Truth About OGX's Animal Testing Policy
OGX lost its cruelty-free status in 2015, when they entered the Chinese market. Their updated animal testing policy plainly states that they do test on animals where required by law. They even claim to "respect" the decision of cruelty-free shoppers to "choose the best products" for them. In other words, they're inviting us to purchase from other brands.
Note: Above is the policy we received from Vogue International, OGX's previous parent company. Since 2018, OGX is owned by Johnson and Johnson.
Removed From PETA's List
In 2015, OGX was removed from PETA's list of cruelty-free brands and added to the list of brands that DO test on animals. The brand can no longer be considered cruelty-free as it's currently sold in mainland China, where animal testing is mandatory. Vogue International claims not to test on animals unless required by law, and Johnson & Johnson shares a similar policy.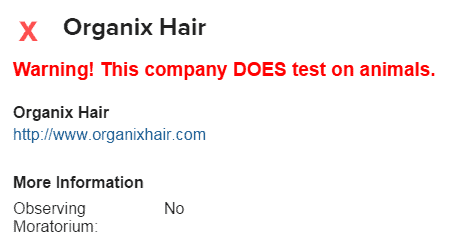 About OGX
OGX is a drugstore hair care brand. Their hair care is sold in dozens of stores across the United States, as well as in over 42 countries. The company was initially named "Organix", though they no longer use this name due to a lawsuit. Unlike the name "Organix" suggests, none of their ingredients are organic. Johnson & Johnson acquired OGX in 2018.
Is OGX owned by a parent company that tests on animals?
OGX is not owned by a parent company that tests on animals.
Is OGX sold where animal testing is required by law?
Yes, OGX is available for sale in countries with mandatory animal testing. This means that their products were likely tested on animals.
Is OGX certified cruelty-free by any organizations?
No, OGX is not certified by any organizations.
Is OGX vegan?
OGX might offer some vegan products, however because this company is not cruelty-free, we recommend avoiding any products they offer even if they are vegan.
How do you determine that brands like OGX are not cruelty-free?
Most brands don't publicly display their full animal testing policies. We contact brands directly with our questions in order to get their complete policy. If any brand states that they, their suppliers, or any third party test on animals, the brand is listed as "not cruelty-free."