Official Animal Testing Policy:
"We know you LOVE animals and so do we! That's why all the Bioré® products in our western markets are cruelty-free and vegan friendly. We do not test our products or the materials within them on animals and we do not use any animal-derived ingredients.

We follow the conventions of the EU and other governmental bans on animal testing for cosmetics. Occasionally, laws and regulations require testing of materials outside of the cosmetics category. Since the 1980's, Kao Corporation has been actively working together with industry associations and relevant third parties to find robust alternatives to animal testing which have been successfully adopted as international guidelines."
The Truth About Biore's Animal Testing Policy
Biore claims to be in compliance with the EU animal testing ban. First, it's true that all EU cosmetics brands must comply to these laws. However, this alone doesn't mean that the company is truly cruelty-free. Some ingredients may still be tested on animals, and finished products may still be tested on animals outside of the EU.
Biore clearly states that only their "western market" products are not tested on animals, which implies that their non-western market products are tested on animals.
This distinction is made because they sell their products in mainland China, where cosmetics are legally required to be tested on animals.
Biore also doesn't mention whether or not their suppliers test on animals, which is a red flag.
From Their Website
Biore's animal testing policy can be found on their official website, on a page titled "Our Committment". On this page, Biore states that their company is "eco-friendly" as well as "cruelty-free". Unfortunately, because they do test on animals under certain circumstances or allow third parties to do so on their behalf, their statement is false and doesn't reflect their actual policy. Their "eco-friendly" statement is equally questionable and can be labeled as greenwashing.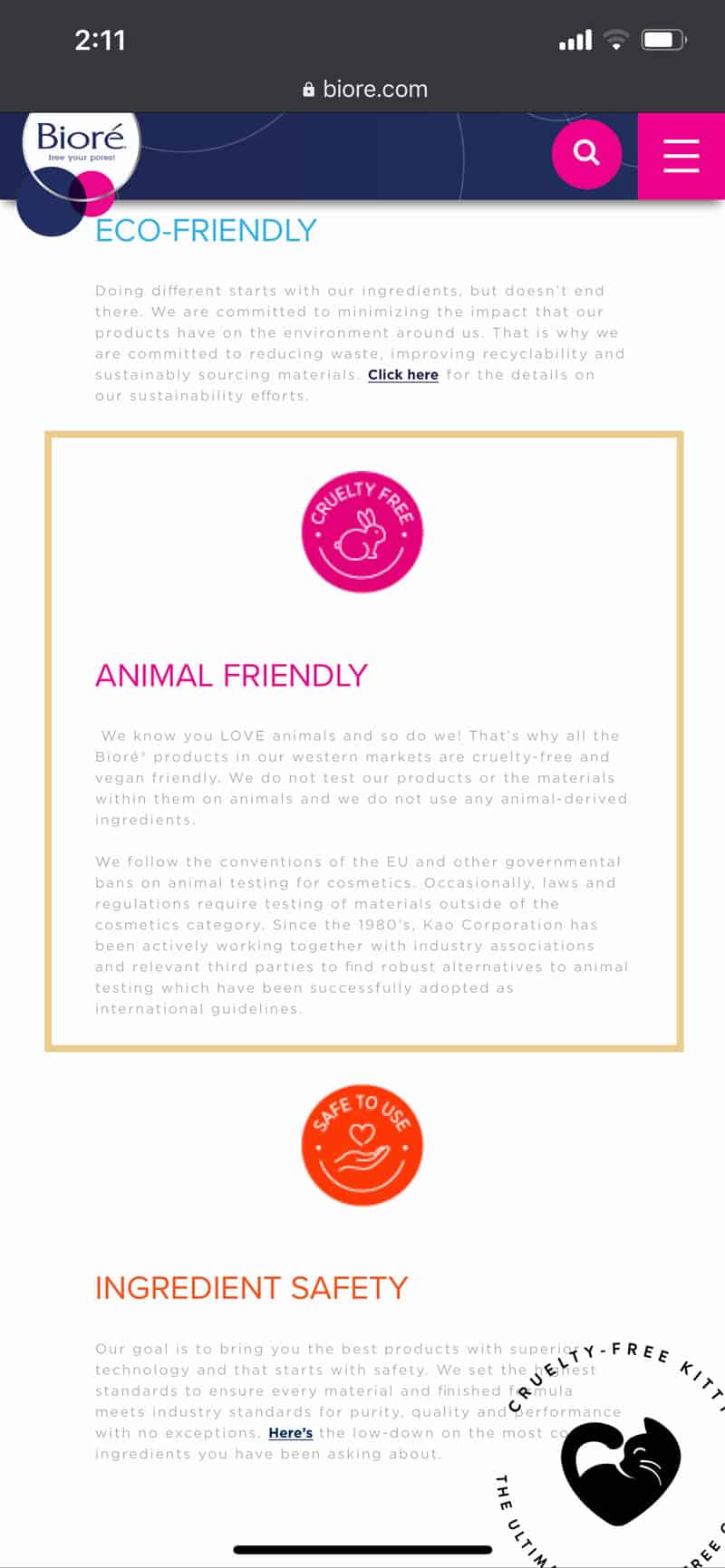 You can see the page here.
Kao, Biore's parent company, also states that they "comply with regulations", which means they do allow third parties to test on animals on their behalf if governments require it:
"None of our beauty brands conduct or commission animal testing. We conduct world-class research and quality management to ensure all products are in compliance with safety and quality expectations and regulations."
Is Biore owned by a parent company that tests on animals?
Biore is owned by Kao, a company that tests on animals. Not only is Biore not cruelty-free but neither is their parent company.
Is Biore sold where animal testing is required by law?
Yes, Biore is available for sale in countries with mandatory animal testing. This means that their products were likely tested on animals.
Is Biore certified cruelty-free by any organizations?
No, Biore is not certified by any organizations.
Is Biore vegan?
Biore might offer some vegan products, however because this company is not cruelty-free, we recommend avoiding any products they offer even if they are vegan.
How do you determine that brands like Biore are not cruelty-free?
Most brands don't publicly display their full animal testing policies. We contact brands directly with our questions in order to get their complete policy. If any brand states that they, their suppliers, or any third party test on animals, the brand is listed as "not cruelty-free."