1. Use a primer
If you want your makeup to last longer, applying a primer under your foundation is a no-brainer. Since foundation doesn't stick to my nose, I personally only apply a primer to that area and it's all I need.
You may apply it to oily areas only or to your whole face for a flawless finish; it's up to you. One thing I'm careful about when picking a good primer is making sure it won't break me out. In my experience, primers can be pretty clogging.
TheTarte Poreless 12-Hour Perfecting Primer ($31) is the best cruelty-free primer I've found. It's silicone-based, which brings us to my second point.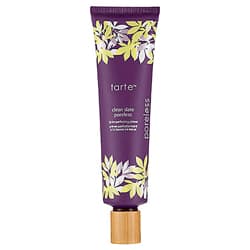 2. Make sure your foundation "matches" your primer.
If you're already using a primer, make sure it matches your foundation. By this I mean: make sure they're both EITHER water-based OR silicone-based.
Silicone and water don't mix well, just like oil and water. A silicone-based primer under a water-based foundation is a sure way for your foundation to melt right off. This foundation is a great silicone-based pairing for the primer I just mentioned, and you can read my review on it here.
Note that the first ingredient in this foundation is water, but the second one is a silicone. This means it's silicone-based, as water will often be the first ingredient in a liquid foundation regardless. You have to look at first few ingredients: if silicones are present, it's silicone-based.
3. Pick a good, high quality powder.
Another crucial step to making foundation last longer is powdering. The powder itself as well as the application method are important. Not all setting powders are meant for oily skin! Pick the best possible powder that's both translucent and matte. The more finely-milled, the better.
I highly suggest Kat Von D Lock-It Setting Powder ($30) (below) as it matches that exact description.
When applying powder, make sure you're using patting motions with your brush as not to disturb the foundation underneath. A powder puff also works well with oily skin because it allows you to push the product into your skin.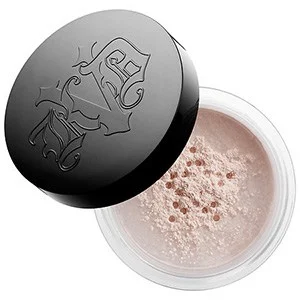 4. Try applying powder under foundation.
If all else fails, try applying setting powder UNDER your foundation. It might sound completely counter-intuitive, but it's a method that works for a lot of oily-skinned people.
You'll need a loose setting powder and a powder brush to apply it. Put on moisturizer or primer first, then powder, then apply your foundation, then powder again over oily areas only. Your foundation will last longer.
5. Use an effectivet setting spray.
A setting spray will help prolong the wear of your makeup. Apply it to your face from a distance for the best results, and choose a setting spray like Urban Decay's All-Nighter Setting Spray ($31).
---
Lastly, make sure that you're using a foundation that's formulated to last on oily skin. Many foundations that are meant for dry to normal skin will melt right off.
You can take a look at my list of the best foundations for every skin type to make sure you're using the right foundation for your skin. All the options are cruelty-free, and some can be found at drugstores!
Which Brands Are Cruelty-Free?
Download our list of 600+ verified cruelty-free brands straight to your device. Bring it with you everywhere you go, and never worry about supporting animal testing again. Click here to download