Dewy skin was first introduced to us as a refreshing break from the bleak matte complexion that had honestly been "a thing" for way too long. In recent years, this trend has completely blown up and the highly coveted glow has really become much more than a simple beauty trend – it's a movement.
A movement that places greater emphasis on better skincare practices as well as reshaping our views on the purpose of using makeup in general. Rather than thinking of makeup as a way to mask or conceal our imperfections, the glowing skin trend has taught us that we should treat our skin better and focus on enhancing our natural beauty.
The best part? Unlike any other beauty trend, we're not limited to a single look. We're seeing many many stunning variations of the healthy, glowing skin vibe all over the place – and we're loving it!
Not sure how to choose the right products to achieve naturally radiant skin? Here's a list of our top choices when it comes to the best dewy foundation for glowing skin! All cruelty-free, of course.
IT COSMETICS – Your Skin But Better CC+ Illumination with SPF 50+
The IT Cosmetics CC+ Cream Illumination ($39) is a full-coverage, anti-aging skincare cream that's great for color-correction. You can look forward to a brighter complexion and a naturally radiant finish – minus the glitter or shimmer.
The lightweight formula offers buildable coverage to give you a naturally flawless complexion without the feeling like you're wearing a ton of makeup!
With a super impressive ingredient list, we see a fusion between skin care and makeup with this formula, which contains an advanced anti-aging serum, vitamins, peptides, and antioxidants!
This foundation also effectively protects our skin from the sun, delivering SPF 50+ UVA/UVB broad-spectrum physical sunscreen.
TOO FACED – Born This Way
The Born This Way Foundation ($39) offers medium-to-full coverage to give your skin a naturally flawless complexion. As the name suggests, the coverage is virtually undetectable – leaving everyone with the impression that you were Born This Way!
The best part about this foundation is that it's oil-free and contains ingredients dedicated to replenishing your skin's moisture levels. The ultra-hydrating formula includes coconut water, alpine rose, and hyaluronic acid to support skin health. The long-lasting formula also offers phenomenal blendability!
JOSIE MARAN – Vibrancy Argan Oil
The Josie Maran Vibrancy Argan Oil Foundation Fluid ($45) is your best bet if you're looking for a foundation that delivers essential nutrients to your skin!
Formulated with 100% pure argan oil, the lightweight formula has a nice, thin consistency that does a wonderful job in soothing your skin while restoring luminosity to your complexion to give you a gorgeous glow.
The best part? It's suggested that people who have used this foundation did actually notice a significant improvement in the condition of their skin, in terms of moisture levels and softness.
FLOWER BEAUTY – Light Illusion
Looking for a foundation that can even out your skin tone and give your skin a naturally flawless glow?
The Flower Beauty Light Illusion ($13.99) is a complete steal! With medium to buildable coverage, the ultra-lightweight formula offers breathable coverage and fantastic blendability. This is the perfect foundation for someone who wants to achieve more of a softer, delicate luminosity in their complexion!
Another plus? This foundation is formulated with Broad Spectrum SPF 18.
With a ton of rave reviews, you can count on this foundation to blend seamlessly into your skin minus the heavy icky feeling you get from most liquid foundations!
NATASHA DENONA – Face Glow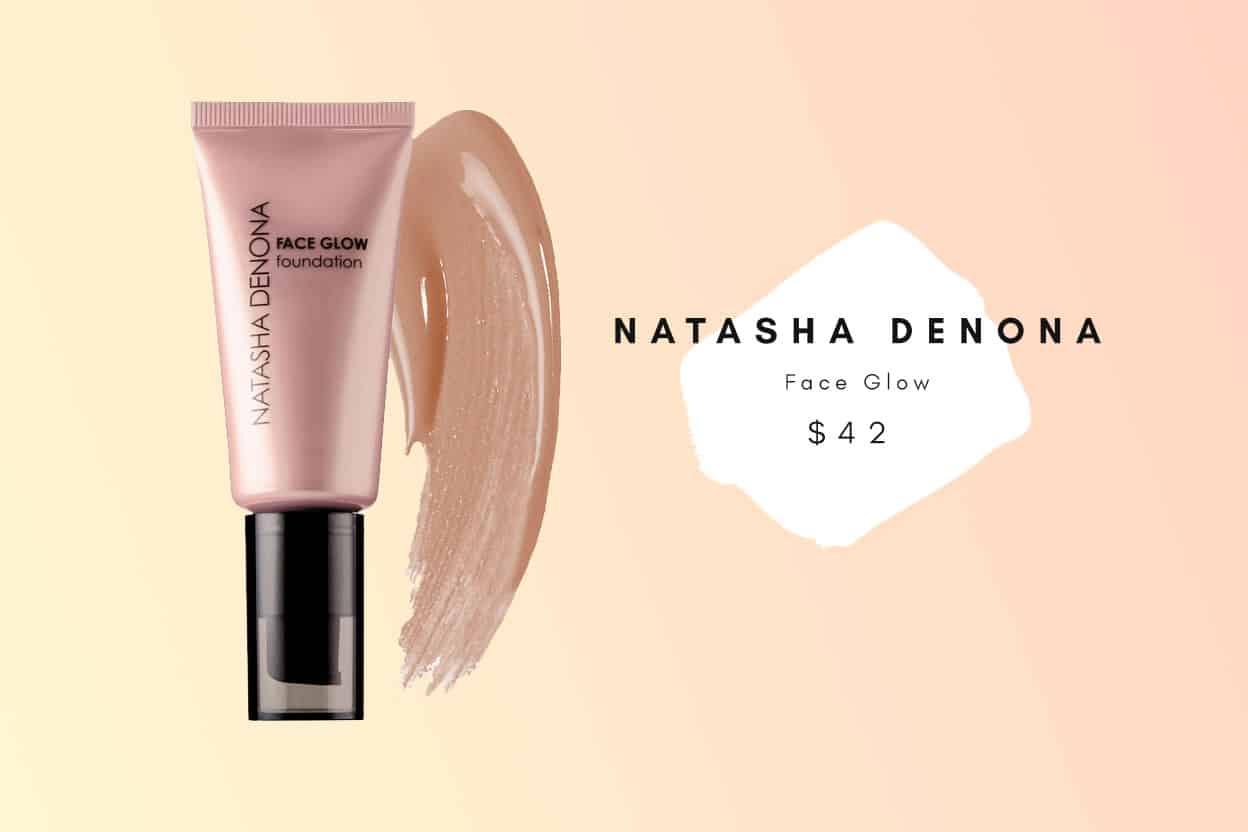 The Natasha Denona Face Glow Foundation ($42) is a fantastic foundation for someone who's looking for more of a glamorous glow. The lightweight formula provides phenomenal coverage on most skin types, especially mature skin.
Formulated with deeply hydrating and nutrient rich ingredients, you can count on this foundation to soothe and restore moisture to your skin.
VAPOUR BEAUTY – Atmosphere Soft Focus
The Vapour Beauty Atmosphere Soft Focus Foundation ($54) delivers high-performance coverage to your skin while offering the ultimate breathability.
This oil-based foundation is ideal for those who want a serious glow. The formula contains organic and wildcrafted antioxidant-rich ingredients, which instantly brightens up your complexion while soothing the condition of your skin!
PHYSICIANS FORMULA – The Healthy Foundation SPF 20
The Healthy Foundation by Physicians Formula ($15.99) is another great steal! The lightweight formula is super breathable while delivering medium to buildable coverage for all skin types.
The long-wearing formula contains a number of ultra-hydrating ingredients to nourish, and improve the appearance of your skin. Another bonus? It comes with SPF 20.
Formulated with an exclusive Brightening Complex, hyaluronic acid, and an antioxidant blend of Vitamin A, C, & E, you can count of this foundation to give you healthy, glowing skin!
The best tips for achieving a healthy glow!
Tip #1: Combine liquid highlighter with your liquid foundation
This is the best trick for a gal who likes to keep things natural-looking, but also wouldn't mind lighting up the entire room with her gorgeous, glowing complexion.
Before applying liquid foundation, mix a couple drops of liquid highlighter into it on the back of your hand. Use your fingers! The warmth from your fingers will help the two products melt into each other so you get a smooth consistency.
Our top picks:
Tip #2: Mix beauty oil into your liquid foundation
Without showing your skin some serious love in the AM and PM, your makeup can only do so much. The best way to incorporate more hydration into your makeup routine is to mix a drop or two of your favorite beauty oil into your liquid foundation!
There are a number of advantages to adding beauty oil into your face makeup. It's a great way to thin out the consistency of your foundation so that the product is easier to blend and it gives your complexion more of a dewy finish.
But the best part is that most oils are formulated with ingredients that benefit the skin, such as nourishing properties that can restore moisture or even anti-aging ingredients – and it's never too late or too early to start an anti-aging routine!
Our top picks:
Tip #3: Apply highlighter under your foundation
Yes, you read that correctly – under. When it comes to achieving a gorgeous glow from within…well, it should come from "within."
For some reason, we've all been conditioned to believe that you should apply everything over your foundation. We're not saying this is the wrong way, but there's a better way to do it.
Instead of applying highlighter over your foundation – do it before! Use your fingers to blend a generous amount of liquid highlighter into the areas you want to illuminate before you apply foundation. When you're completely done, just make sure you use your finger to add a little more highlighter into the areas that you want to make pop!
Tip #4: Use an illuminating primer before applying foundation
Always on the lookout for a way to cut some time out of your makeup routine? Here's the ultimate beauty hack for the gal who wants to cut some corners without compromising any of her glam!
Swap out the regular 'ol face primer for an illuminating primer. Using an illuminating primer gives you the best of both worlds. You get to prime your face and illuminate your complexion with one quick step.
Our top picks:
In Conclusion
Healthy, glowing skin looks great on everyone!
As an extension of the "less is more" mentality, the glowing skin trend is really just about enhancing our natural beauty and bringing out our glow from within by establishing a regular skincare routine and choosing the right foundation for our desired glow!
When it comes to achieving healthy, glowing skin, the key here is hydration. If you're not taking the proper steps to hydrate and nourish your skin, makeup can only do so much for you. This is especially true when you're trying to achieve the dewy look because… let's be real, you can't achieve much of a glow when you've got dry flakes in the way!
And trust me, when you take great care of your skin, it really shows.
Which Brands Are Cruelty-Free?
Download our list of 600+ verified cruelty-free brands straight to your device. Bring it with you everywhere you go, and never worry about supporting animal testing again. Click here to download