Every month, we bring you up to $195 worth of cruelty-free and vegan products for only $34.99 with our subscription box. Click here to find out more and claim your May box.
Since I believe in supporting fully cruelty-free brands over those owned by parent companies that test on animals whenever possible, I did my best to choose products from those brands. There's one exception you'll find in this list since I couldn't find a better alternative, and the brand in question (Tarte) is one I personally support.
Like the previous year, I went for products that would work for most skin types and skin tones. Some are new releases and some are older favorites that stood the test of time. I hope you'll give some of these a try, and if you already have, let me know your thoughts in the comments!
Brands Of The Year
Picking brands of the year wasn't an easy choice, but these 3 stood out in 2016 and I'm looking forward to seeing what they come up with in 2017.
Kat Von D Beauty is my cruelty-free brand of the year for high-end makeup.
In 2016, they came up with so many new and exciting launches like their Lock-It Cream Concealer which is a hit. They also expanded their shade ranges in several products which is fantastic, and they're working on reformulating their entire line to be vegan.
We've seen a lot of innovation and quality from Kat Von D Beauty this year and I'm excited to see what they come up with in 2017.
Colourpop came out of freaking nowhere and they've taken over the beauty world in 2016.
Their products and formulations are innovative and they have a crazy wide range of shades, not to mention that they're keeping everything affordable. Most of their products are $6 each and they're of better quality than most drugstore products.
Paula's Choice is my cruelty-free skincare brand of the year.
First of all, they've been Leaping Bunny certified since 2013 and they're taking animal testing seriously. Paula's Choice is "brand of the year" material because they have a huge range of very effective skincare for ALL skin types. Whether your skin is acne-prone, oily, dry, sensitive, or you need some anti-aging products, they've got you covered with researched formulations and products that actually do something.
I use their products and absolutely recommend them.
Products Of The Year
Hands down the most talked-about eyeshadow palette -- nay, MAKEUP PRODUCT of this past year. I mean, look at it. Not only is it beautiful, but the quality is there. The eyeshadows are smooth, buttery, blendable, and pigmented. You can create any eye look with this palette, from natural to glam to colorful. The Modern Renaisssance Palette ($42) is one of ABH's best products yet.
I haven't been able to find a better eyeliner than Kat Von D's Ink Liner ($20 - vegan). This year, they came out with several new shades (including a pure white!). This eyeliner makes applying winged liner easy because of the brush tip (which by the way is tiny and precise). Just a great product from Kat Von D.
For foundation, I went with a product that works the best for most skin types. The Charlotte Tilbury Light Wonder Foundation ($45 - vegan) is the best foundation out there if you're looking for medium coverage with a dewy finish. It looks like skin, feels lightweight, and looks lovely and natural while covering redness and imperfections.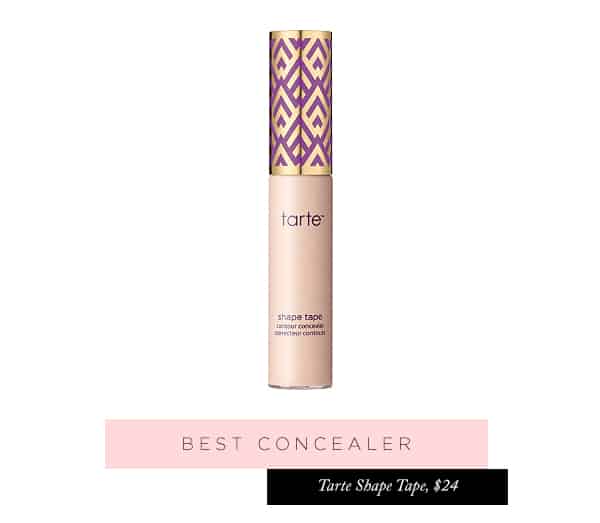 Probably the most raved-about product of 2016 is Tarte's Shape Tape Concealer ($24 - vegan). This one was sold out everywhere! You can use it as an undereye or blemish concealer and it covers everything, or you can use it a lighter or darker shade to highlight and contour. The formula is perfect: opaque yet lightweight and super blendable!
Tarte itself is cruelty-free but they're owned by Kose, a company that isn't cruelty-free.
For mascara, I wanted to find a replacement for the infamous Too Faced Better Than Sex (recently acquired by Estee Lauder). Pacifica is a great 100% vegan and affordable brand, and they're quite underrated. Their mascaras work surprisingly well, especially their Stellar Gaze Mascara ($14 - vegan). Give it a try! It's affordable, natural, and the best cruelty-free drugstore mascara.
Liquid lipsticks aren't going anywhere for 2017. They're my favorite kind of lip product, and I love the matte look and longevity. The brand I went for for best liquid lipstick this year is Dose of Colors, which is cruelty-free, vegan, and Leaping Bunny-certified! These Matte Lipsticks ($18 - vegan) also made it to the very top of Stephanie Nicole's list, and she's tried them ALL.
If you prefer a more traditional lipstick, Bite Beauty makes the best ones out there: the Amuse Bouche Lipstick ($26). This collection is available in 45 shades (!) so you're bound to find a few perfect matches. These lipsticks are creamy and moisturizing, yet they last a long time on your lips. These do contain beeswax, so keep in mind they're not vegan.
There were so many new highlighter launches this year, and one of them is my new favorite: the Haloscope ($22) highlighter stick by Glossier. If you don't like glittery highlights, this one's for you! It gives you that sheen and glow without any chunks of glitter. Very pretty and quick to use, and it comes in 3 shades to match all skin tones.
I couldn't not mention the Moonchild Palette ($40 - vegan) by Anastasia Beverly Hills, which is selling out everywhere. If you're a fan of duochrome highlighter, this palette has 6 different shades to choose from and it's Anastasia's best highlighter palette yet.
If you're a fan of MAC eyeshadows and you want to switch to something that's cruelty-free, you need to get your hands on some Makeup Geek Eyeshadows ($6 each - mostly vegan). They're just as good as MAC eyeshadows if not better, and your wallet will thank you. If you're looking for vegan options, select the shade you want and click "Dimensions/Specs" to check if it's vegan.
Kat Von D recently came up with a refillable version of their best-selling Shade & Light Face Contour Palette ($49). This is a great palette that fits most skin tones, and it now comes in a sturdy plastic palette. You can purchase refills for all the shades separately for only $16 each. This is a good investment in a great product.
The Hourglass Ambient Lighting Blushes ($38 - some vegan) are natural-looking but you can also build them up. What sets them apart from other higher-end blushes is that they provide a beautiful glow, similar to the Ambient Lighting Powders. These blushes are super pretty, very natural, and give you that perfect glow. They come in 7 shades from cool-toned to warm.
This is the Charlotte Tilbury Lip Cheat ($22 - vegan) lip liner in the shade Pillow Talk. This shade works perfectly under any nude lipstick, and there are more shades to choose from for every skin tone. Charlotte Tilbury lip liners have the perfect consistency and they're made to last all day.
This is the setting powder everyone is praising right now. The RCMA No Colour Powder ($12 - vegan) is used by makeup artists and it's the softest powder out there. It blurs the skin, makes your makeup last longer, and it's completely translucent so it works with every single skin tone. RCMA is cruelty-free and they're in the process of getting their Leaping Bunny certification.
There's no better primer than the Hourglass Veil Mineral Primer ($54 - vegan). It does everything a primer should be doing: makes your foundation apply like a dream, gives you a flawless finish, and helps your makeup stay put for longer. If you can find a cruelty-free drugstore primer that's comparable, let me know!
If you have oily eyelids or if you want your eyeshadow to stay put for hours, try the Milani Eyeshadow Primer. It's a drugstore product and it's very affordable, but it truly works. It's also going to make sure your eyeshadow is poppin'.
I was skeptical when I first tried this lip balm, but the Rallye Balm ($15 - vegan) by Red Apple Lipstick is the best one I've tried. It's vegan and contains Castor Oil and Shea Butter, and it helps a ton if you have dry or chapped lips. The consistency is perfect, and the packaging is fab and has that high-end feel.
For face moisturizer, I haven't found anything better than the Mad Hippie Face Cream. It's the perfect texture and gives you the perfect amount of moisture, and it's full of powerful ingredients like Niacinamide. It works with all skin types, so give it a try if you're looking for a great cruelty-free moisturizer!
I've gotten several questions about a cruelty-free micellar water in 2016. Finally, Pacifica launched their Kale Water Micellar Makeup Remover ($12 - vegan). It's very similar to that certain micellar water out there that isn't cruelty-free (you know the one) and but it's also more affordable AND vegan. I believe it's only available at Ulta at the moment.
I'm not a big user of makeup removing wipes myself, but I do get questions about them. The best cruelty-free option I've found this year is Shea Moisture's Coconut & Hibiscus Radiance Cleansing Facial Wipes ($5.99). They're gentle yet effective at removing all your makeup, and don't contain harsh ingredients. They're also biodegradable.
I looove Nubian Heritage Body Washes ($9.99 - vegan). Hands down my favorite cruelty-free shower gel. They're thick and lather well, and they come in amazing scents. This year, Nubian Heritage redid their packaging and came up with a new collection: Abyssinian Oil & Chia Seed. The scent is heanvenly and it's my new favorite shower gel.
The best shampoo this year is Shea Moisture's Jamaican Black Castor Oil Strengthen Grow & Restore Shampoo ($10.99 - vegan). It's well-loved by many as it it works with all hair types from fine to coarse or straight to curly and makes your hair look stronger and healthier. Plus it contains Castor Oil which helps promote hair growth when you use it at the root!
Drybar got its Leaping Bunny certification this past year! They're a big hair care brand available at Sephora and Ulta, so props to them. Their Detox Dry Shampoo ($23) works with ALL hair types. It absorbs any excess oil, but also adds a little bit of volume. It also doesn't leave any white residue like some other dry shampoos.
This is a cult hair product that so many women swear by. It's the Miracle Leave-In Product ($18) by It's A 10, which has recently been certified by Leaping Bunny. It promises to repair dry damaged hair, adds shine, smoothes and controls frizz, detangles, prevents split ends, stops hair breakage, creates silkiness, and more. Basically, it does it all and it's wonderful for damaged hair.
I picked up some Illamasqua Nail Varnishes ($18) after reading others' recommendations, and I'm glad I did! They're definitely the best nail polishes I own. They last longer without chipping and they apply more easily and smoothly. They also come in so many beautiful and unique shades.
Thanks for reading!
That's it for this list! I hope you found some new cruelty-free to try out in 2017. Thank you so much for sticking around and reading, and don't hesitate to share YOUR best products of 2016 in the comments!
Please share on Pinterest!
Which Brands Are Cruelty-Free?
Download our list of 600+ verified cruelty-free brands straight to your device. Bring it with you everywhere you go, and never worry about supporting animal testing again. Click here to download