How Did We Choose These Products?
Easy! We wanted to pick a mascara that would fit every budget and be the perfect addition to your routine. Being vegan does not have to be expensive, and we believe that about beauty products as well. Therefore, you should find the best products, all vegan, that are reasonably priced. Here is how we chose the products and why they are some of the best for you!
Affordable Prices
You will find that none of these mascaras are over $30. They are reasonably priced and will do the job of a luxury brand. The difference? These are full of natural ingredients that should not be overpriced, to begin with. After picking one of these brands, you will feel like you are using luxury mascara at an affordable price.
Non-Damaging
One of the most important things to look for in a mascara is a non-damaging formula. Many other brands that are packed full of harsh chemicals will actually do more harm than good. Each mascara has a conditioner in them, and a few are packed full of collagen that will promote lash growth. So you won't have to worry about damaging your beautiful eyelashes.
Provides Extra Definition
Many of these mascaras will provide full coverage, extra length, and a volume needed to make your eyes POP! They offer the ultimate look that mimics lash extensions. If you are looking for a more natural look, stick to one coat instead of two. With any of these, you will find they are versatile and can help you achieve the look you are going for.
Looking for multidimensional lashes that stand out? This is one of our top picks for mascara with a vegan formula that will truly make your eyes stand out. This brush has an hourglass shape with super stiff bristles that will stick to your eyelashes and thoroughly coat them with one swipe. On the second swipe, you will see a transformation from plain to glorious in mere seconds. In addition, this is a smudge-proof option that will last all day.
Product Overview
| | |
| --- | --- |
| Best For | Curls, Length, Dramatic. |
| Finish | Non-Smudge |
| Color | Intense Black |
| Price | $26 for 0.27 oz |
Blinc
Original Tubing Mascara
$26
Water-resistance is a must for some of us and this mascara offers just that! The brush is in a long spiraling shape that helps hold firm to the lashes but also helps spread out your lashes evenly. Instead of painting your lashes like a traditional mascara this formula creates "tubes" around your eyes that are water-resistant and provides the ultimate amplification.
Product Overview
| | |
| --- | --- |
| Best For | Water-Resistance |
| Finish | Clump-Proof |
| Color | Black |
| Price | $26 for 0.17 oz |
If you are looking for a super high lift and ultra definition, this is your best option. With one swipe, you will get the ultimate natural look but one that can be built up with a few extra swipes for a full glam look. This will thoroughly coat your lashes and leave no smudges on your lower lashes. The end of the brush is tapered at the end that will help reach the tiniest lashes.
Product Overview
| | |
| --- | --- |
| Best For | Extreme Lash Look |
| Finish | Non-Smudged, Extra Length |
| Color | Black |
| Price | $29 for 0.33 oz |
Milk Makeup
High Volume Mascara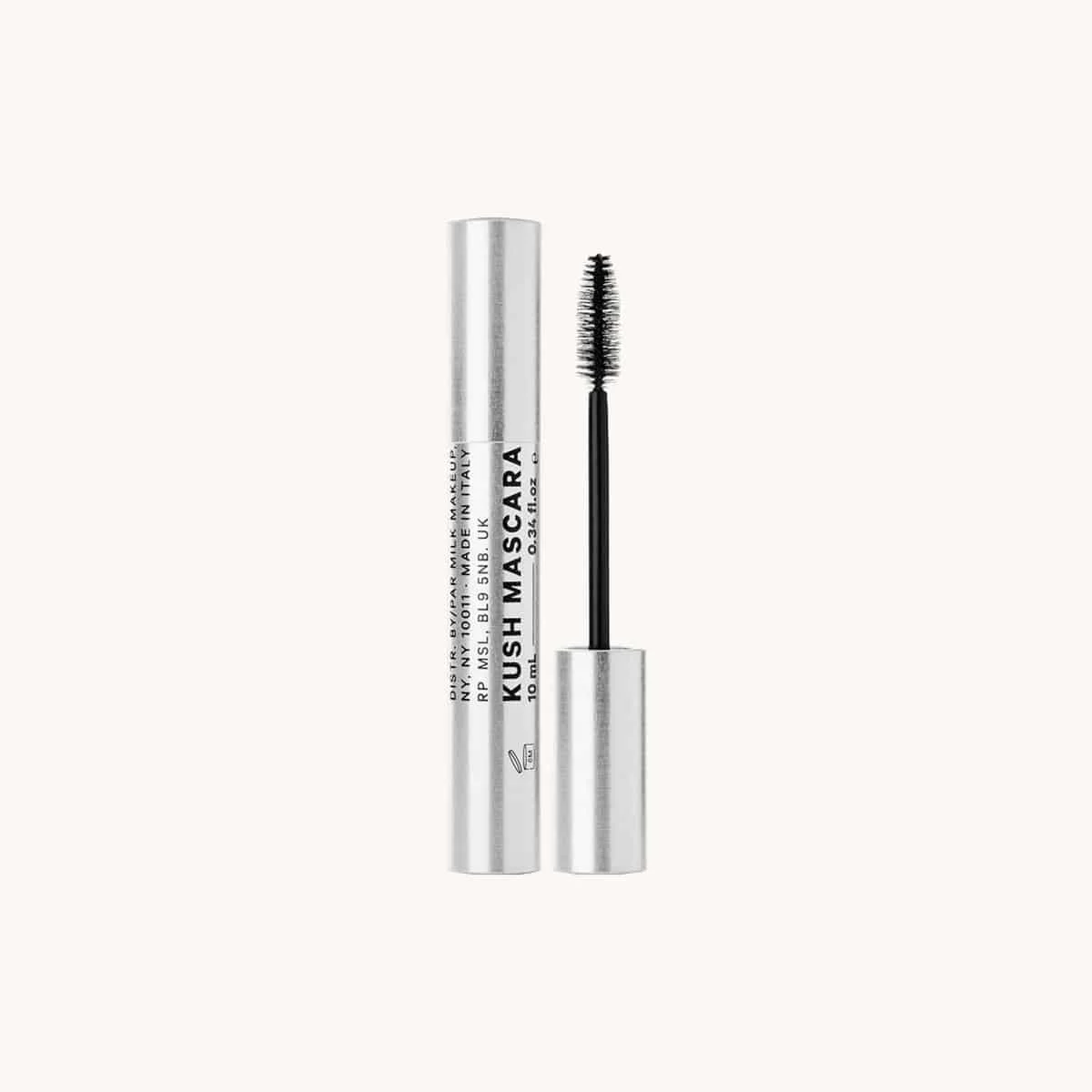 $24
Looking for a plant-based product? This brand has created mascara infused with plant-derived oils that stick to your lashes. The best feature about this product is that there is no mess or fallout like you get with other mascaras. This is an ultra-hydrating formula that will nourish your lashes and promote growth rather than stunting it. This mascara will help expand the width of your lashes while providing the ultimate length.
Product Overview
| | |
| --- | --- |
| Best For | Hydrating Lashes |
| Finish | Extra Wide, Superior Length |
| Color | Black |
| Price | $25 for 0.34 oz |
This creamy formula will stick to your lashes like no other. The brush provides curved bristles that were specifically created to form your lashes. It will glide on easily and provide the best definition. With this unique mascara you will be able to create a fanned out look or super dramatic length that no other mascara can achieve.
Product Overview
| | |
| --- | --- |
| Best For | Dramatic Looks |
| Finish | Creamy, Soft, Fanned |
| Color | Creamy Black |
| Price | $4.99 for 0.4 oz |
This mascara is one of our favorites on the list! It provides a 35% increase in lash curl and a 24-hour smudge-proof look. Your eyes will appear bigger, and each lash will stand out extraordinarily. One of the best features of this item is to condition your lashes and ensure they get an extra dose of vitamin B5. So if you want to achieve a bold look and nourish your lashes, this is your solution.
Product Overview
| | |
| --- | --- |
| Best For | Nourishing Lashes |
| Finish | Curled, Smudge-Proof |
| Color | Rich Black |
| Price | $23 for 0.24 oz |
Looking for a rich, smooth texture that makes a mascara easy to apply? This mascara is the best for any eye color and anyone looking for a formula that contains no artificial ingredients. This is a super easy-to-apply mascara that will provide length, volume, and drama. You will see that the color and length last all day long.
Product Overview
| | |
| --- | --- |
| Best For | Conditioning and Lengthening |
| Finish | Voluminous |
| Color | Black |
| Price | $19.50 for 1.5 oz |
100% Pure
Maracuja Mascara
$26
Are you looking for the ultimate defining mascara while also finding a way to promote hair growth? This mascara offers a no-clump formula filled with vitamin B5 and seaweed that promotes healthy lashes. In addition, the color is pigmented with black tea, cocoa, and coffee beans. This will leave your lashes looking feathery, natural, but incredibly defined.
Product Overview
| | |
| --- | --- |
| Best For | Promoting Hair Growth |
| Finish | Feathered And Fanned |
| Color | Midnight Black |
| Price | $26 for 0.35 oz |
elf
Mineral Infused Mascara
$4
Do you want full and healthy looking lashes? Mineral infused mascara is the best choice because it is filled with all the minerals you need to keep healthy lashes. The brush is formed to minimize clumping and be an easy application. It is filled with Zinc Oxide and Kaolin wax.
Product Overview
| | |
| --- | --- |
| Best For | Long Wear |
| Finish | Thick Lashes |
| Color | Black |
| Price | $4 for 0.34 oz |
Wanting to strengthen your lashes while still getting an extra boost of beauty? This is the best product you can find. It is filled with vitamin B and coconut oil that strengthens your eyelashes while providing length and definition. This mascara has a plush brush that will easily glide over every lash giving it the perfect length.
Product Overview
| | |
| --- | --- |
| Best For | Length And Strength |
| Finish | Extra Long |
| Color | Black |
| Price | $14 for 0.25 oz |
This is the ultimate mascara if you need something that will provide you length and added color all day long. This will mimic the look of lash extensions without needing fake lashes or glue. The formula is a flake-free tubing technology that will never clump.
Product Overview
| | |
| --- | --- |
| Best For | All Day Wear |
| Finish | Extra Length, Clump-Free, Flake-Free |
| Color | Rich Black |
| Price | $24 for 0.38 oz |
Mad Hippie Mineral Mascara
Mad Hippie
Mineral Mascara
$19
This vegan mascara is made from plant-based wax and tons of rich oils that will promote lash growth. On top of that, this brand ensures that the packaging is made with recycled materials. If you are looking for a bold look, you can use 3-4 coats of this mineral mascara for the best outcome. It is a long-lasting formula that is silicone-free and totally affordable. If you have not yet invested in Mad Hippie products, it's time to give this company a shot. They promise vegan and cruelty-free products.
Product Overview
| | |
| --- | --- |
| Best For | Long-Lasting |
| Finish | Shiny and Long |
| Color | Black |
| Price | $19 for 0.25 oz |
In Conclusion
The best product in terms of price is Elf's Mineral Infused Mascara for only $4 wherever you shop. It is richly pigmented, and you will get undeniable benefits. It truly offers the most bang for your buck.
However, suppose you are looking for something that provides extra nourishment to your lashes. In that case, you should opt for something like Maracuja Mascara, which promotes hair growth. It is filled with the necessary vitamins to grow, protect, and nourish lashes.
No matter what option you choose, you can rest assured each mascara will be vegan, and we have double-checked the ingredients for you. These will provide the best coverage, extra length and enable you to get the sleekest look. People will gaze in wonder at your eyes, wondering whether or not you're wearing lash extensions.
Which Brands Are Cruelty-Free?
Download our list of 600+ verified cruelty-free brands straight to your device. Bring it with you everywhere you go, and never worry about supporting animal testing again. Click here to download