Before I start my review, let me preface it by saying that I've been wearing this foundation for over a month, and it's currently my go-to. I personally love it and gravitate towards it, but be sure to read my full review to see if it's the right foundation for you!
At A Glance
Brand: 100% Pure
Animal Testing Policy: Cruelty-Free, Leaping Bunny-certified
Parent Company: N/A
Product: Fruit Pigmented Healthy Foundation in Creme
Vegan: Yes
Price: $45
Weight: 1oz
Where To Buy:
100PercentPure.com
The Product
100% Pure offer multiple foundations (including a tinted moisturizer and a BB cream if you need less coverage) in several finishes and with different degrees of coverage.
The Fruit Pigmented Healthy Foundation claims to have a matte finish, which is accurate. The foundation looks completely matte on the skin, so if you're looking for something dewy, this one isn't for you.
It also claims to be a full coverage foundation. I would describe this foundation as "medium to full". It covers redness and most imperfections, but you might need concealer if you have a lot of redness or blemishes. The coverage is nonetheless very good.
This foundation also has physical sun protection of SPF 20. The formula also claims to be "enriched with antioxidants".
100% Pure is a green beauty brand and their products are natural with some organic ingredients. This is a huge plus for me, especially for products like foundations, which are applied all over the face and sink into the skin!
Shade Selection
This foundation comes in 9 shades. I have the shade Creme, which isn't the fairest, but it's yellow-toned. It's a tad too dark if you're on the pale side, but it works. The lightest shade is lighter but pink-toned.
Here's a chart to help you with the shade selection: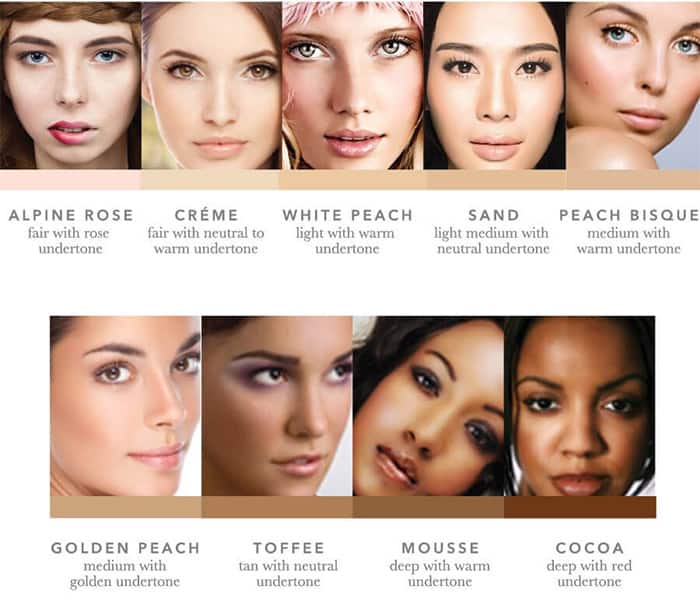 Application & Wear
The consistency is on the thicker side, and the foundation does come with a pump. I need 2 pumps to cover my whole face. With a beauty blender, this foundation applies flawlessly and doesn't emphasize texture or dryness.
If you have normal to dry skin, this foundation will be long-wearing on you. However if you're oily, it might start breaking down throughout the day. I have combination skin and my nose is on the oily side, and this foundation doesn't stay put all day on my nose, even with powder. On me, it starts to fade around the 6-hour mark.
Bottom Line: 4.5/5
This foundation is a total win if you're looking for something non-toxic, high-coverage, and matte. I have to emphasize the "matte" aspect since it's not everyone's cup of tea, but it's a truly great foundation if that's what you're looking for.
It's the highest-coverage natural (as in non-toxic) foundation I've found, and also hands down the best one I've tried. It performs like a regular mainstream foundation, but it's not loaded with chemicals you can't pronounce!
If you're looking for a matte, medium to full coverage foundation that's natural, cruelty-free, and vegan, this one might just be your holy grail.
You can buy it here from 100% Pure.
Which Brands Are Cruelty-Free?
Download our list of 600+ verified cruelty-free brands straight to your device. Bring it with you everywhere you go, and never worry about supporting animal testing again. Click here to download