Before I get into the scents themselves, I'd like to talk about the ingredients. Not only are Le Labo's ingredients not tested on animals and 100% vegan, but their perfumes don't contain parabens and preservatives. They use a mix of natural essential oils as well as synthetics, and the essential oils remove the necessity for any extra preservatives. While this isn't a totally green perfume, using both natural and synthetic ingredients is often preferred for high-quality fragrance: it's the synthetic notes that give perfume its body and long-lasting qualities.
Le Labo is vegan and cruelty-free. It means that none of our scents uses animal products nor products that are not animal cruelty free. Our entire collection is not tested on animals either. We are proud to be living proof that there is no need to torture animals to compose high-quality and creative perfumes. Beauty is even more beautiful when no one has to suffer in order to make it!
Le Labo is cruelty-free, vegan, preservative-free... and they have a refill program in order to minimize waste, where customers can bring their empty bottles for a refill. This is great for returning customers that are hooked to their signature scent, as less bottles and plastic parts need to be made and wasted. This is as green as high-quality perfume houses go!
I love the sleek, modern, and minimalist design of their bottles. There's an old-school and vintage element to them, but it's transformed into something completely modern. I love the simplicity of the names, too. The name of each perfume is composed of its most prominent note, and the number next to it is the number of total notes it's composed of. For example, Lys 41 is composed of 41 notes and its main one is Lily. How cool is that?
None of the scents I've tried from Le Labo are boring. Not a single one. Each fragrance has its own distinct kick and makes you travel. These aren't designer fragrances and you won't be able to find anything like them at the drugstore. Check out their whole range! You can buy full size bottles online, but why not try samples? Onto the scents I've tried:
Lys 41
This one's my favorite. I'm a huge fan of lily and this take on it is pure heaven. There's some tuberose in there and it's not a fresh lily although it is a more real lily, similarly to Serge Lutens' A La Nuit. But it's heavy and feels just like honey, especially as it settles into sweeter notes. Super addictive indeed.
Notes: Jasmine, tuberose, lily, woody notes, vanilla, musk.
Description: "Lys 41 rewards those looking for a statement scent with an addictive floral buzz."
Jasmin 17
This is a white floral, but it also smells very citrusy. It's pleasant and has a good balance of both sweet and fresh. Light, innocent.
Notes: Sandalwood, musk, vanilla, jasmine, litsea cubeba, neroli, orange blossom, palmarosa, bitter orange, amber.
Description: "This natural Jasmine is the floral perfume par excellence, and was created as a modern alternative to the old-fashioned traditional floral signatures."
Rose 31
Dewy morning rose paired with very spicy notes. This is not a "mature woman" rose scent. In fact, it's probably the last thing my grandmother would wear as it's unisex but bordering on the masculine. Very earthy, woody, spicy.
Notes: Rose, caraway, vetiver, cedar, musk, guaiac wood, olibanum, labdanum, agarwood (oud).
Description: "The perfume's aim is clear: to transform the famous Grasse Rose, a symbol of voluptuousness and unqualified femininity, into an assertively virile fragrance that can be worn by both men and women."
Bergamote 22
A very intoxicating citrus with a definite sweetness to it. You have to sample this! If you're not generally a fan of citrus scents, you'll probably still fall in love with this one. It reminds me of orange zest mixed with vanilla, but in the most sophisticated way. This is my second favorite out of the ones I've tried. I love how truly unisex it is.
Notes:  Amber, musk, grapefruit, vetiver, petitgrain, bergamot, vanilla, orange blossom, cedar.
Description: "This dazzling bergamot combines freshness, sweetness and sensuality with acrobatic talent- qualities already encompassed in the perfume's initial code name: "Fire Cologne"."
Oud  27
Wow. Powerful opening notes that remind me quite frankly of  booze -- but it develops into much more and tells a story. It settles to woody and very campfire-like notes, mixed with something that reminds me of fermented plums (hence the alcohol) but also incense and a bit of civet. It has particularly high sillage and longevity. Masculine scent for the fearless.
Notes:  Agarwood, Cedar Atlas, Incense, Patchouli, Black Pepper, Safran, and Gaïac.
Description: "Oud 27 is oriental in the purest form, overwhelming and disturbing in its signature and power."
Santal 33
This is a masculine scent I could smell all day. It's pleasant and intriguing in a very subdued way. It doesn't scream, but it grabs your attention. It's natural and fresh (in the dried out freshness kind of way), but also exotic and unusual. A little bit powdery while still being masculine.
Notes: "Sandalwood, Virginia Cedar, Cardamom, Violet, Papyrus, leather, amber and iris.
Description: "Remember the old Marlboro ads? A man and his horse in front of the fire on a great plain under tall, blue evening skies - a defining image of the spirit of the American West... From this memory is born Santal 33, an olfactive form inspired by the great American myth."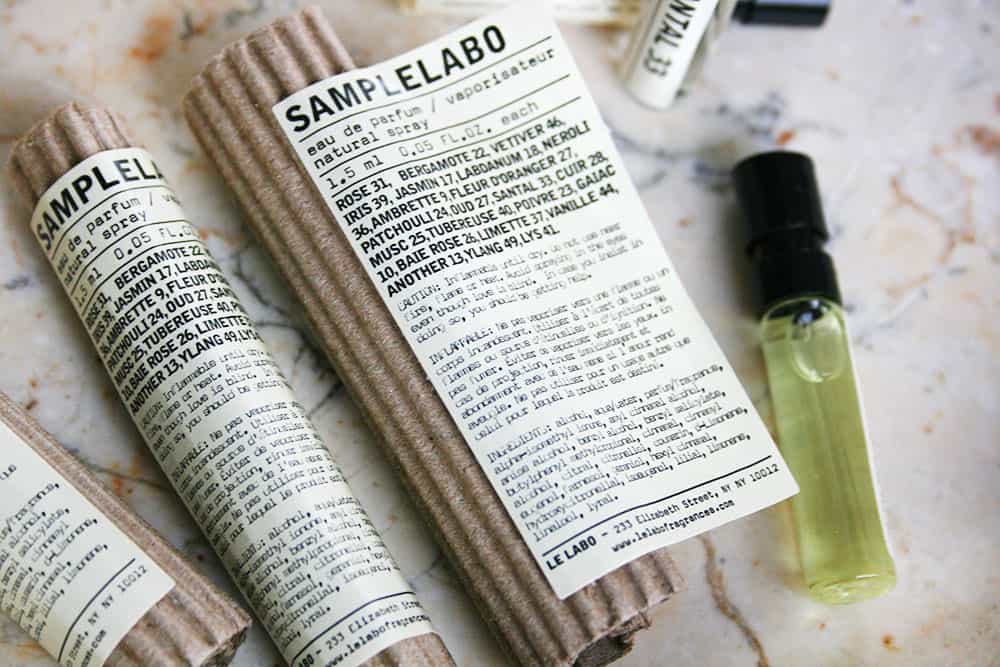 Which Brands Are Cruelty-Free?
Download our list of 600+ verified cruelty-free brands straight to your device. Bring it with you everywhere you go, and never worry about supporting animal testing again. Click here to download